At long last I'm able to bring you another update. I know I keep saying that I'll keep this site updated on a regular basis but events always seem to conspire to prevent that happening, truth is I'm making excuses!
Facebook moves so fast that everything we write is consigned to history almost immediately, its how life seems to work these days.
Plus I've had a few issues with the website and have now changed the hosting and server and as I know absolutely nothing about this type of thing I am indebted to Simon Asbury and his fabulous team at Studio DM for everything they do for me.
As this blog is covering a three month period I've decided to start it with what's happening now and go back rather than the other way round, mainly because I want to focus a bit on my own fishing which never really kicks in until November when I call a halt to the guiding days.
My good pal Lol Breakspear has been enjoying a fabulous season on the lower reaches of the Severn catching any number of double figure barbel and Rich Frampton had captured a fourteen, the temptation to join them became just too much.
Two weeks into November and I found myself down by the river, and without my four wheel drive there's no way I could have accessed this venue. It's been a while since I last drove the vehicle but it didn't need too much work to get it back on the road, I've had it from new and with only 30k on the clock it should see me out. Now that fuel is at a more sensible price it has become the perfect fishing wagon.
Lol pointed out a few of the swims and I set up one rod with  a basic running leger and large piece of garlic spam as bait. I only fished for three hours or so, this was more a recce than anything else but I saw for myself the potential when Lol hooked into a barbel that turned out to weigh 13-05, that's a big fish by any standards and they aren't that easy to come by on the lower Severn. When it comes to barbel fishing on the lower Severn there are few who can match Lol Breakspear!
A week later and I was back for a proper session.
I didn't have to wait too long. Back in the same swim with the river lapping the top of the bank the rod top went over and a nice eight and a half pounder was gracing my net.
The wind was proving to be troublesome and I didn't stick it out more than an hour or so into dark, my caravan was calling just a short drive away and the fish and chips I picked up on the way back went down well before I hit the sack contemplating the next day when I would catch up with Lol again.
Breakfast in the Ketch and then back to the river and in a different swim fifty yards or so downstream from the previous day.
Two rods set up, which is unsual for me but something I'm happy to do during the day but one definitely comes in as it gets dark. Just too much aggro coping with two when you have a decent barbel on the end of one of them!
Midday and I spot Lol's jeep in the distance, a few minutes later after traversing the sodden fields Lol and I are discussing our prospects which we both agreed ought to be rather good given the unseasonal mild weather and extra water and as he was about to head off to his swim the rod baited with two 18mm wrapped Crave boilies lurched over and line poured off the reel – fish on!
I knew immediately that this was a heavy fish, even allowing for the extra depth of water this barbel was in no hurry and fought in that special way that all serious specimens do, deep and dogged.
But it wasn't till we had the fish lying on the mat in front of us that it became clear this was a good one even though we were both reluctant to go over the top. Definitely a double, probably eleven although I had an inkling this was over twelve, you can imagine the conversation as we both kept our real thoughts to ourselves until the scales confirmed one way or another. 13-03, I think we were both a little surpised and Lol said it was a 'new' fish, so yet another good barbel  to add to the tally of specimens the stretch is throwing up.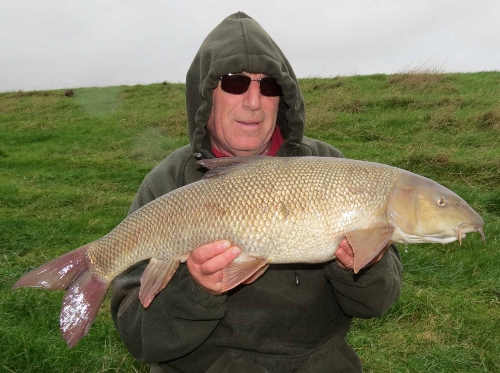 No more barbel came our way which was a surprise, but my appetite was now well and truly whetted. I've had a few thirteens off the Severn, a couple of fourteens as well but its been a while and this fish may well be all that I need for my passion for what has always been my favourite river, until the Wye took a hold, to be fully rekindled.
Plus the fact that I'm out on the river with Lol once again, and we shared some brilliant sessions twenty odd years ago on this enigmatic stretch of river.
More rain meant the river breached its banks and coupled with the fact that I wasn't feeling so good, three weeks went by before we met up once again.
I fished the swim that produced the thirteen and Lol was in a favoured spot fifty yards downstream. The bank was muddy to say the least and I was concious of the fact that it would be very easy to end up in the river especially after dark!
Once again it was the boilie bait that did the trick, an hour into dark.
A steady pull took line from the reel and an easy lift into the fish met with a decent solid resistance. This time though the fish didn't feel quite so heavy and it came to the edge relatively quickly, I managed to get it into the net without falling in and then I gave Lol a shout.
Once again we went through the rigmarole of guessing the weight, from the girth – it had obviously been feeding quite seriously, I went a bit over the top, I thought it was eleven plus, Lol was a little more conservative and he was right. 10-06, I was not about to complain!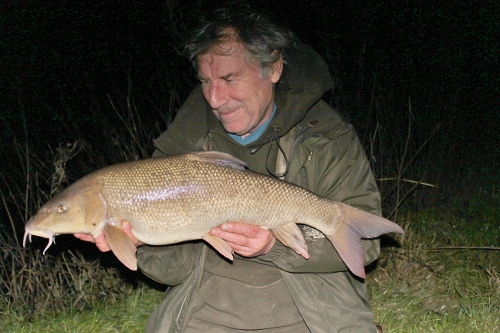 Lol made his way back to his swim and I set about the task of rebaiting but I didn't get to finish the job because I heard Lol yelling. It was rod down and hurry along the bank to see what was happening.
Well I could see that the net was in the water and just made out the shape of a very nice barbel, two doubles in ten minutes, one each – perfect!
It looked a bit bigger than my one, and sure enough it was by six ounces, 10-12 to Lol!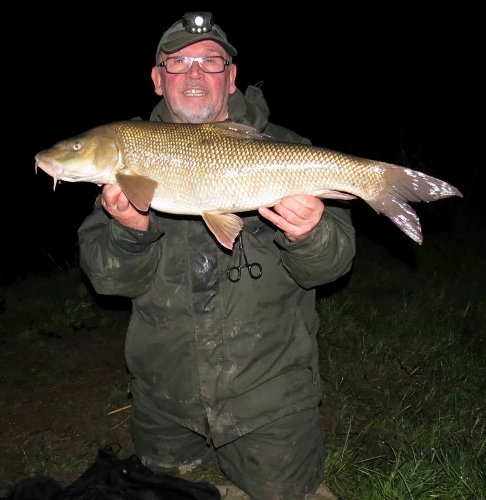 The weather took a turn for the worst, we both started to feel the cold and so we called time.
I had now fished four relatively short sessions, nothing like the amount of time I would spend in the past and I'd seen four barbel including two thirteens, you could say I've found my place for the rest of this season!
I have a distinct feeling that I will see a really big lower Severn barbel sometime during the next three months, we will see!
Besides the fishing I managed to get out for an Improve Your Coarse Fishing feature and I helped out on an Angling Times one as well, seems just like old times.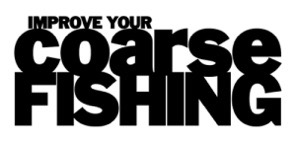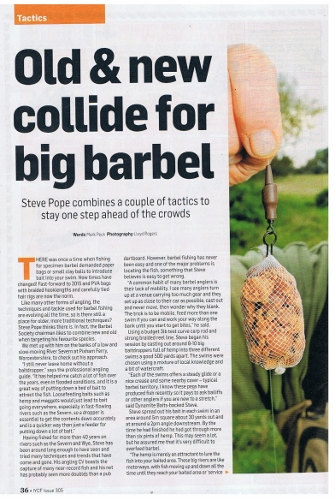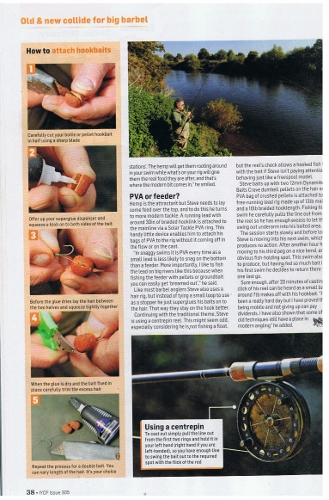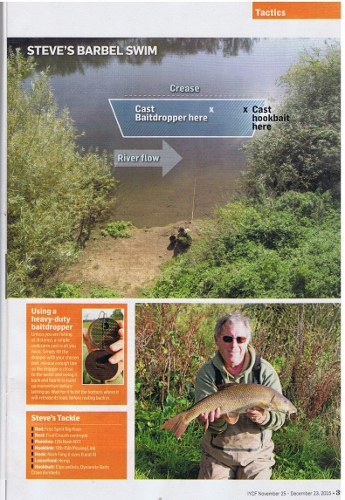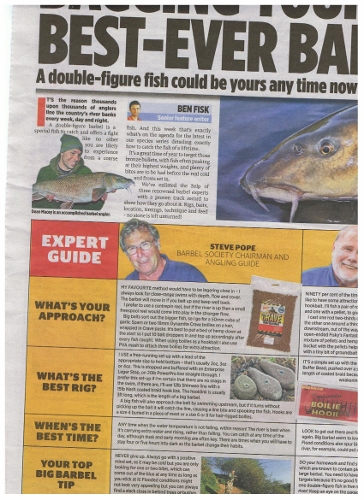 ********
GUIDING
I have enjoyed some interesting days since the last update. Days on the Kennet, Wye and Severn produced varied results but were always great fun even when the barbel were playing hard to get.
Darren and Steve found the Wye in good form and plenty of fish came to the net but Fred and Steve experienced the river when it was in dour mood but we'll be back next season to put that right!
On the Kennet things were really tricky, Rui from Portugal suffered two losses and the first was a really big fish that took the tiny cube of meat within the first five minutes – a real sickener! We'll be having another go and I'm looking forward to more Portugese cuisine and I'll be supporting Benfica in the Champions league as Rui is a fanatical supporter. To give you an idea of the lengths Rui goes to, we fished on a Saturday, Rui doesn't drive so he came from London by train. The next day he was off to Stanstead to board a flight to Portugal to watch the match and he was back the same night ready for work on Monday – a supporter indeed!!
I enjoyed two days in the company of another Steve, a scientist from Sheffield, and I have to say I could listen to him all day long ( he lectures) even though I'm the one who is supposed to do the talking! I now know all about DNA and genes, it is truly fascinating stuff! The Kennet once again played hard but we did manage a nice eight pound plus fish towards the end of our session and I'm looking forward to spending more time in the company of Steve the Scientist next year.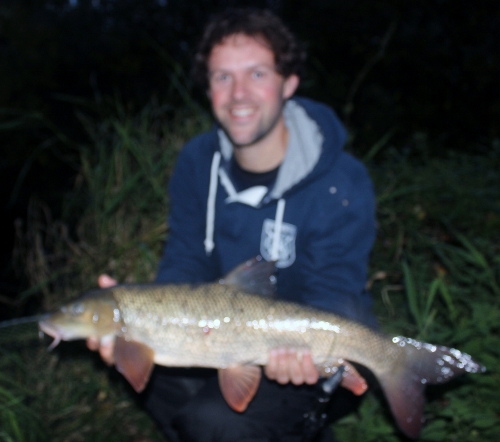 Jim, Andy and Terry, all from the Manchester police force spent a day with me on the lower Severn and boy was it tough! The barbel had been feeding very well prior to our visit, lots of good fish had come out but on this day they were nowhere to be found! We will try again next year.
***
I would like to take this opportunity to thank everyone who has been out with me on a guided day this year. I have enjoyed every second in the company of wonderful people. When I started out on the guiding venture I didn't realise just how many really nice people I would come into contact with, each person has enriched my own fishing experience and I'll never forget it.
Each year I meet up with guys who have been out with me before and then there are the new faces who immediately become friends – I'm a very fortunate man.
The diary is already beginning to fill for next year, my German friend Horst has booked me for a full week so that will be an adventure in itself!
So again, my sincere thanks to each and everyone of you.
***
CAER BERIS – WYE VALLEY BREAKS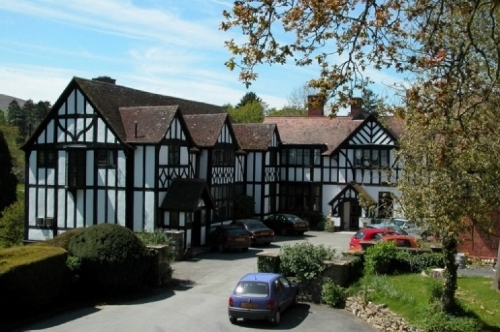 The dates are all set for next year, all the information is HERE
Once again I would like to thank everyone who came along this year, we enjoyed some fantastic times.
These holidays are for those who want to enjoy fine food, superb hospitality, great company and a fabulous hotel as well as what can be magnificent fishing on the always stunning River Wye.
We practically sold out the four trips that we put on this past summer, so don't leave it too late before making a decision.
Come along, I promise you will love it!
***
A few weeks ago I was very fortunate indeed, I received a message from Fred Crouch's daughter saying she had found more of Fred's fishing possessions and would I like them. I immediately said yes and thanked her profusely.
The cardboard box duly arrived and in it I found a veritable treasure trove of bits and bobs, including a hand written diary that covered a short period almost fifty years ago.
I'm in the process of working out how best to get this information out but in the meantime here's just a tiny snippet.
The photo's show Fred, myself, Ray Kent and Chris King on a day out almost twenty five years ago. The other was taken on the day we unveiled the commemorative plaque for Peter Stone.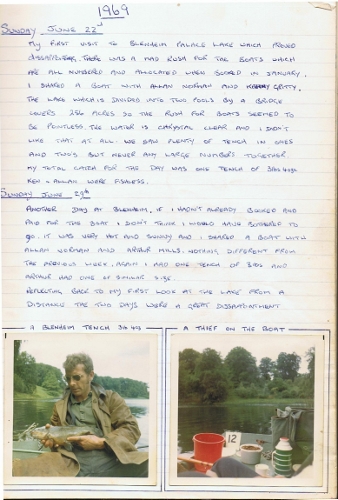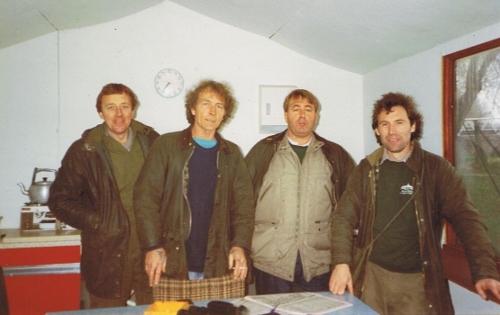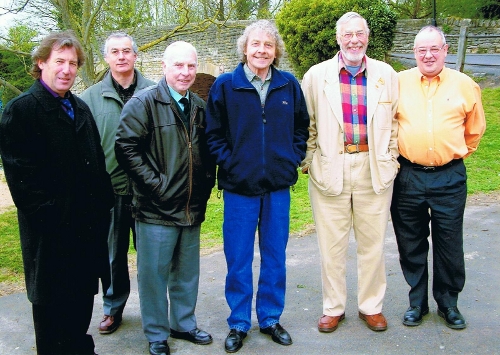 ***
To end this piece I want to thank all my fishing pals, the guys on the Barbel Society committee, all the Barbel Society members, Dynamite Baits, Shimano, Free Spirit, Fisky, Geoff Maynard, Will Barnard, all the guys at Angling Times and Anglers Mail, Kev Dyer, Mark Rogers and everyone else from the fishing world who make my life so pleasant.
And last but not least everyone who looks in on here,
I wish you all a very merry Christmas and the happiest, healthiest and most prosperous of New Years!