Before I set off for my latest winter break Down Under I had an inkling that Bruce and the E Street Band would be touring Australia, there had been a lot of talk on the websites and it seemed that 2013 would once again be the year for Oz Bosstime!
I have seen them live on stage here once before, the infamous Sydney Cricket Ground Concert back in 2003, when the power kept cutting out!
So when the Aussie tour was announced I was more than pleased, you could say I was ecstatic!
I managed to convince my lovely daughter that it would be a great idea to host a corporate event for her clients and I would be there to help out. Luckily for me she agreed it was a good idea and so the Wednesday show was duly booked.
Not only that but she went on to buy tickets for my wife and I for the Friday show, which was set to take place exactly ten years to the day after the SCG concert.
So Wednesday duly arrived, I set off from home about three in the afternoon on the relatively short drive across the city to the Olympic Park at Homebush. The traffic was almost as bad as any day on the M25 and the journey took well over an hour when according to the sat nav thirty minutes should have been the norm!
Anyway after safely parking up in the carpark right next door to the Allphones Arena my first port of call was the GA queue, I wanted to know what time the diehards had arrived so that I knew what I had to do on Friday.
The queue was shorter than I expected but I found out that those at the very front had arrived at 6am, the Boss fans are super keen!
Back at the main entrance I was able to get into the arena earlier than most, the privileges of having the corporate pass. I made my way to the suite and was not surprised to see I was the first one there. I have enjoyed this sort of thing here before, Bon Jovi were playing that time, this though was really something special and my daughter had arranged for eighteen guests to join us. The height of luxury at a Springsteen show in Sydney, it doesn't get any better than that.
The curtains on the doors leading out to our seats were drawn but there was just a small gap, enough to peak through and see that we had a fantastic view right over the stage and as I peered through out onto the stage walked the man himself followed by the band – I had arrived in time to watch the sound check!
Guests began to arrive and thankfully my daughter too, we all wanted to catch a glimpse through the curtains before Bruce and the band were gone.
Delicious food, plenty to drink although I had to be careful as I was the designated taxi driver for later in the evening. The venue knows how to look after the corporate guests, it really was special.
The curtains were drawn back and I went out to take in the arena, those in the GA line had started to fill out the pit area, I was mightily impressed with the way this was conducted, very orderly. Back in the UK its usually everyone for themselves, infact I'm still recovering from the 200 yard sprint at Hyde Park and that was nine months ago!
In no time at all every seat was taken, the pit was full and then the houselights went down, Bruce walks out on stage with his acoustic guitar and breaks into the opener, Devils and Dust – not what you would normally expect but hugely effective.
Then the band starts to play and the house is rocking!
The first two songs were a reminder that it was ten years ago that the Iraq war broke out – Springsteen remembers this sort of thing.
And then the band just blew the roof off, over three hours and at the end there was no one who was not a convert!
The Aussies are notorious for not getting up out of their seats, Bruce addressed this. Before striking up the intro to Open All Night he screamed to the audience, " In ninety seconds you will all get those bums off the seats, I promise you this will happen!' It did and they didn't sit down again!!
Half of our party had never seen him play live before and they just could not believe it, a 63 year old man hardly pausing for breath between songs, getting close up and personal with the fans, crowd surfing across the standing fans, conducting a memorial service for Danny and Clarence, had every single one of the audience eating out of his hand, they had seen the best!
Or as The Boss puts it to the Sydney crowd, " You've just seen the hard rocking, heart stopping, viagra taking, earth quaking, history making, legendary, E! Street! Band!"
And that was it, the first show over, a great night out, but before I left the arena I made a point of getting down onto the floor to check out the best position for Friday's show. In doing that I managed to lose my daughter and three friends who wanted a lift. I don't know how these things happen but it had reached the point where I was going to drive off knowing they would get a taxi – I don't use a mobile phone over here, perhaps I should!
Just as I was walking back to the car for the last time a familiar face appeared at the top of the stairs and all was good, the car was full and I had a much better drive back although it took ages with all the detours!
SET LIST
1. Devils & Dust (solo acoustic)
2. Last to Die (solo acoustic)
3. The Ties That Bind
4. Darkness On The Edge of Town
5. Wrecking Ball
6. Death To My Hometown
7. Out In The Street
8. Does This Bus Stop At 82nd Street?
9. The Promised Land (request)
10. Cover Me (request)
11. No Surrender (request)
12. I'm On Fire (request)
13. My City Of Ruins
14. High Hopes
15. Because The Night
16. Open All Night
17. Shackled & Drawn
18. Waitin' On A Sunny Day
19. Lonesome Day
20. The Ghost of Tom Joad
21. Badlands
Encores:
22. Jungleland
23. Born To Run
24. Bobby Jean
25. Dancing In The Dark
26. Detroit Medley
27. Tenth Avenue Freeze-Out
Show over at 10:57 p.m. (3 hours and 12 minutes).
***************
After taking a day out to recover Friday arrived and we set off reasonably early arriving at the arena around 10am.
We made our way around to the GA entrance to find just a few people there but as always there was someone with a notebook, a very important person at a Boss gig, the man in charge of the numbers!
I don't think anyone would argue that those who arrive at the venue first should be sure of getting the prime position once inside. The system in operation at Springsteen shows goes a long way to ensuring this happens and here in Sydney was the best I've ever seen it work. Our numbers were 93 and 94, pretty good but not good enough to get centre front so I had a good few hours to plan my strategy!
Once the number has been marked on the back of your hand and your name is in the book you are free to go, that is why the queue is so sparse. As long as you turn up for a roll call every three hours or so your position in the queue is guaranteed.
Beleive it or not the time passes very quickly, a bit like the waiting when you are fishing I suppose. A walk around the Olympic Park and a bite to eat and its soon 3pm.
We stopped at the entrance that the band uses and chatted to a woman who wa swaiting there with a friend and a huge sign that she hoped would grab Bruce's attention when he pulled in. Basically it said she was at the previous show down at the front and grabbed a kiss from the man himself but since she has had a wash since then would it be possible for a photo? Boss fans are quite mad.
We hung around for about twenty minutes but then decided that vthe roll call was more important than a possible photo so we left them both and wished them good luck.
When we got back in the queue the dark clouds that had suddenly appeared burst into life and the rain fell, now when it rains here believe me it rains! It didn't last long and half an hour later you would not have guessed it had rained at all.
At last the doors opened and we all went through in a single orderly line and once inside we all had to wait still in line for another ten minutes or so before entering the arena. It was perfectly organised, no running, everyone respecting the system and it worked a treat.
Once inside the pit I sotted a potential spot on the front barrier but too far to the right, I then looked behind and realised there was no one on the back barrier and so that was our place bang in the centre.
Directly behind us was a very narrow walkway at chest height and I knew the man would be using this a couple of times during the show, it was impossible to get any closer!
The arena started to fill but there was still plenty of room around our position and I spent the time waiting chatting to some of our new neighbours.
I recognised the bloke who had been waiting with the girl ouside the artists entrance and asked him if she had been lucky. She had, Bruce didn't get out of the car but allowed a photo and he got his autograph – perhaps we should have gone back after the rollcall!
I also recognised the guy operating the screen camera, last time I was that close to him was when Bruce played Old Trafford Cricket Ground, he is obviously very loyal to his crew.
Lights out and this time the whole band hits the floor running, straight into it and they did not let up.
Five songs in and its Hungry Heart and Bruce goes walkabout, that meant turn around and hold your position no matter what!
Now I've been at the front before but never had I been this close, at one point the man is standing right in front of me with one of his boots on my hand, totally amazing.
All the people in front of us were now suddenly all behind and desperate to get their photo or grab the main man, I held firm and made sure my missus was ok as she is shorter than me!
As he stood above me he suddenly turned around and launched himself backwards and everyone around me on cue raised their arms to catch him, it was surreal!
Then as if in slow motion and still singing he was transported across the crowd as he surfed back to the stage, this is a man older than me I thought, how the hell does he do it!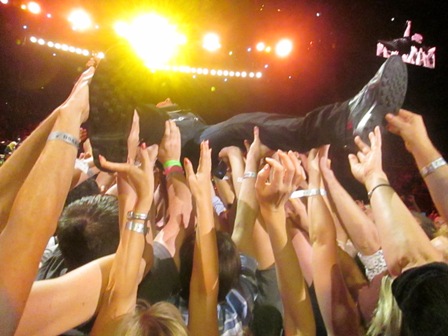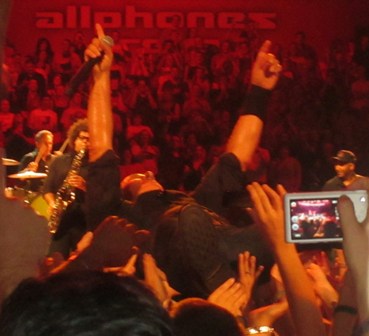 The song that had every one off their feet was Pay me my money Down, one from the Seeger Sessions period which I was totally into.
And then as he was into Darlington County he was off again and once again it was impossible to be any closer as he stood above me belting out the song with Nils alongside for support!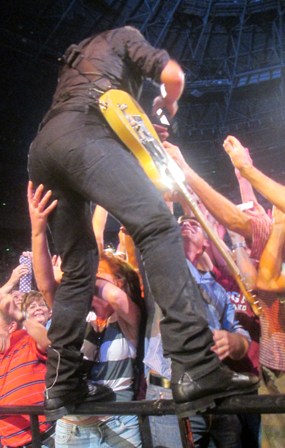 Now on this Australian tour Little Stevie has been absent due to filming commitments and his stand in is Tom Morello, I first saw Tom with the band at the Hyde Park Show, all I can say is he is totally brilliant and I'm really pleased that I've seen him here because Stevie is back for the UK gigs.
His Tour de Force is on The Ghost of Tom Joad but all through the show he adds something that works so well, it will be a bit of a shame when he goes, perhaps he should stay and there will be four brilliant guitarists!
You don't get to hear Born in the USA very often and it was a great surprise as the opening bars rang out through the arena as the Band let rip on a blistering version.
And then just at the end off he went again, this time he was standing in front of me totally still, beckoning the crowd to stay silent as the huge screens showed pictures of Clarence, it was one heck of a minutes silence.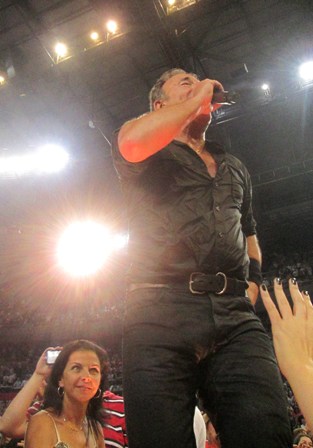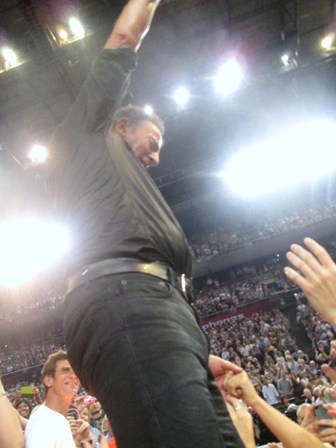 And with one more song as a bonus that was it, it was over , a fantastic show and the end of my unforgettable Boss week.
There will be more shows in the UK this summer but nothing will ever come close to the two I have just seen in Sydney, memories are made from times like these.
SET LIST
We Take Care of Our Own
Wrecking Ball
Night
Death To My Hometown
Hungry Heart
My City Of Ruins
Growin' Up
The E Street Shuffle
Prove It All Night
Trapped
The River
Pay Me My Money Down
Working On The Highway
Darlington County
Shackled And Drawn
Waitin' On A Sunny Day
Backstreets
The Ghost Of Tom Joad
Badlands
Thunder Road
Born In The USA
Born To Run
Dancing In The Dark
Tenth Avenue Freeze-Out
Rosilita (Come Out Tonight)
A massive thank you to my eldest daughter Keeley who made it all happen.
Thanks to those who put their films up on Youtube.