It's hard to believe that fifteen years have flown by since a small group of barbel devotee's met in the historic riverside pub at Upton upon Severn and agreed to support the new organisation that was set to become The Barbel Society.
 Hardened specialist anglers, all committed to putting something back into this thing we all love, barbel and barbel fishing. On the surface it would appear strange that single minded anglers would dedicate such a great deal of time and effort to establish an organisation that has gone on to give so much pleasure to so many, but the generosity of spirit of fisher folk is always there, just beneath the surface, and will always respond when the call is loud enough.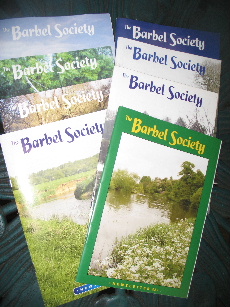 Much water has flowed under the wonderful old bridge at Upton since that spring day, many have come and many have gone, including some of the original members, but others have stepped forward to fill the breech to keep the train rolling. It is the nature of all things.
My enthusiasm is every bit as strong as it was way back then, the years have passed and the body may not be quite so agile but the mind certainly is and hey, we are anglers, we stay forever young anyway, we have the secret of Dorian Gray. And if that doesn't convince you well just remember that sixty is the new forty anyway!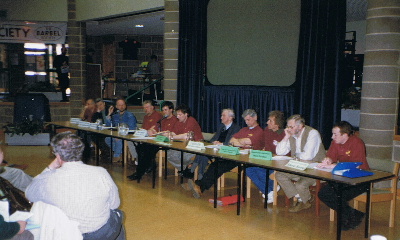 But lets not digress too far away from the subject matter.
When Marsh Pratley walked into the upstairs room at the Star Inn with Peter Stone by his side back in 1995 I knew that the Barbel Society was going to succeed, and succeed it has on many fronts.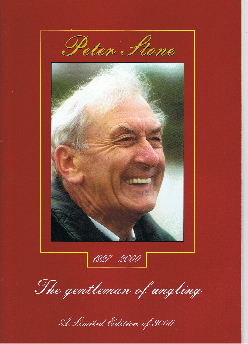 One of the very first jobs we tackled was the production of a Barbel Handling Code. A document we hoped would become as widely accepted as the one the Pike Anglers had put together for the protection of their own species.
Many fishing clubs and groups have since adopted the BS code and universal acceptance was confirmed when the NFA, ten years after we first published it, incorporated the code into their good practice advice to all their members.
I mentioned Peter Stone; his involvement as President in the formative years of the Society was pivotal to our prosperity.
Along with Dick Walker and Fred J. Taylor his name was synonymous with specialist angling, these three men paved the way for all that followed.
Peter was my personal hero, I had read all of his books and along with Mr. Crabtree and my dad he was the inspiration to me back in the early sixties.
It's been said many times what a wonderful man Peter was, and he truly was. I feel it has been an honour and privilege to have known him for those last few years of his life and the memories will stay with me forever.
When Peter died the Barbel Society focussed on how it could leave some sort of permanent memorial that would help keep Peter's name alive.
This led to one of the Societies finest achievements.
On an overcast April day in 2003 a group of anglers along with Peter's family gathered by the Toll bridge over the Thames millstream in Wolvercote to witness the unveiling of a plaque to honour the great man.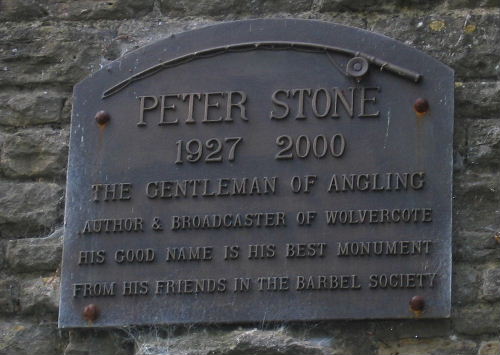 The words on that plaque were simple, " Peter Stone, The Gentleman of Angling, 1927-2000, Author and Broadcaster of Wolvercote. His good name is his best monument. From his friends in the Barbel Society."
That other great angling gentleman Peter Wheat came up with those words for the inscription and they are without doubt the perfect sentiments we could possibly express.
The Society also produced a booklet titled Peter Stone, The Gentleman of Angling, in which many of those who had known Peter contributed a short story or anecdote.
We also helped Peter's lovely wife Sue to auction Peter's tackle, the monies raised going to her grandchildren.
You can see from the above the esteem in which Peter Stone was held by us all and may his memory live on in the hearts of everyone who casts a line.
Fred Crouch, who had been instrumental in setting up the Society became its second President and still holds that position today, Fred is known as Mr. Barbel and rightly so.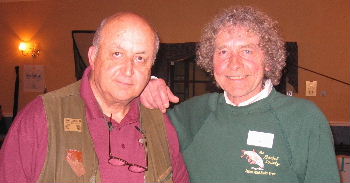 Peter Wheat, another legendary name in the barbel world, became Vice President.
Fred had played a major role in the Peter Stone memorial and his other huge input to the Society came when the close season on rivers found itself under threat.
With Fred at the helm we were able to mobilise barbel anglers and that led to a 6000 name petition being presented both to the relevant Ministry and to the House of Commons itself.
Alongside a high profile media campaign there is no doubt the Barbel Society made a significant contribution to the eventual outcome, which maintained the status quo.
Peter would have been proud; as anyone who witnessed his last address at our conference was left in no doubt how committed he was to seeing the close season retained.
I wish I could say that the campaign to prevent barbel being stocked into stillwaters had been a success but hand on heart, I can't.
We definitely highlighted and brought to public attention the taking of barbel from rivers to assist stocking in some stillwater fisheries and have also influenced the EA with regard to its requirements for stocking. Indeed we made representation to the Freshwater Fisheries review panel where we put forward our case.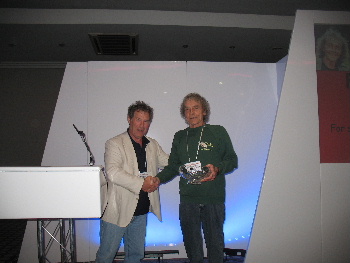 I'm sure in years to come our stance on this emotive issue will be seen to have been correct.
The Barbel Society has never stepped back from expressing a view on the big issues affecting barbel fishing and obviously when you do that you are likely to make a few enemies as well as friends, but always the views expressed are put forward with the best intentions, the welfare of the barbel and the interest of the barbel angler.
Another hugely influential person and Founder Member was Mike Burdon. He was in at the very start of the Conservation side of the Society and paved the way for what was to follow. Following his untimely death in 2005, Pete Reading took over the reins and things have since moved forward at a tremendous pace.
You can't do very much in life without money in the bank, and due to the outstanding generosity of Society members and supporters we have managed to raise getting on for £30k. solely for spending on research and conservation projects.
Let me give you some idea of the kind of thing we have been involved in.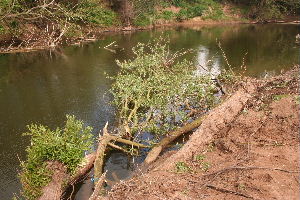 On the beautiful river Teme in Worcestershire, in conjunction with the EA, we have carried out habitat restoration works including the coppicing and pollarding of trees, which helps to skylight the river while increasing instream cover and low level growth.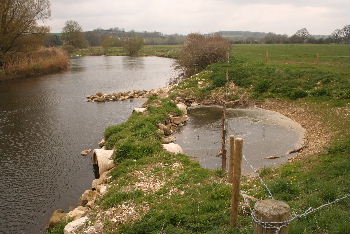 We have contributed financially to the stocking of barbel into the River Dane and River Aire, initiatives that have directly resulted in thousands of pounds worth of stocking elsewhere.
We have paid towards a habitat survey and electro fishing on the St. Patrick's Stream to establish populations leading to options for future enhancement.
The Barbel Society initiated the stocking of 9000 barbel into the Dorset Stour together with associated habitat works. Funding also came from local clubs and the EA, which will eventually lead to a project investment of £40k. for the river.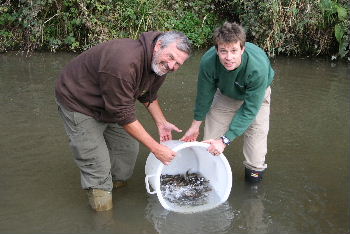 Habitat and restoration works are in the pipeline for the Upper Thames, Loddon and Hampshire Avon, we have finances set aside for this.
We will always consider giving financial help to small fishing clubs to improve rivers as well as give advice on habitat improvement work, so get in touch if you feel we can be of help.
Because of our strong links and excellent working relationship with the Environment Agency it is likely we will be helping out on research works on the Great Ouse, as well as the ongoing scale reading survey underway on the Teme and Hampshire Avon that will assist in monitoring barbel populations.
We are in the process of collating information to enable the setting up a national database of spawning sites and spawning activity, which the Environment Agency will find most useful and will also provide some measure of protection for those sites.
Growth rates in both stillwaters and rivers need to be studied more, and the effects of climate change need to be fully understood. Big fat barbel may not be very good breeders and they may have shortened life spans. Much opinion has been expressed, but very little is based on true science.
As you can see we are very active in the area of conservation and we are becoming far more involved in research projects. It is a major part of what the Barbel Society is about.
How did we get into the position to help out financially?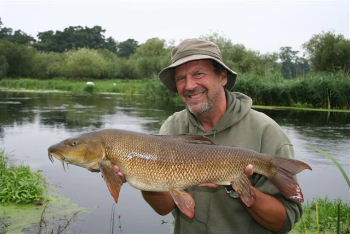 Well, both Pete Reading and myself recognised that the only way we were going to make an impact on conservation works was to build up a sizeable bank account, life tells you that without money you can do very little.
Fortunately for us, BS stalwart Barry Norris came up with the answer, our online Auction.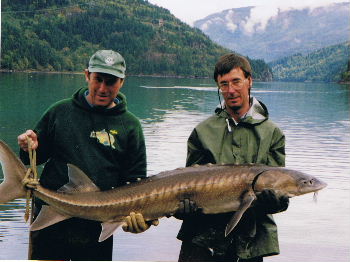 This is held every year and the brilliant support we receive from members, the trade and barbel enthusiasts has seen us accrue a very tidy sum indeed.
Along with Pete I said that the R and C side of the Society would become the biggest boost to the BS in terms of recognition and membership since it was founded. The gravitas we have achieved, especially in relation to bodies such as the Environment Agency, Rivers Trusts and Natural England has been immense, some habitat work we have carried out has been used as an example of good practice in riverine management by Natural England.
So as you can see, we mean business, and there's no doubt this aspect of the Society will continue to flourish.
Another area we have excelled in is putting on a show!
Since the NASA shows came to an end we have done our best to fill the gap, the carp and pike anglers have been well looked after and the Barbel Society has looked after the barbel fisher.
Everyone, and I mean everyone who is anyone, has put on a presentation at our show these past fifteen years and they have left some memorable moments for those lucky enough to have been there.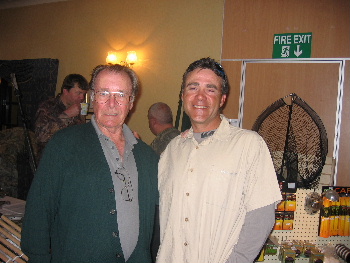 Chris Yates waxing lyrical about the joys of gudgeon fishing, Martin James in full Isaac Walton costume, Jeremy Wade, Matt Hayes, Gary Newman, Hugh Miles and Lee swords. We cover the whole spectrum, old and new.
Who will ever forget the time Stoney, Fred J. Taylor and Peter Wheat sat on stage and kept their audience truly captivated as they recalled one tale after another?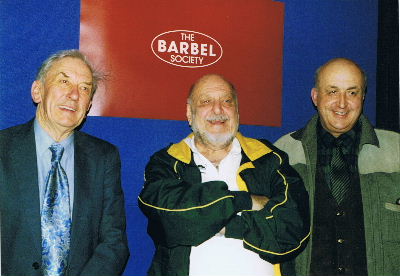 Truly magical and captured on disc for all time.
Every year we present the Gordon Scott award in memory of one of our founder members and a main player; the recipients have included such luminaries as Andy Orme, Phil Buckingham and Trefor West.
 Listening intently to Peter Wheat as he builds up the tension before the audience eventually realise who will be the recipient is yet another joy and a moment looked forward to each year.
Peter puts great store on the spirit of friendship that runs through the Society, when he gives his annual address you can hear a pin drop in the hall, we are extremely proud and honoured to have men of such great standing in our ranks.
 We are always pleased to be able to put on a fantastic show for everybody and every year more unforgettable moments are created, make sure you don't miss out when the next one in June comes around.
Although the annual show is the big one, during the course of the year regional meetings take place across the country and once again just about every well-known name has presented at these.
Pubs, clubs and halls have been filled from Lands End to John O'Groats, slight exaggeration there but you get the drift, and these days there is a new generation of speakers ready to carry on and keep the ball rolling.
Talking of the next generation, the Barbel Society has always endeavoured to do what it can to bring the barbel fishing experience to as many people as possible.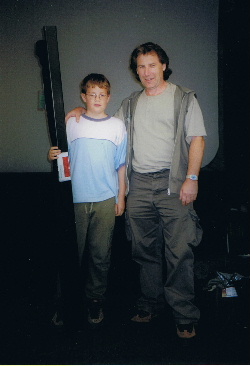 We have actively helped many youngsters catch their first fish under the guidance of accredited tutors on rivers all over the country.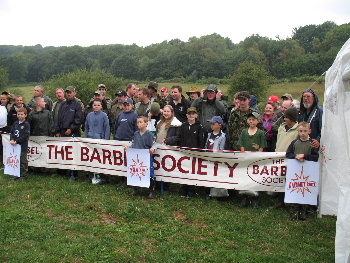 But it isn't just about helping juniors, we are now embarking on an ambitious project to help and assist anglers of any age who have yet to enjoy the thrill of catching a wild barbel.
The Barbel School will be up and running in the summer and we expect many converts from the carp filled pools once they have felt the pull of a barbel in a flowing river in superb surroundings guided by the massive experience the BS has to offer.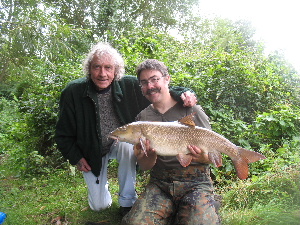 Keep an eye out for the time and places, it will be well advertised.
The Barbel Society also produces a superb magazine for its members, The Barbel Fisher. Since the very first issue this flagship has evolved with the help of Kevin Clifford and his team, to become the finest read on offer to the barbel angler. You can get a taster of the content by clicking on to the Society website, www.barbelsociety.co.uk.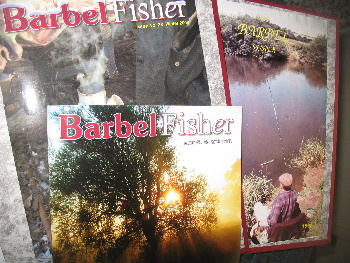 Over the past fifteen years the Society has controlled many different stretches of prime river fishing for its members.
Stretches on the Severn, Trent, Teme, Ouse, Bristol Avon, Swale, and others have all been the scene for great catches at one time or another.
Nothing stays the same however, and venues change and we have to be ever mindful that anglers preferences change as well, its not easy because every water taken on is a potential risk and in the times we now live in one eye must always be on costs.
But be assured the Society is always on the look out for prime stretches of river that would be of benefit to the members.
So to sum up, the Barbel Society is a great place to be, as a member you can find new friendships with like minded anglers, you can contribute to the conservation work we undertake, you can fish some excellent waters, you can share the experiences gained by writing for and reading the magazine, you can help out newcomers to barbel fishing, you can enjoy the meetings and Show and generally heighten your whole barbel fishing experience.
The Barbel Society was founded on solid and sound guiding principles and can be proud of its achievements in its first fifteen years. We've come a heck of a long way since the guys from the Barbel Catchers and Association of Barbel Enthusiasts put their collective heads together.
Peter Wheat once said, there is a freshness and friendliness about the Barbel Society that transcends differences and he was right.
I think it was Gordon Scott who wrote in one of our very first newsletters that The Barbel Society was a precocious infant, well, we've moved on fifteen years into adolescence.
And you know what teenagers are like? They don't run out of steam; they are anxious for more, so don't be misled into thinking we have reached our final destination, the journey has only just begun!
STEVE POPE Copyright November 2010