Now don't worry I'm not about to upset Jamie Oliver or give your mum ideas about dishing them up on a plate for your dinner, I think we all agree this isn't the best culinary dish we want to have served up!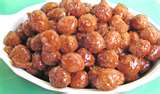 Lucky for us, our favourite fish, the barbel love 'em and surprise  surprise, hardly anyone uses them these days.
Its all pellets and boilies, and to some extent luncheon meat but the poor old meatball stays in the tin on the supermarket shelf.
With the colder months just about to descend upon us this bait is about to come into its own and at less than fifty pence for a tin it's the bargain of all time!
I can't write about meatballs without giving a mention to the man who brought them to the fore, fellow BS member Howard Maddocks. Back in the nineties Howard made the front page and the national papers as well by catching the record barbel from the River Severn on Campbell's finest dish, the humble meatball.
He also set himself up for a good supply of the stuff courtesy of Campbell's themselves!
Although the record has been eclipsed many times by fish from the Ouse, Howard's barbel is still the second biggest from the mighty Severn, and it is one river record everyone would like to achieve.
So how do we go about tempting the barbel with our meaty morsels, it really is simplicity itself.
You can hair rig them, mount them straight on a size six hook, use them whole, cut them in half and even cut them in quarters and fish as a particle.
For a days fishing you need two tins. You can empty them out at home and wash them thoroughly and put them in a sealable plastic bag. Why wash them you ask? Well, my mate Kev washes them and he catches lots of barbel during the season including his fair share of big ones, so if it's good enough for him, it's good enough for me.
All you need to do is introduce a couple of meatballs into your swim, nothing else, drop your bait in, sit back and wait for the rod top to pullover. An hour or so in the swim is enough; you can then repeat the process in your next best swim. You can cover four or five swims and then go back to the start again.
If you catch one stick around to see if there are others about and when you decide to move on put another couple of balls in the swim.
Your chosen swims will be reasonably close to the bank, we're trying to catch the barbel unawares and set a trap in a part of the river they may feel safe.
If you are fishing with small pieces you can mix them up with a couple of pints of hemp and use a bait dropper to get the bait in. Fishing this way you would want to stay longer in the swim because this is "attraction" fishing whereas the other method described is "opportunist" fishing.
So next time you're planning a trip out leave the pellets and luncheon meat at home and get yourself down to Asda's because their brand is definitely the best and try meatballs, you may have a real surprise!
Good Fishing,
 STEVE