No I'm not about to recount my time in Disneyworld, that was many moons ago, and I'm not about to wax lyrical about the latest Playstation game set in some dystopian fishing civil war. Well not exactly – more like a quiet weekend on Brighton Beach, yes I had succumbed and found myself at probably the most famous swim in the country at Cromwell Weir!
When I posted on Facebook my intention to visit the place the responses came in thick and fast and led me to believe I had lost my sanity and that I really was about to enter a war zone!
Perhaps I had indeed lost the plot!
Sometimes you just have to see for yourself and in all honesty I'm really glad I did.
So off I set, bright and early on a Thursday morning to meet up with Andy and hopefully catch up to say hello to Steve as well as I knew he was leaving just after lunch – he had been there for two days.
This adventure came about because of my friendship with Andy. He is a larger than life character who lives on the Isle of Man when he is not visiting exotic places all over the globe, suffice to say Andy has life well and truly sorted!
Last year I managed to get Andy his first double during the day we shared on the Kennet after previously coming close on the Wye. On that fateful day Andy told me he was soon to visit Cromwell with Steve and the upshot of that visit was they emptied the place!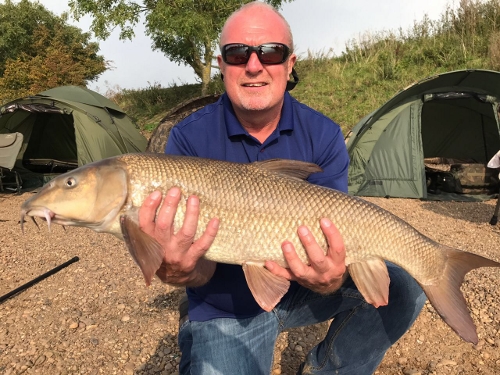 Not surprisingly Andy became rather attached to the weir and his doubles tally has now increased somewhat!
So while I was in Australia earlier this year I received a kind invitation to join him and share in the fun to be had and that's how I found myself heading east to the Trent for the first time in a long time.
I'm reasonably well tooled up for big rivers preferring to keep things as close to my normal style as possible but I knew in the back of my mind that I needed a tripod. Now it's hard for me to explain just how big a leap this was, to bite the bullet and accept that I'll be sat beside scaffolding with rods pointed towards the heavens – complete anathema!
But so it was, after a difficult drive – hold ups on the M6, I eventually found myself on an industrial estate just outside Newark trying to find Future Fishing, the tackle shop I had been advised to visit.
After what seemed like an eternity I eventually found the place and what a place! From the outside there is no warning that this is indeed a real Aladdin's Cave, it was truly massive and had everything and more but where were the tripods?
Perhaps they were all sold out because you don't need to be some kind of genius to work out that this particular item of tackle is probably one of the most popular in this neck of the woods and they obviously flew out the door like hot cakes!
As I wandered along each endless aisle I suddenly came across what I was sure was a rocket launcher, well I was warned that I was entering a war zone, and a closer inspection revealed that this was indeed the item of kit no self-respecting Tidal Trent barbel man would be without!
When I saw the price tag saying close on £100 I almost fell over the flippin' thing! That was way too much as far as I was concerned but just as I was about to depart and put my faith in my own extendables I noticed a smaller version and as the salesman was prepared to give me a generous discount I headed off to Collingham with my Korum tripod at half the price and I felt I had properly arrived in this part of the world!
In Collingham itself I missed the turn off but a kindly old lady pointed me in the right direction with the comment that I didn't look like the usual fisherfolk she saw in town – I wasn't quite sure how to take that!
After a careful drive down the long track that could do with a bit of resurfacing I found myself down by the river and there to my left I could see it, the most famous weir in barbeldom – the iconic Cromwell!
And as I took it all in there was Steve walking towards me along the top of the floodbank looking rather pleased with himself as he had every right to be as I already knew that he and Andy had already landed an incredible number of barbel!
More on that later.
For now Steve, being the helpful guy he is, gave me a hand to take my inordinate amount of gear down to the weir pegs, a walk of 150 yards or so.
There I was greeted by Andy in his well-organised home from home!
A bivvy for sleeping, a bivvy for the cooking gear and there by the water's edge the ubiquitous tripod, the mega one – what else would I expect!!
Steve's camp was about to be dismantled but not before his rod screamed off demolishing his scaffold in the process, he obviously had forgotten to get it signed off by the Building Inspector! More likely Steve had failed to notice that the rocks that keep the whole thing stable were out of position.
So I hadn't even started to unpack my gear and there it was, another double lying in the capacious unhooking cradle. Over the coming two days it was a sight I was to see often!
Steve eventually packed all his gear away as he set off on more of his travels. I have to say I thought I covered the miles with my guiding but Steve is in a different league altogether and I don't think I could manage the amount of effort he puts in. I think he said it was going to be at least a week before he was back at home on the south coast!
He deserves the success that comes his way.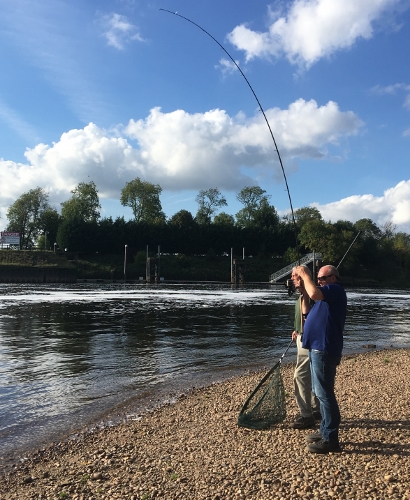 I was in no rush and having set up my home on the stoney beach I took my pair of Big River rods from their sleeves and went about making the necessary adjustments – I had already concluded that centrepins were not going to be the best choice here!
My small 4000 baitrunners, loaded with 12lb Shimano line, were my replacements and the rest of the set up was simplicity itself save for the inclusion of the PVA swivel which has now become part of my standard rig on rivers like the Severn and Wye.
As my bait was going to be double 18mm boilie I went up in hook size to a Nash 7.
Hook length about 30 inches, bait Dynamite Crave, PVA mesh bag with four 15mm matching boilies, 6oz weight.
All set to go!
I have to admit it did seem rather strange sitting next to my pair of rods in the tripod not quite pointing skywards, forty five degrees was as much as my sensibilities allowed!
Over the course of the next nine hours I had four barbel, a couple of big nines and two tens. I couldn't complain with that and so not long after midnight I brought both rods in and retired to the semi warmth of the bivvy. At my age the cold is hard to shake off once it gets into those bones and I hadn't brought my hardcore thermals in the mistaken belief that it would be relatively mild in the middle of the night!
Now this is probably a bit controversial but hey what's new? If I decide to get my head down in the bivvy for the duration then I'm not fishing, I'm sleeping and so the rods come in. If I am sitting next to the rods in my chair and perhaps catch a few zzzz's every now and again then I'm actually fishing and the rods stay out.
That's the line I draw for myself – others may choose differently.
Come morning and after the minimal amount of ablutions (Anti perspirant is a wonderful invention), after all it was only two nights and Andy now into his fourth day didn't reek to high heaven, it was bacon sandwiches and tea and then once again we were good to go!
A familiar face appeared at the tail of the weir, mind you the last time I saw this guy he was in full Game of Thrones regalia, yes it was none other than the Trent Barbel Catching Machine better known as Lee Swords!
Lee pitched up just below my position and he was soon casting in and about to embark on a memorable twenty four hours.
We had also been joined by and old friend of Andy's who had yet to catch a barbel although in times past he made a decent impact on his match fishing scene, so we had a mission to ensure he went home with at least one barbel under his belt.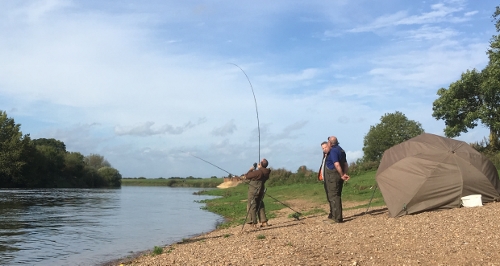 Lee was soon catching, he had opted for a slightly different bait approach and it was working and it seemed as though the fish were more abundant at the tail of the weir because Andy was struggling in the key swim 1A.
I decided to let Andy's pal have any takes on my rods and then watched incredulously as the first three either ended up with hook pulls or snagged fish, it wasn't going to plan!
However his luck changed when using Andy's tackle when he cast into the slacker water against the steel palings in the shape of a monster chub.
What a stunning fish it was, we all thought it was going to be close to 7lb, such was its size and fantastic condition. The scales told us it was just over 6lb 8oz, a superb specimen – but not a barbel!
As afternoon turned into early evening Andy decided to go into the village to bring back a Chinese for us all, wonderful fella!
This set us up nicely as darkness began to fall, not the pitch black when you're set up in the middle of nowhere as the lights on the far bank maintained a degree of illumination.
About 9-15pm and my left hand rod started shaking on its precarious structure as my alarm sung out its tune and as Andy's mate was too far away I hit it myself and immediately felt that solid resistance that tells you one thing – big fish!
So far the barbel I had hooked had not fought particularly hard, certainly not a patch on the Wye fish but this one was just using its weight and it was not until it came in to the shallower water that it made a couple of powerful runs. I hadn't found my area to be particularly snaggy, Andy's buddy was just unlucky, and so I let the fish run and then carefully brought it back to the net where Lee did the honours. We could tell it was a really big fish. I think no matter how many you have caught whenever you are in company everyone veers on the conservative side of things. I was pretty sure it was well over thirteen but I wasn't prepared to stick my neck out!
The needle on the Rueben Heatons went right round to 15lb, it was indeed a very nice fish. It's a good few years since I last had a fifteen and that came from the Ouse so this was indeed an extremely pleasant moment!
Fish rested, pictures taken and off she swam no doubt to join her many buddies in the depths of this incredible place.
I put my arm around Andy and his pal and said don't worry the next one is sixteen and it will be yours!!
The rod was cast out once more and I sat back in my chair pleased with how it was going for me.
It was not long before the line peeled off the baitrunner signalling that I was in once more.
Very much a carbon copy of the previous fish in terms of the fight and once again we knew we were looking at another hefty specimen.
This time the scales told us that the barbel weighed exactly 14lb, I couldn't believe it, two stunning barbel in successive casts.
For me it was job done and I hit the sack leaving the lads to fish through what was a pretty nippy night.
And they did well and our man caught his barbel, a very nice eleven pounder.
Lee kept on catching and ended up with seven doubles up to thirteen plus along with a few others.
As we packed up early on Saturday morning I pondered on the overall four day result which was in the region of sixty barbel with thirty doubles and realised that this weir really is a fantasyland.
I'm glad I went and I will go again. I'm also pleased it isn't my local venue because I truly believe it would wreck my fishing!
It has to be put into context. For now the barbel fishing is out of this world but it won't last forever and so there is an element of making hay while the sun shines.
I don't feel as though I'm any better as a barbel angler but I tell you what, I was mighty happy to have caught some great fish and I will definitely be doing it again!
As for the horror stories perhaps we were fortunate but they didn't materialise. I was told that in the height of summer there can be issues but the impression I came away with was all positive.
So I can only recommend a visit with the proviso that you don't get carried away, it is what it is and it provides a good deal of fun and at the end of the day that's why we all go fishing in the first place!
Steve Pope