Hello,
It has been a long time since I last posted an update on here and for that you have my most sincere apologies!
When it comes to using social media I have found myself preoccupied with Facebook although I have posted an occasional tweet!
The tweet was in response to the discussion regarding the recent change to women and their roles at some sporting events, I have strong views on this but they are best expressed at another time as I could well get carried away and this blog is focusing on something else!
I have yet to wet a line this year but that does not mean I have consigned fishing to the backburner, on the contrary, I have been busier than ever especially on the more political side of things. I'll expand on that further into this blog but before that I want to go back a few weeks.
My eldest daughter came over with grandson Henry for Christmas and stayed well into January so my time then was taken up making more memories and what times we had!
I've been a lifelong Spurs supporter, this stems from the fact that my dad was a Spurs man , we lived in Tottenham , I went to a school just off White Hart Lane, Bill Nicholson's daughters were at the same school and Spurs were a pretty decent side in 1960 when I went to my first match.
I was an avid fan throughout the sixties, saw many games including most of the home matches when we did the Double!
Throughout the seventies and eighties I maintained that support, to the extent that when I was in business with my dad we sponsored a couple of Tottenham matches including a tie against Barcelona.
My interest waned through the nineties probably because fishing took over my life but when Bale made such a great impact I regained that latent affection that had been dormant for quite a while.
Coming right up to date I find myself enthralled once more with a team that is quite possibly the best since those heady days back in the early sixties.
Now my Aussie grandson Henry loves his football and he's pretty good. I recognised this early on , not through the rose tinted glasses that all grandads wear but with a realisation that he had a bit more going on than what I would have considered usual for a four year old.
This has been picked up in Sydney by people far more knowledeable than I and Henry is now being coached in a top class footballing academy for youngsters and we'll just have to see where this leads.
So knowing he would be here I went online and purchased two tickets for the Everton match.
Well all I can say is the memory will stay in my brain for the rest of my days and I hope the same goes for Henry, I still recall the first match my dad took me to.
We drove to Wembley from my youngest daughters house in St. Albans, in good time for the late afternoon kick off and as I turned off the North Circular I saw that the roads I used to park in were now no go areas and so I had to bite the bullet and pull into the carpark close to the stadium and stump up the £20!
I couldnt believe how much has changed, it had been a long time since I visited Wembley and that would have been for a concert.
The place was teeming with people and Henry couldn't quite believe it, he's a good lad and held my hand as we made our way towards the Spurs shop – I had promised him some goodies and he had his heart set on a Harry Kane shirt!
The shop was absolutely heaving, we had to queue to get in and once inside there was no room to move, reminiscent of being in the Pit at a Boss concert!
Anyway we managed to find all the bits we wanted and escaped to the outside with the contents of my wallet severely depleted!
We made our way to our seats and as the stadium started to fill I could see the excitement in Henry's eyes and I knew this was one of those key moments in life that you treasure forever.
Everything went according to script, Spurs scored four goals and won comfortably and Harry scored two so Henry was ecstatic!!
It took a while to get home, not surprising as the attendance was not far short of eighty thousand.
I know we'll get another chance to watch Spurs play again and you never know my other little grandson Leo may well get into football and support Spurs and then there will be another opportunity for a first match memory!
Henry and my daughter are back in Sydney and we'll be joining them very soon. The snow is falling as I sit here at the laptop and there's only so much cold I can take, the call of Bondi is strong!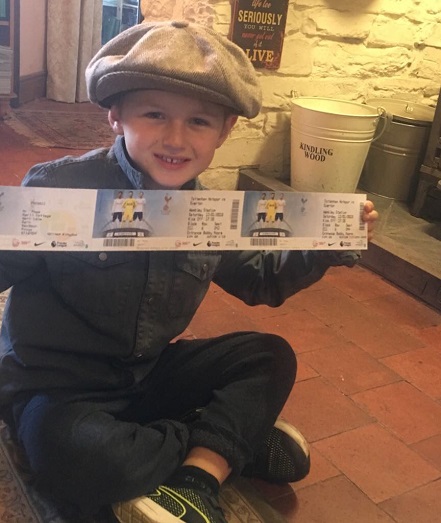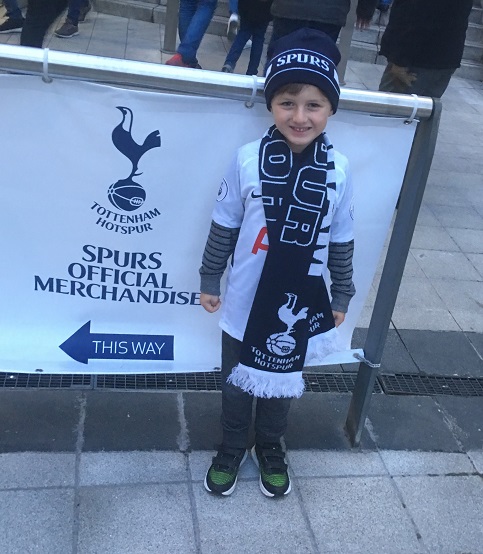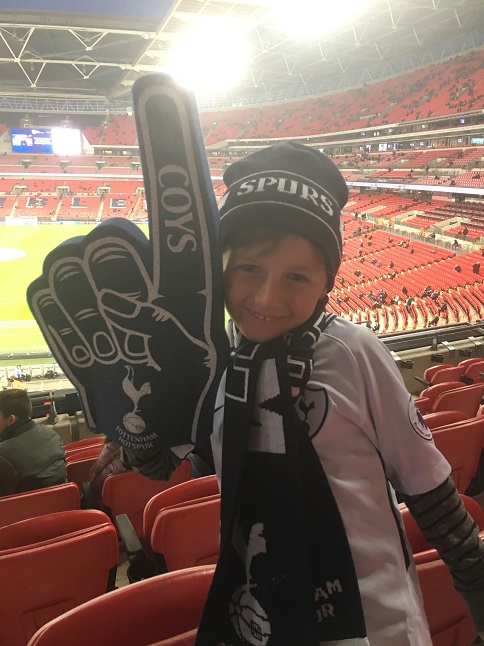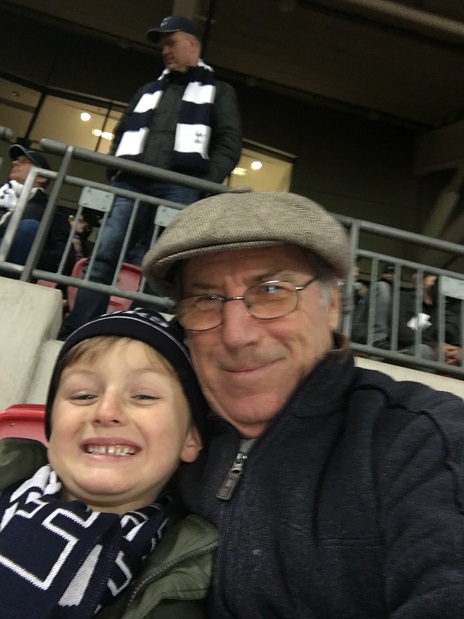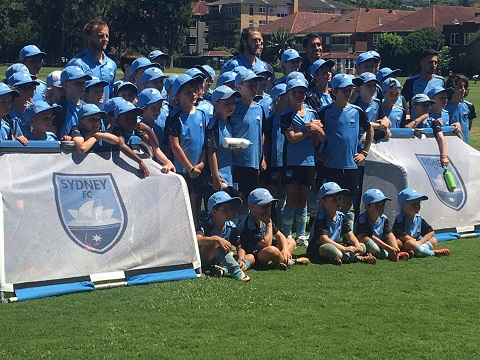 As I said earlier I find myself once more heavily embroilled in fishing politics.
The problem with otters has been with us for some time and I am the first to admit I did not appreciate fifteen years ago just how serious that problem would become.
Initially the problem was very much carp based and over the years that has led to a situation where many lakes are now enclosed with fencing to protect their valuable stock. Of course not everyone can afford to do that and then there's the issue of other wildlife being prevented from reaching the waterside. All in all far from satisfactory but needs must.
The situation with rivers is somewhat different.
Initially the problem came to the fore when venues that produced huge barbel fell prey to otters and whilst I had full sympathy with the anglers who fished these venues, I had myself at times, there was an uneasy feeling with me that we had created an unnatural situation and perhaps we had to some degree invited the problem.
However other rivers began to suffer, the Bristol Avon drew a degree of publicity, and it became more and more apparent that the situation was becoming serious.
Also the otter menace was being witnessed by others outside of angling, garden ponds were and are being targetted and this of course draws more media attention.
One would think that public perception is changing, albeit slowly.
Today we see rivers that have always contained barbel now almost devoid of the species. I know there are a number of other issues affecting the state of our rivers but only a fool could deny that the otter has and will continue to have a devastating negative effect.
And so, with a new team in place heading up the Barbel Society with a commitment to becoming more involved with the serious issues we decided to put the question of predation, with the initial focus on the otter as an apex predator, right at the top of the agenda.
The Barbel Society is not a massive organisation, membership levels have fluctuated over the years but in recent times the numbers have levelled out and are showing signs of increasing once more.
However we have been around for a number of years and have a solid reputation and when we set our sights on something we make an impact.
So with that in mind we set up an online petition, this was always our intention and it was going to happen before Christmas but I spent a good few hours working out how to set it up and found it to be a real struggle coming up with the right words. Now bear in mind I've written many thousands over the years but trying to get it exactly right eluded me at the time and so with Christmas coming up it went on the back burner.
However not long into the new year my good friend and colleague Lol Breakspear was on the phone saying we should get moving on it and I agreed.
So between us we put our heads together and set the wheels in motion.
The petition is live now and runs till July, the initial response has exceeded all expectations.
Fast approaching eleven thousand it's fair to say it is a great success because rallying anglers is not easy!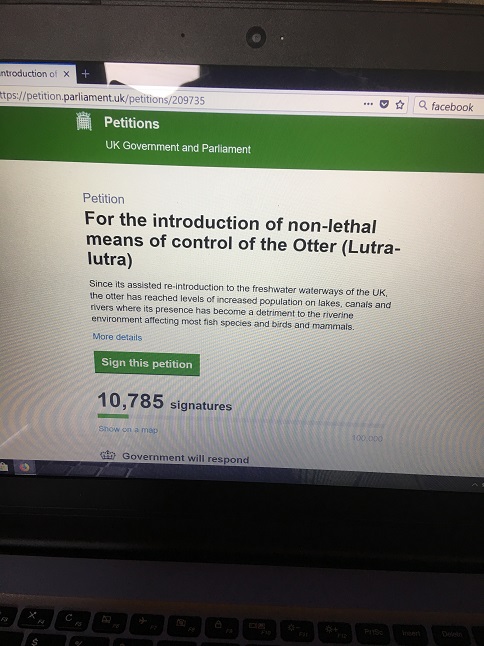 We have struck a chord, touched a nerve and the momentum is building.
The media have picked up on it, I've spoken to BBC Three Counties Radio, a press agency made contact which has led to a piece in The Times. The Anglers Mail have given good coverage and high profile anglers have shown their support. We are on the move.
It is extremely disappointing that some have tried to pick holes, I really fail to understand why that is when this is all about mobilising a great number to show just how frustrated most of us are.
I really do hope people put personal prejudices, ego – becaause thats what it is and whatever else aside for the common good.
The numbers are substantial already and for me that means if I am asked to speak on the subject I do so knowing I have many thousands alongside me.
This campaign is not for my benefit or anyone else from my generation, we've had the best of things and so it would be easy to walk away , but would that be right – of course not!!
I mentioned my grandchildren at the start of this piece, I would like to think they would at least have the opportunity to enjoy part of what we have, if that opportunity is not there then I see it as a  poor legacy and we , thats all of my generation, should be ashamed.
Harsh words but it needs to be said because in this day and age it's far too easy to walk away or pay lip service or paper over cracks. It may ease the conscience but thats all.
So we are doing something, where it leads, who knows but if we do nothing then thats all we'll get – nothing.
We will ruffle feathers, rattle cages, make life uneasy and we'll be heard because there are many of us. I make no apologies for that whatsoever.
I would urge you to take a few minutes to sign up, your signature is another piece in the jig saw and adds weight to what is fast becoming an army who want some kind of action.
A couple of weeks ago I joined my good friend Des Taylor in his Den for another live Facebook feed and that has attracted well over nine thousand views, it's online so have a look, there's a lot more on there where we talk in depth about this issue.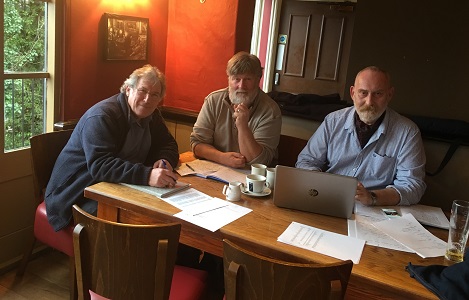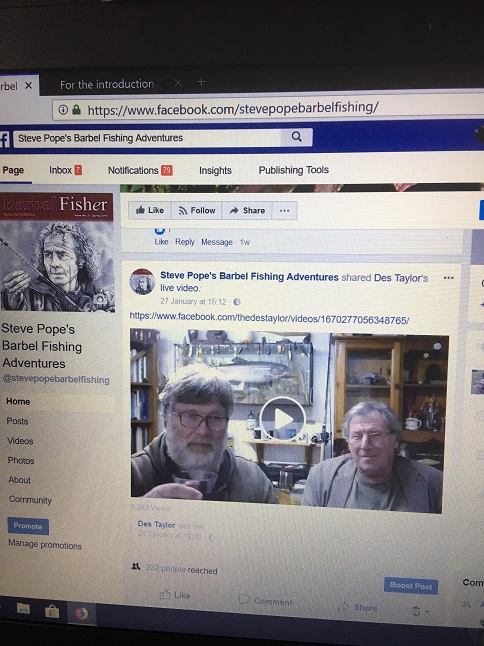 With a trip to Dubai and Australia looming large on the horizon it really is unlikely I will be getting down to the river before the summer. Already my diary is filling up nicely and I'm really looking forward to some great fun on the Trent.
When I return it will be straight in to The Barbel Show, plans are well advanced , we have a new venue and as always it promises to be a great day out. As it all falls into place I'll keep you updated on here.
Thats about it for now, I really will be updating on a far more regular basis and I'm well into an article recalling my time spent on one particukar stretch of the Severn, that should be done before I fly off.
If you're out on the river braving the weather you have my total respect and very best wishes!
Steve