So it's the start of another year, what's in store for us all over the next twelve months I wonder?
I loved Roger Daltrey's reply when Jools asked him on his New Years Eve show what it was he wanted from 2011.
"Just to be around this time next year." said The Who frontman, I think I understand just what he meant!
***
I really do hope the result at Goodison was just a blip and not a return to the bad old days, us Spurs fans have been living a bit of a dream over the past couple of months and we don't want it to end just yet. Not entirely sure Beckham will bring a lot to the table but Harry seems to know what he's doing so it may turn out to be a genius transaction, just as long as his missus keeps well away then I'm reasonably cool!
The cricket Down Under is altogether a different can of beer, winning is good, annihilation and humiliation is so much better!
Never forget the Aussies have rubbed our noses in it for far too long, this series result has been a long time coming, but more on this topic later.
***
Barely a week in and we have lost a marvellous  actor and a musician who is a great favourite of mine.
Pete Postlethwaite was by far the most famous person living in my part of the country, barely ten miles or so away and very close to the Long Mynd which I can see on a clear day as I type. He simply had one of those unforgettable faces, the sort that you would more likely see in the building site canteen than on the silver screen.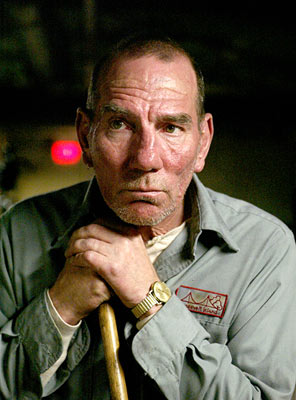 The point was that whenever he was on that screen he dominated it, your eyes were transfixed, a fact acknowledged by Spielberg when he called PP the greatest actor he had ever seen. My fondest memory will be whenever I watch Sharpe and Sergeant Obadiah Hakeswill is there giving Sean Bean plenty of grief. We will miss PP, his like do not come along that often.
" Over the hills and far away……………."
Back in the late seventies the music of Gerry Rafferty was seldom off my turntable or car cassette player. His sublime voice together with his superb lyrics really did it for me. It's a real shame the demons took control because he should have been a massive superstar, he just couldn't deal with it.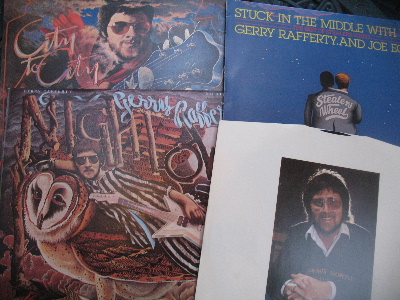 His songs will live on for sure and the most famous, Baker Street, will still be played  fifty years from now.
This song is one of his best and one of my personal favourites,
And we'll sail out on the water, yes we'll feel the sea grow,
Yes we'll meet out on the water where all strangers are known.
***
The biggest story in barbel fishing at the moment has to be the magnificent capture of a near eighteen pound fish in what were not far short of Arctic conditions. The photo of Keith Speer and his monstrous fish is destined to reach iconic status, the image will be embedded in the mind of everyone who casts their line in running waters.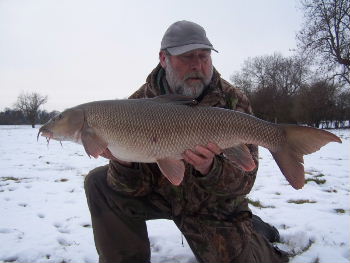 I've mentioned Keith on here before, he is a seriously accomplished angler who is expert when it comes to floatfishing for barbel.
Keith's fish is truly inspirational and will give heart to all those hardy souls who venture out for barbel when the great majority find their own excuses or seek more obliging species.
If you're tempted to have a go at float fishing for barbel be mindful of the fact that Keith's vast experience allows him to fish in a manner that would not suit others. A bit like trying to emulate Cookie when you're playing cricket on the village green, I'm sure you can see where I'm coming from!
But everything is about Keith and his amazing capture, so massive congratulations from me for what is without doubt the barbel catch of the season.
***
A couple of months ago I received an email from a fellow angler who lives across the pond in Illinois. Lloyd is his name and he said how much he enjoyed my website even though he has never seen a barbel.
He was very taken with Fred's reels and wanted to get hold of one.
Fred sorted things out and a Black Jet was soon winging its way across the ocean soon to be united with an excited Lloyd.
Just a few days ago I received another email from Lloyd and he has granted me permission to share his tale with you all on here. It's a brilliant story and Fred was in stitches as I relayed it to him over the phone.
Here it is, I hope Lloyd likes the title I have given it!
 Blessed are the reel makers!
Well, my new Fred Crouch reel appeared at my door step and with the winter conditions as they are, I must simply admire my little treasure and await the warming spells soon to follow.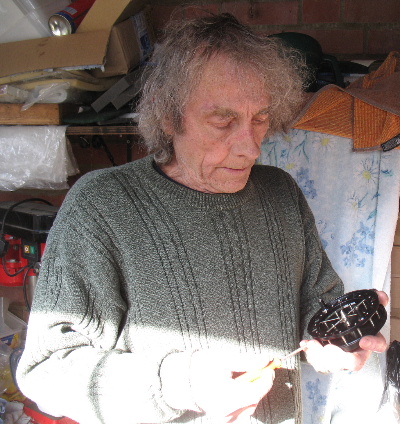 The following days found me taking hold of the reel and giving it a quick spin, then watching the spokes as they nearly put me in a trance, repeatedly. I think it could become habit forming or compulsive for a weaker mind, but thankfully not mine. This is where my little story takes a twist, as any true centre pin enthusiast knows, these lifeless angling tools seemingly begin to take on a will or spirit of their own strangely enough.
Sunday morning found me joining my wife at the weekly gathering of faithful believers. We were all gathered in a warm secure setting greeting each other with handshakes and smiles trying to get into our favorite seat before someone else poached our pew.
 Morning worship service began with singing and remembrance of those things needing to be remembered and as we sat down to open the reading of sacred scriptures my wife bumped into my jacket pocket with the back of her hand and a puzzled look on her face.
 I felt inside my pocket and low and behold I produced a jet-black aerial reel out from its hiding place. I don't remember slipping that into my pocket but since it found its way into my hand I was compelled to offer it a loving little spin. I'm not sure how long or how many times I quietly spun the reel but I did take note of its effect on the small lad sitting to my right. He was as transfixed as was I on seeing my first centre pin spinning, his eyes locked on its spokes unblinking. Without a word being spoken and wanting to really show the boy just how long a good spin would run I gave it a healthy flick. It slowed after some time and the boy looked up at me with a smile.
My wife by this time had given me a few soft jabs to the ribs but, she was ignored and tolerant of my childish behavior, after35 years of marriage she knew it was a pointless exercise.
One final spin before tucking it away and out of sight and that's when it jumped from my hands and disappeared under the pew in front of us. I could hear that aerial reel racing forward like the sound of stampeding rats scurrying along church floor.
The Vicar fell silent, the congregation looked toward the miniature unseen stampede of tiny feet.  I will never know how that reel made it all the way to the front of the church without hitting someone's foot and coming to rest.
Out it came from under the very front pew and right up to the front altar.
The Vicars eye went from the reel at his feet right back to where I was seated.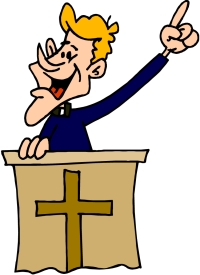 My wife had buried her face in her hands; I was speechless, but resorted to my best effort of looking at the lad to my right and shaking my finger at him, moving my lips without uttering an intelligible word and tweaking his ear.
The anglers art of deception crafted over many years.
I looked back up at the Vicar, smiled and nodded my head as if to say "all in hand now" but it wasn't all in hand, my reel had just taken a terrible tumble, run a gauntlet of threatening feet and half a furlong out of my sight. I wasn't out of the woods just yet, the closing prayer and invitation of sinners to come home was about to be given.
My mind raced, what if a herd of sinners heeded the call to salvation, stormed to the front of the church trampling my reel?
I had to make a move, I knew what to do.
As soon as the prayer was given and every eye was closed I would make my way out and to the front of the church redeeming my reel.
All was going to plan when the prayer was cut shorter than normal, just as I was bent over retrieving my reel, the Amen was given.
The eyes of all were on me so; I motioned the Vicar to incline his ear my way and reassured him that as the hymn said, "That account was settled long ago"
I was simply there for redeeming the reel.
I got a few snubs walking out of church that day, more than a few smiles and handshakes, but the old retired Vicar was insistent that he be given a closer look at the runaway reel, much to his delight.
My wife was ashamed and humiliated, but I reminded her that these weren't new feeling for her after being married to me for so long. The silent drive home was only broken when my wife told me how shocked and troubled she felt at the incident.
 I agreed with her and said yes, so was I, I thought I had a better grip on it than that.
Lloyd 
Hope you enjoyed that little story as much as I did when I opened the mail. Lloyd will send me some pictures when he catches his first fish on his very special reel!
***
I said I would come back to the cricket, can't have too much of a good thing now can we?
My daughter, who lives in Sydney, went along to the first day of the final test and took some pictures, she actually took many pictures and I've selected a few to put on here;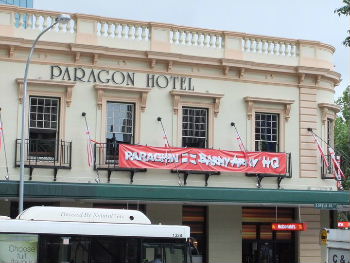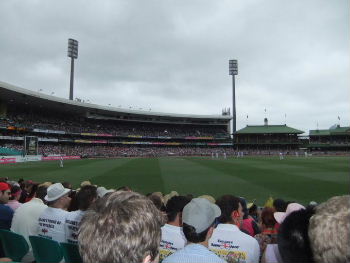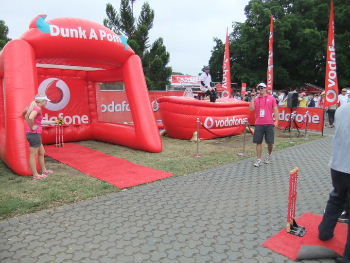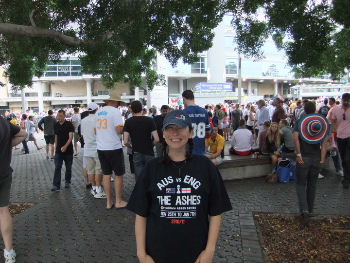 As I type we need just three wickets to win the final test by an innings and thus take the series.
I don't think I'm being too presumptious by saying it really is all over now and I'm just going to stay up for the final rites.
That will be it for me then with the cricket, I'm not a massive fan of one day matches or twenty twenty, test match cricket is my game.
This past month has evoked memories of Botham, Willis, Gatting and the other Middlesex captain whose name escapes me for the moment, the clever one…………………..Mike Brearley, I remembered!
Well done England and very much deserved.
Before leaving the subject of Australia, I feel for the people in Queensland who are suffering the terrible floods at this time. A few years ago I drove from Brisbane up the East coast to Cape Tribulation and went through Rockhampton, one of the towns taking the full brunt of the flood.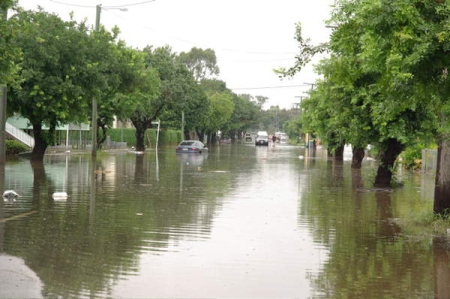 I know we get them here, I've seen enough at Upton upon Severn over the years, but I don't think I've seen snakes or crocs swimming through the town when our Sabrina burst her banks!
And I now know that an Aussie Grandson is on his way and should arrive just before the start of next season. As long as I keep fit and well looks like there's some good fun to be had in the coming years!
 ***
I'm hoping to get out fishing next week, its been far too long since I last cast a line. We have a Barbel Society meeting close to the Severn and as long as the temperature isn't too bad I'll give it a go.
I have a deadline to make for an article I'm writing for a new  magazine that is coming out in a couple of months time and I'm trying to finish reading a brilliant book titled Blood Knots which I wholeheartedly recommend to you all. The author Luke Jennings has a wonderful way with words and his writing will touch a chord with everyone of my generation and anyone who just enjoys brilliant writing with Angling at its core.
 Can't sign off without leaving you with this track,
And when you wake up its a new morning………………………………………….
STEVE