Richard Walker once headed an article, Big Baits For Big Fish, if my memory serves me well it was pike related, what he was saying was that a big fresh deadbait or large lively livebait would most of the times sort out the bigger pike. I remember trying this and was amazed what infact small pike would have a go at, remember spinning on the Warwickshire Avon at Pershore (in between the two bridges, an excellent big barbel spot these days by the way!) and was catching jack pike on spoons almost as big as themselves, I remember fishing with one pound plus chub as livebait on the lower Severn and again was amazed the size (or lack of)  of the pike that would take the bait. What happened over the following years in using this philosophy with other species, big baits  did prove to be selective in certain circumstances and at different times of the year.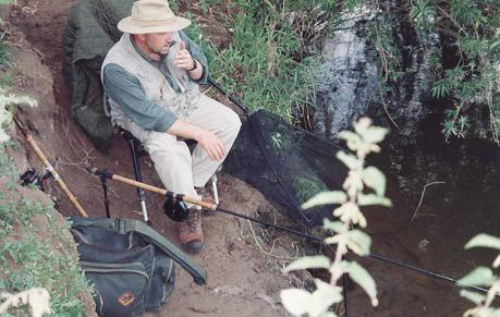 I started barbel fishing in earnest about 1970, I in addition and with a  few mates got involved with the Severn Barbel Research Programme with Dr Peter Hunt of Liverpool University, we fished two years plus for barbel, even during the closed season with river authority approval may I add, as Peter wanted his analysis to be all encompassing and complete. Whilst  the research was fun, I did really get into the catching of the barbel and as a budding specimen hunter and Peter Wheat devotee, the bigger fish became my preoccupation, how I wanted a ten pounder, but middle Severn barbel at that time seemed to struggle to get over 8Ib never mind 10IB. Though stories of match men and other barbel specialists taking double figure barbel reinforced my enthusiasm to get my first double, it was at this time I began a thought process of big baits for big barbel, though the larger catches of 100Ib+  were still being taken on swimfeeder casters or maggot type approach, with the odd bigger fish either smashing the match guys up or being caught by mistake or luck.
Once the research programme was concluded, i moved on to other things, big eels in the Birmingham Park pools and carp from distant lakes, I remember catching double figure carp from Llandidrod Wells on paste baits the size of large oranges, I reckon it was the first time a 'method' type approached was being adopted.  The carp would whittle the bait down until it was smaller enough to engulf, without a doubt the activity around the bait was intense, if we reduced the bait size we got small carp, so we had to interest all carp but exclude the small ones from actually taking the bait, so we buried a large hard bait in the orange ball, it worked .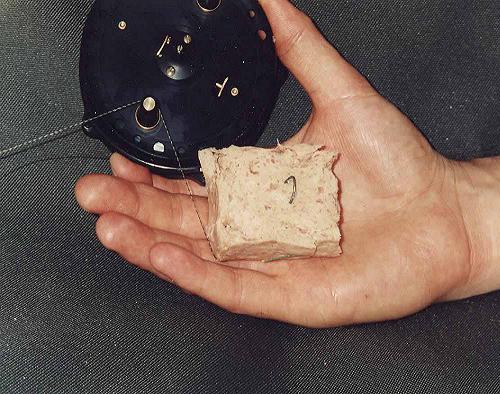 I have been often asked, challenged, agreed with and argued with on my use of big baits for big barbel. When I started to fish the lower Severn for its potential record breaker in the late 80's and more importantly its undoubted stock of big doubles, I became frustrated in lack of success, yes I was catching Barbel, but struggling to get fish over 8Ib, I knew they were there, I had seen a match man catch two ten pounders  in a match on Beauchamp Court. I was there sat behind him and marvelled at his skill as he ran a stick float down with the flow close in and meticulously fed casters and hemp, but it was luck on his behalf, two 8 pounders could have easily taken those casters, he would have been just as happy and still won the match as he did!! This just fuelled my frustration.
I became that obsessed I fished for one barbel at any one time as a mind set, not any barbel, with the hope of a lump just might come along, no, fishing by design for not so much a one particular known fish, but I believed by now that large barbel do become almost like a separate species that behaved similarly  to smaller fish, but ironically totally different in many ways. I developed a minds eye of imagination and pictured those big fish mopping up anglers throw aways, many times I witnessed match men throwing in half tins of meat after the match had finished, I started to be very analytical in my approach. I noticed 20% of the swims produced 80% of the big barbel ( 8Ib up) so if i spent 80% of my time in the 20% of the fish producing swims, my chances (I believed) would increase and my blanks would decrease, but I needed to discriminate between 8 pounders and double figure fish, because I soon learned that a scrappy 8 pounder could ruin a swim for many hours. I began to do the exact opposite to what other Barbel anglers were doing, baits, tackle, position in the river, close in or far out, bite indication, bait flavours, pre baiting etc. all these things were questioned by me.  I was fishing very often, but relatively short sessions, 4 hours or so was the norm, say up to mid night or so, this was due to work or family pressures. I then thought about the big bait theory and Richard Walkers words, had barbel over the years on heavily fished stretches developed a very safe habit of taking the throw aways in darkeness whatever the size, could they take large baits or whittle them down like my Llandidrod Wells carp ?
There was only one way to find out and a standard tin of  meat was cut up into 3, heavily flavoured and frozen for flavour penetration for my next session at Beauchamp Court.
I remember that first big bait night vividly as if it was yesterday, I had tackled up at home and this consisted of a Drennan specialist 11ft rod, Mitchell 300, 10Ib maxima, 18 inches 12Ib Kryston silk and a honed needle sharp size 2 Jack Hilton carp hook, with a 1 oz bomb to finish it off, I knew also I would have to allow the fish to run with the bait to engulf this monstrosity I was putting before them, so I would hold the rod at all times and give some slack at the first sign of an interested Barbel !!
On arrival I baited up with a couple of pints of flavoured hemp, bits of meat, with a can of Corn mixed in, I loaded the home made bake bean can dropper and placed the hemp and meat samples in front of me one and a half rod lengths out, the same distance I thought a match man would throw his leftovers to. I sat back and waited for things to settle, after a few role up fags and a cup of tea an hour had passed, I put on the bait, the 2 hook was just put cleanly buried through the centre of the meat and turned. I swung the bait out, followed by the loud plodoosh I cringed as it sank slowly to the bottom of the slow deep water. After an hour I started to feel twangs and plucks on the line through my finger, what was happening I wondered, the bait I thought is clearly too big and they couldn't engulf it, were they whittling it away I wondered, I was desperate for a leak and put the rod in its rest, whilst I was relieving myself I noticed the beta light rod top bounce and because I had increased the height the rod tip by putting it in the rest I was getting bat bites, I sat down again……it was nice not holding the rod as I settled back in my chair, I lowered the rest and attached a bobbin and also attached a couple of swanshot to counteract the flow.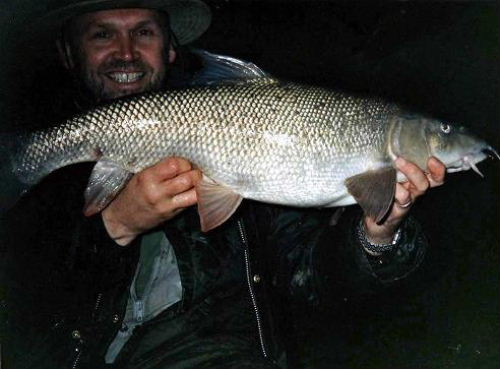 This was very nice, and relaxing I thought…….the bobbin began to twitch and jump, my hand hovered, slowly it moved up, then in a blink of an eye it crashed into the rod butt and the rod top heaved over as I lifted into an unseen leviathan, bloody hell what's this I wondered, it was awesome, it must be a record I thought.  I had never felt anything like it, this was no 8 pounder, it began to chug upstream against the flow and away from me click click click went the Mitchell as the barbel took line, this had never happened before with so much power……. 20 mins or more later and me totally worn out, I netted a beautiful 11Ib 3oz barbel,  my approach and thought process been proven correct and it had worked, subsequent trips proved to me via observation and experience that big barbel don't whittle the bait away, yes an odd little suck and see nibble but they were and are capable of taking the largest of baits, remember the best free offering you can give a barbel is from your hook bait and a large bait allows this .
The rest is History as they say, the following years saw many double figure barbel from the Severn, Teme and Warwickshire Avon caught by myself and friends on this method, the Big Bait method was refined as time went on but I am glad to say that even by today's times of pellets, boilies et al the big bait method still produces today, and is the ultimate selective way of catching double figure barbel as many present day barbel fishers can prove.
One last bit of advice though, to help this method work, and even by todays standards of monster barbel some anglers still lack the confidence in the big bait method…..'cus it don't look right type thoughts'…..my advice is this, get into a mindset that you are after one barbel, one single big fish, where does she live, where does she feed and when ….look at what the rest are doing and do something different, time, presentation, tackle, fish closer to the bank, fish in the vicinity of features, reduce resistance to a bare minimum…..and then use a big ragged chunk of flavoured meat, as there wont be many using one of them!!  
Lol Breakspear
Copyright Lawrence Breakspear