This article is all about my time at Crookham, a truly special place on the River Kennet that has afforded me many superb fishing times and holds so many wonderful memories.
The one constant in life and indeed fishing itself is the certain knowledge that nothing stays the same and that good times don't last forever.
Having delved into my diaries there is certainly enough material to write a book on this so to condense the story to a size that fits into the magazine isn't easy and to help I've decided to break things down under various headings.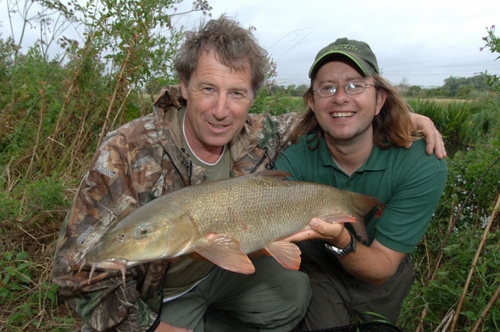 So sit back and I'll take you on my personal journey that has lasted the best part of twenty years – hope you enjoy it as much as I have.
In The Beginning
Back in the mid-nineties most of my available fishing time was spent on the lower Severn. It was a part of the river that had been particularly kind to me and I had enjoyed fabulous times there often in the company of my dear friend Fred Crouch.
Fred had decided to pursue his guiding work and in doing so he found himself spending more and more time at Crookham, our fishing days together then became limited to the times when Fred was not tutoring on the river.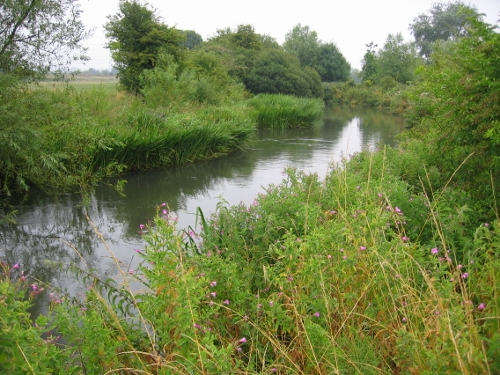 Fred was a member of the syndicate; this stretch of the Kennet is basically in the back garden of the manor house and has been limited to a dozen anglers for a very long time.
In barbel fishing terms the cost was relatively high, reaching four hundred pounds for the season at the height of its popularity but the major plus, apart from the wonderful fishing and surroundings that it afforded, was that each member was allowed to take a guest.
This was not only a boon to the members but it meant there was also a constant pool to draw from as places became available which as you can imagine did not occur very often.
I would drive around to Fred's place early in the morning and then we would both set off pleased to avoid the inevitable M25 congestion arriving at the fishery carpark just as the first light of day broke through.
A normal session would see me catch a few barbel up to the nine pound mark while Fred would almost always offer up a masterclass, catching far more no matter whether we were using maggots or meatball! Fred was an absolute genius on the small rivers but I was learning so much just by fishing with him. I always reminded him that he didn't want to go back to the lower Severn because I always had the Indian sign over him on 'my' venue!
Back in the first years of the new millennium there was a good head of barbel throughout the range up to low doubles and also plenty of chub. The fishing was good fun and most of the known swims produced on their day and of course any day when Fred was in residence.
Once I moved on to pellet my catches increased and Fred was tested to his limit as he steadfastly refused to use them!
I recall one early season day in 2005 when I had one of those special sessions landing nine barbel up to 11lb 14oz with eights and nines as back-ups, all on the pellet and method feeder and Fred finally submitted to the power of the pellet, well admitted at least!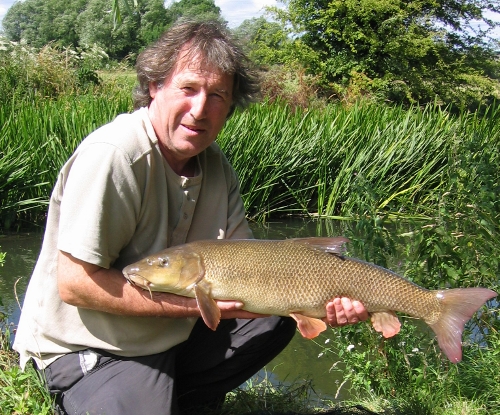 The fish were beginning to reach a size which was putting too much strain on Fred's trusty cane rod and no doubt his body too and he was soon to find himself returning to the Lea where it had all begun for him.
I took his place on the syndicate.
Crookham then became my 'go to' venue. I still kept my static caravan on the Severn, another place that is close to my heart and given me many good times, but the Kennet became number one, even more so from 2010 on when I began guiding – it became my place of work!
The Fishery
Crookham is very close to Thatcham; indeed the Thatcham Angling Club controls the fishing on the opposite bank.
The stretch is typical middle Kennet and being above the more popular areas it is quite narrow with a uniform depth of around 4ft over a gravel bed with varying degrees of weed growth. Lots of overhanging trees, a few bends and the odd deeper run. It even has an idyllic sluice which forms a very small pool in the side stream – very Crabtreesque!
The first field contains a number of well-known swims, the CarPark, the Platform, the Gully, the Bream Hole, and the Deeps.
As you pass through the five bar gate the first swim is the Alder, then the Straight, Dianne's, the Armchair, the Doubles Bar, and the Weir Pool.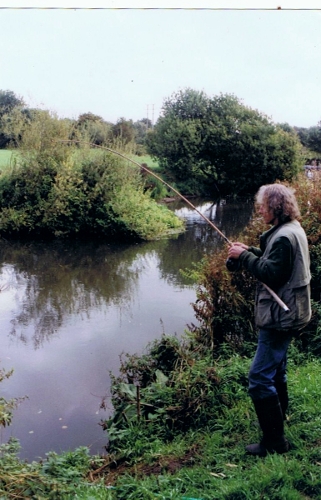 The last field sees the river change dramatically as it becomes quite narrow and shallow but in years gone by it was full of fish and swims such as the Fork Tree, the Aquarium and the Bend all produced well if you were prepared to walk the distance!
The People
These past twenty years or so I have seen many come and go from the syndicate but the one constant has been the camaraderie and good spirit that has always prevailed. There have been hardly any issues of concern and that is testament to the excellent way it has been run and to the members themselves.
For this article I will just focus on a few of the guys who in my personal experience have played an instrumental role in making my time there so memorable.
David Hallett
David was the man who ran the syndicate when I first became aware of Crookham. An interesting man, full of drive and enthusiasm who joined the Barbel Society committee and in the early years did a fantastic job with advertising and running the Conference.
He unfortunately contracted Parkinson's disease and from the early noughties his fishing became less frequent and we very sadly lost David not so long ago. He left so many fond memories for the guys who fished at Crookham because his leadership style was quite unique and that meant that he often suffered at the hands of Fred with his wicked sense of humour! I bet the pair of them are enjoying all manner of practical jokes in that special place where all of us fisherfolk eventually end up!
Kev Dyer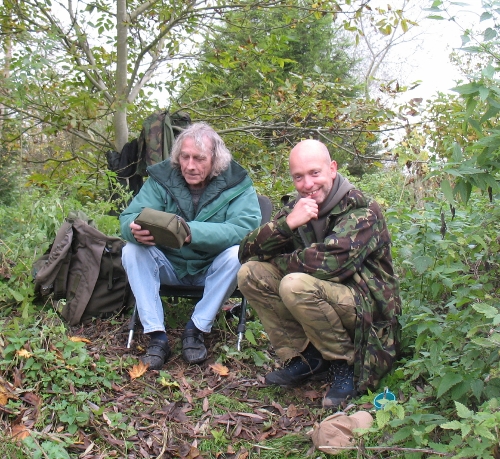 What a top bloke Kev is, without a doubt one of the very best. He is the epitome of the person you would want to run your club or syndicate. Clever, charming and with a manner that means he gets on with everyone and add to that the gravitas which means he grabs your immediate respect. He first became acquainted with the fishery on a guided day with Fred and he too built a lasting friendship with the great man. Kev was the 'Meatball Man', an absolute maestro with this bait as he developed his own technique of keeping the bait on the move. I hope I keep in touch with Kev because he really is one of the nicest guys I've come across in the fishing world.
John Found
John has been a good friend for more years than I care to remember, we go back to the old A.B.E. days prior to the Barbel Society. John is a brilliant angler who catches far too many good fish but he keeps out of the limelight although he does pop up in articles written by his high profile fishing buddies! He caught lots of barbel at Crookham and the time he caught three elevens in the space of thirty minutes as Fred and I were making our way back to the carpark will live with me forever!
Fred Crouch
What can I say about this man that I haven't already put down in words? Quite simply Fred has been at the heart of everything to do with my fishing. My greatest influence and my perfect friend who I sorely miss with each passing day. His presence was always there at Crookham, it was palpable and it will be quite a wrench leaving behind the memories we shared.
Chris Tarrant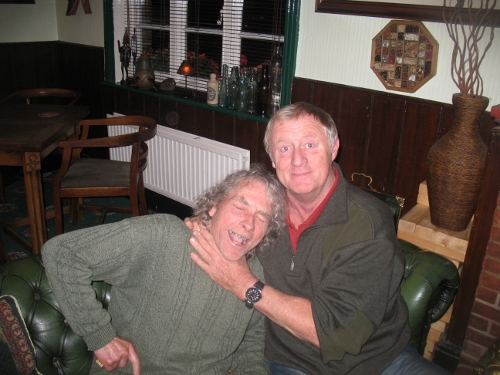 Fishing at Crookham has allowed me to get to know the number one celebrity angler and what a pleasure that has been! I know many who read this will have met Chris but for those who haven't let me just say that when Chris is on the river he is just one of the lads. I used to really want to talk to him about all the music stars he had met but I realised that was work and all Chris wanted to talk about was fishing! When he and Fred were together the jokes would just flow and fishing would be on hold, magical times indeed. I recall the afternoon Chris turned up while I was speaking to my daughter on the phone, I told Chris who I was speaking to and he said give it here and then proceeded to chat to her saying how difficult it must be for her to be Popey's daughter and ribbing her no end. I'm constantly reminded when I'm at her house especially if we are watching Chris's railway programme on TV!
The Methods
This is by no means a technical feature but I'll give you a breakdown of the methods I found to be most successful in my time on Crookham, always kept things simple which is not surprising as I learned from Fred.
Meatball
Fished whole either hair rigged or direct, loose feed a few freebies. Fished close to the near bank.
Also fished in small pieces direct to a size 12 hook.
Maggots
Fished either on hair or direct and used in conjunction with droppered hemp and maggot. A gallon per session in conjunction with a Drennan block end feeder or straight lead.
Casters
The number one method, three or four glued to the hair, straight lead and lots of droppered caster feed. Six to eight pints per session again fished very close to the near bank.
Luncheon Meat
Very small cubes 6mm, fished on a hair and in conjunction with a hemp /diced meat droppered feed.
Pellet
Small Elips in conjunction with a small Drennan method feeder incorporating a scalded pellet groundbait mix.
My Memorable Moments
The first one goes back to September 2007 when I was joined by Alex Bones who is now a well-known car racer as well as being a major player in the match fishing world. Back then he was the marketing man for Dynamite and we were hoping to get a good feature for Coarse Fisherman magazine. I can't believe it was ten years ago, where does the time go? We were set up in the Deeps and I quickly landed a barbel one ounce shy of ten pounds – job done. Alex took all the pictures he wanted and we proceeded to chew the fat while he was taking his notes that would form the basis of a nice feature. So it was in the bag very early on and as Alex had a long journey back he decided he was going to head off home. Not long after he left, probably thirty minutes or so, the rod tip has pulled over and I found myself playing a decent sized barbel. To cut a long story short the fish came in at 13lb 5oz, a very nice barbel indeed! I immediately picked up the phone and rang Alex.
'Get your backside back here right now!! I have a thirteen plus resting in the net and you don't often get one of those on a feature day.'
Alex huffed and puffed and was just about to turn around when I said don't worry I'll get some pics and send them on. If I knew then that Alex was a Lewis Hamilton in the making I wouldn't have been quite so charitable!
It just so happened that Stef Horak was on the other side of the river and he came round to take some shots but he used his own camera as I hadn't brought mine knowing that Alex would be well equipped, but Stef still lives in the dark ages and uses prints so it all took too long and my thirteen never appeared in the feature!!
The second memorable moment I would like to share came exactly a year later when I was asked to provide a segment for my good friends Bob Roberts and Stu Walker in the production of their Barbel Days and Ways DVD's.
I was absolutely over the moon to be asked but if truth be known I was also rather nervous and worried because these guys were travelling a fair old distance and the pressure was well and truly on yours truly to produce the goods! Well for whatever reason the fishing gods were smiling on me that day. It didn't take long to get an eight pounder in the bag and then another and Bob and Stu were filming and taking stills to their hearts content and I was happy that they were happy! Then the reel started to spin again and as I bent into the fish I knew I was into a lump! I can't recall a time when I've been quite so nervous about landing a barbel, I knew if we got this fish on the bank that the guys would have something special for their film and I just said a little prayer hoping I stayed attached to the prize! I needn't have worried, it all went well and in a matter of moments a beautiful 12lb 12oz barbel became an instant movie star! It's hard to express how elated I felt after that, the guys had put their faith in me and it all worked out and I am so proud to be part of just about the best ever set of barbel fishing DVD's ever made.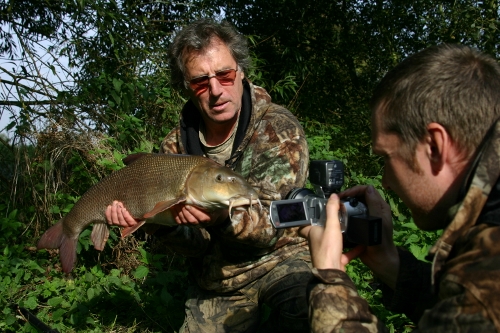 The third recollection is of a session that took place in October 2013 when I was filming with Matt Rand for the Dynamite YouTube channel. I've been lucky enough to have enjoyed an involvement with Dynamite for a very long time and each season I try to pay them back by helping with an article or in recent times with filming for their online channel. Matt was my contact and what a smashing guy he is, another top bloke who I have been fortunate enough to call a friend during my fishing life. We had two days booked in and the first had proven slow fish wise as just a couple of smaller fish came to the net. We managed to get a good deal of filming done though but a nice barbel is always the icing on the cake. I decided I would start fishing very early the next morning, pretty much first light while Matt was still in the land of Nod at his digs. I'm glad I did because within twenty minutes the casters had worked their magic and I had a big thirteen in the net, 13lb 8oz to be precise! Was I pleased or what! Matt duly arrived and managed to get some superb footage in the can and it's up there on YouTube to this day still getting lots of views.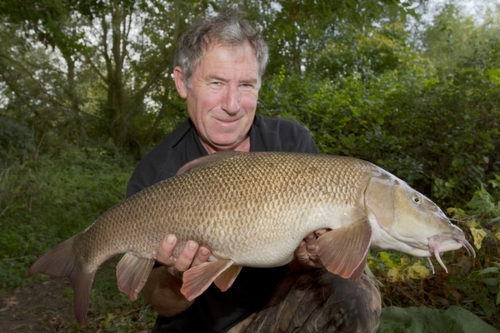 So just three memories there but I could so easily have made that thirty three, I've been fortunate enough to catch hundreds of barbel at Crookham including many double figure fish, it's been a wonderful journey.
Memorable Guiding Moments
I first took someone to Crookham on a guided day back in 2010, since then I have shared the company of many lovely people and we have landed over two hundred barbel including more than fifty doubles. As I said at the beginning it would be relatively easy to write a book about all the adventures I've encountered, every individual is exactly that with their own story to tell and their own reason for coming out with me. So many personal bests, so many barbel firsts but every day a memorable one even when we blanked!
So I will pick out just a handful of memorable guiding moments and in keeping with my last sentence the first one is all about a blank.
I came into contact with Rui Pedro when his wife made contact with me in June 2015. Her email said how much Rui wanted to go fishing with me and so we set a date for October. It was a Saturday, unusual for me because I tend not to go fishing at the weekends but as Rui had a busy job as a chef this was the only time he could make. I arrived around 6am, two hours before I meet my guests in order to prepare swims and get everything ready so that we can get started as soon as they arrive. The Gully swim had been well primed with twenty droppers of hemp mixed with diced meat and my intention as always was to make this the first port of call. I checked my watch and Rui was nowhere to be seen and I was getting concerned until I looked down the lane and there in the distance was Rui, heavily laden with tackle walking towards me, yes walking! Rui had made his way from South London by public transport – he does not drive! I immediately warmed to Rui, his broken English and total passion and enthusiasm was infectious. The pressure was on because he had never caught a barbel before although he had come close on the Wandle. I was sure we would put that right. We set off for the first swim. I told Rui what to expect and hoped the gods were smiling. The tiny cube of meat was gently lowered into the swim just on the edge of the trailing branches in three feet of fast water that flowed over a gravel bed. Well I hardly had a chance to put the rod in the rest before the reel started spinning and the rod top was pulled over almost to water level! Rui managed to get control but the fish was pulling really hard and I lent a hand or I should say arm to maintain the pressure and I knew he was into a big barbel, probably too big for a first! And so it was, the strain was just too much and the barbel was lost in the very tight swim, I couldn't believe it. If ever a man deserved to land his first barbel it was Rui but the fates were against us, so much so that we failed to get another take all day! But I did enjoy the Portugese food that Rui brought along and I was in awe of the fact that he flies back to Portugal to watch all the Benfica games; he's a total one off! Since that day Rui has joined the Barbel Society and made friends with all the people he has met and he has caught many barbel. We will enjoy another day together soon when I'm sure the fishing gods will be more accommodating!
The Gully swim has given me and some of my clients some seriously unforgettable moments. In August 2014 Stewart had an experience he will never forget. Stewart is a schoolteacher at a prep school and I was contacted by a parent of one his pupils. She explained that she was speaking on behalf of the parents of the children in his class as they were so pleased that his work had ensured solid progress for the next stage of their boys' education. They knew he liked fishing; they had seen my website and hoped I was the one to give him the day to remember that they wanted to give him. So no pressure then! Stewart arrived at the fishery, he had never caught a barbel, and he had read a fair bit but as we all know that only gives a taster, the reality of hooking one for the first time has to be experienced to fully understand! We made our way to the Gully. I explained the procedure and then gently lowered the tiny cube of meat into the river and placed the rod on the rests but within thirty seconds the tip had hooped over and between us we embarked on five minutes of pure barbel mayhem! When the barbel showed itself in front of us I knew it was a really nice fish but I didn't want to add pressure on my novice guest who, under the circumstances, was doing rather well. With a little help Stewart guided the fish over the net and she was in – major, major result! Once he had regained a degree of composure Stewart looked at me and said, 'Are you some kind of fishing magician?' I played up to it, 'Of course' I replied looking up to the heavens while whispering ' thank you dear Isaac.' Stewarts first ever barbel weighed 12lb 9oz and the day didn't end there. We moved swims and Stewart went on to catch another four barbel including another double. As we said our goodbye's I said to Stewart, ' there's just one thing I would like you to do for me – will you tell Fiona ( the parent who had contacted me)that you enjoyed your day out with a magician! '.
'Of course' Stewart replied – and he kept to his word!
Back in 2010, as summer was turning into autumn, I was joined by Robert Hellawell and his wife Dalvinder. They had driven down from Yorkshire and they, like just about everyone else, had a soft spot for Fred so I had arranged for him to join us as well. It was one of those sessions that stay in your mind forever. We were in the comfortable swim named the Deeps, a swim that literally became my office! This swim is a one rod swim, to be fair it is a very rare occasion if I use two at Crookham. Now as Dalvinder liked to fish we agreed to take alternate runs, this worked well with both her and Robert each landing a small barbel. As the afternoon pushed on and while we were all entranced with Fred's storytelling the rod went round and Dalvinder hit it as it was her turn, she held on and played the fish like the accomplished angler she is and she soon had a nice 9lb 11oz barbel in the net. The banter flowed; Robert was coming in for some real stick as it seemed as if his lovely lady wife was going to be the one heading back to Yorkshire with all the bragging rights! But the story does not end there, just as it was looking as if Robert was going to miss out the reel started to spin once more and he leapt into action and straight away we all knew he had hooked a special fish. With guidance from Fred and myself Robert brought his prize upstream and after a few hair raising moments the barbel was safely in the net and it was a good 'un, weighing in at 13lb. Robert was ecstatic and Dalvinder was the ever courteous wife who heaped praise on her husband in the knowledge that the long drive home would now be far more bearable!
I have literally dozens of stories I could tell recounting the simply magical days I have been lucky enough to enjoy in the company of so many fabulous people.
However space here is limited so now I'll have to move on to another aspect of Crookham……
The Social Side
Gentlemen's Day
Every season, usually around October time, the syndicate meets up for a day's fishing and then at the end of the day off to a nice pub where we have a very comfortable room set aside for us to enjoy a pleasant dinner and basically tell stories and have a good laugh. In the old days Fred would hold court and there would be the inevitable practical jokes and dear David Hallett was often on the wrong end of them. David was often referred to as Lord Hallett; after all he was the boss back then. Fred decided that David's status should be recorded at the evening meal and so he arranged for David's food to be served up on a silver platter with a matching cloche. I was not there but was told that David was beaming, chest bursting with pride as the waiter brought the tray, then he lifted it to see a huge signal crayfish on his plate – he certainly turned a whiter shade of pale!!
Fred was a naughty lad at times!
If it wasn't Fred then it would be Chris Tarrant holding court and as you can imagine he had many a tale to tell, good times indeed.
BBQ
I mentioned earlier that the river at Crookham runs through the manor house estate, the summer BBQ was an opportunity not just for the syndicate guys to meet up but to engage with the family who so kindly allow us to share their property. The house has changed hands during my time on the syndicate and I have to say the present incumbents are the nicest people you could ever wish to meet. Mind you I'm pleased the two children are that much older now because in their younger days they would take great delight in visiting me whenever I was in my 'office' and driving me nuts but hey, I get on well with kids and it just added to the day even when they were throwing branches in and creeping up on me and trying to 'strangle' me while I was half asleep in my chair! Happy days.
The Problems
So now we have to cut to the chase and take a look at the problems this part of the Kennet faces. Unfortunately for the Kennet and in particular Crookham, the problems are legion. It isn't about one particular problem; they act together in tandem and affect the barbel every which way.
The canal takes precedence over the river because of the navigation rights and the consequence is we never see the river run clear, it always has a distinct dishwasher colour which cannot be good for the fish and wildlife that inhabit, or perhaps I should say used to inhabit, the river.
Signal crayfish abound, you really have to see it to believe it. The trapper takes away so many each week but I do wonder how much of a positive effect this actually has. There is no doubt in my mind that the crayfish know exactly where the barbel spawn and that they have literally eaten the lot, that is why so many year classes of barbel are missing.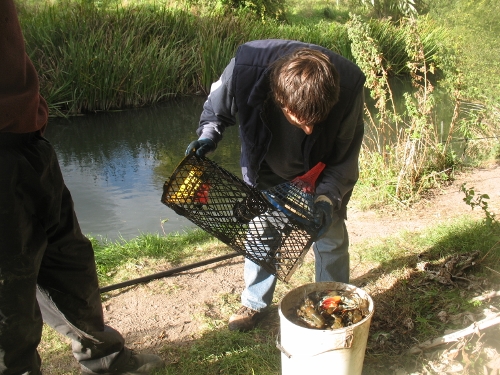 Spawning is an issue because it is known that the gravel beds used by the barbel have become covered in other areas but my belief is Crookham has suffered because the eggs have been taken and to add to the problem the female fish have gone as well, and yes I accept some have died of old age but many have fallen to predation.
Year classes as I said are missing completely and we have now hit the wall.
Otters are an issue, a big issue, and anyone that is in denial or takes umbrage with that has their head firmly embedded in the sand. Sorry if that offends but I see it that way and am not swayed one iota by those who may disagree. There is a resident family of otters at Crookham and the upshot is there is very little fish life left!
The Kennet also suffers due to its proximity to London. Abstraction, pollution etc. will continue to add to the problem and it is difficult to see an answer.
There are other issues as well and all in all it paints a very distressing picture.
The Future
It pains me to say it but it's really hard to be positive about the future.
Apart from the demise of the barbel population there appears to be a complete paucity of other species apart from trout – the chub, bream and silver fish have all gone.
Unless the problems are dealt with, and soon, then I can't see an improvement and even if they are then it will still be many years before the fishery becomes viable once again.
So what happens? This stretch of river becomes neglected and to all intents and purposes is lost to anglers, consigned to history and that is a disgrace.
The Environment Agency really must investigate the reasons on just why a fishery that has sustained itself for many years and on a river where barbel are indigenous can fall into its present state of lifelessness save for the crayfish.
I sincerely hope matters are resolved and perhaps one day I can return to catch barbel once more, perhaps with my grandson because it would be a crying shame if he and his peers were denied the pleasure that I and many others have enjoyed for so long…..