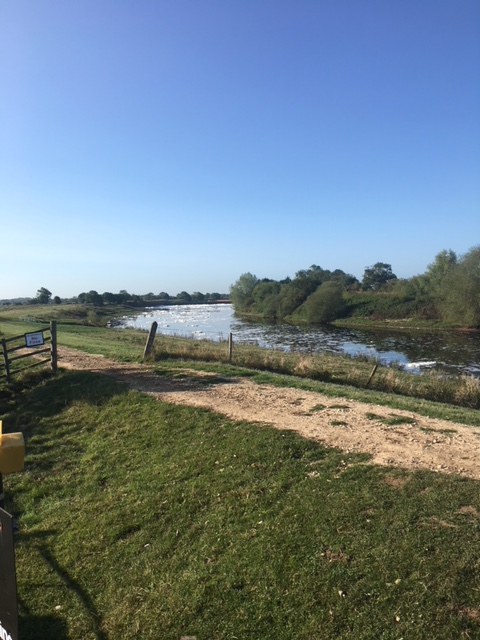 My very first visit, just over a year ago, to this unique venue had already convinced me that I simply had to spend more hours at what is arguably the most prolific barbel spot in the whole of the country at this moment in time.
Many years ago, for one reason or another, I had missed out on the Ouse monsters   and this time around I was determined not to repeat that mistake.
So having secured a few forty eight hour sessions I was more than looking forward  to the first which took place back in the last days of August.
To add a bit of background I'll run through everything that is involved.
It's a three hour journey for me, just short of 160 miles but predominantly motorway once I get on the M54 so it's not too bad a drive. The very last section once you reach Collingham is the track that everyone has to go down and I was pleased to have the 4 x 4 as the potholes can be a bit challenging and I did see one poor chap at the side of the 'road' awaiting assistance for the punctured tyre he had just sustained!
Once safely parked up in the carpark, which is right next to the river, the next challenge is transporting the mountain of gear down to the weir swims which are a good 400 yards away. Fortunately the 'path' is flat and the resident herd of cows is friendly enough!
My vehicle has been completely full to overflowing on every trip and no matter how much I tried  I can't seem to reduce what I need!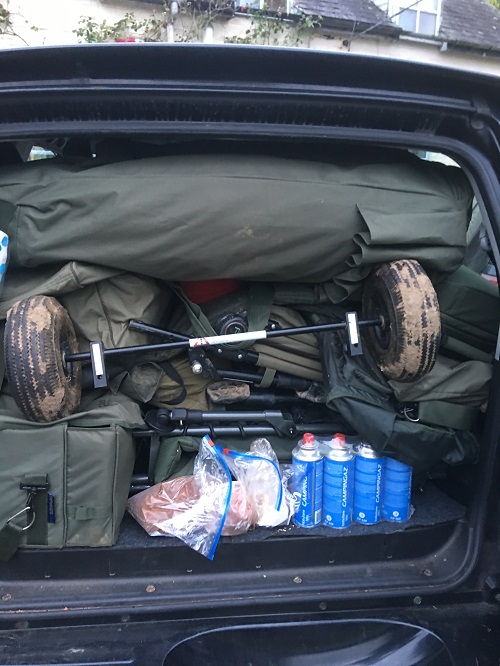 For the majority of my trips I had been using my chair that could double up as a trolley to transport the tackle but on my last visit it gave up the ghost, my own fault as I had definitely overloaded it!
Kye the bailiff came to my aid and what a top bloke he is!
He fortunately turned up as I was struggling carrying the mountain of gear to the weir, he immediately said to me that he coud help. Without further ado he drove back to his house and returned not long after with a trolley that he said I could have. It was perfect, just the right size and I couldn't thank him enough. Every time I've seen Kye he is the same, always smiling, always ready to chat and give advice, the epitome of everything that is good in a bailiff , the Collingham club are extremely fortunate to have this guy in their ranks.
So how is it I have to transport so much tackle? I'll run through it for you.
Starting off with the comfort items.
I take one bivvy that houses the tackle, bait and cooking/food items. It's not an expensive one, mainly because up until now I've had very little use for a bivvy. I will be checking out whats on the market because my fishing now dictates that I should have something a bit more up market! And I'll also be investing in longer pegs to just make sure because when the wind blows at Cromwell believe me it blows!
For sleeping I have a nice comfortable bedchair and sleeping bag and that fits under my Black ops Rapid Deploy shelter which I absolutely love. I would recommend this piece of kit to anyone who wants cover which is very light, it can fit between the folds of your chair, it's very versatile.
Black Ops Shelter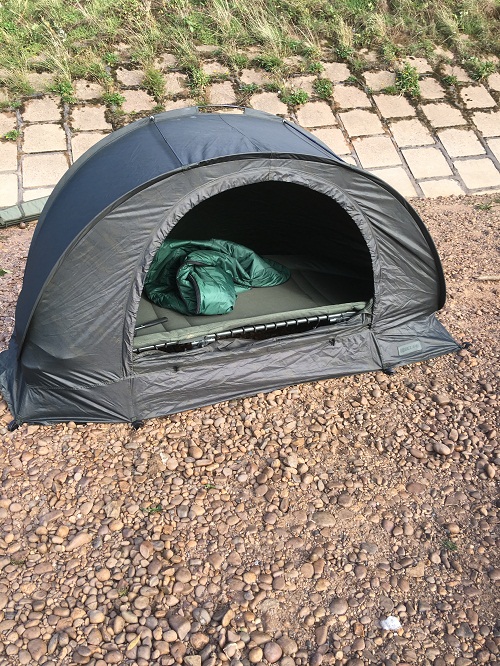 I have my stove and plenty of gas canisters, a bag for the plates, saucepans etc and the essential Ridge Monkey pan set.
Absolutely essential!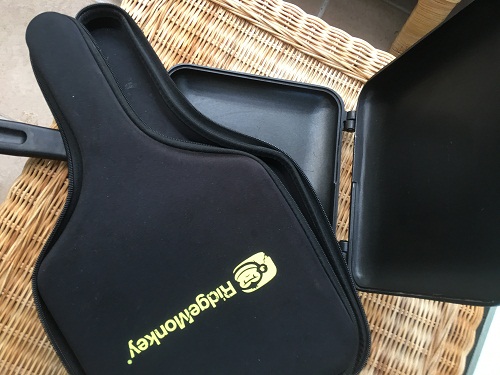 Another Shimano bag houses the tea making stuff and then theres the bottled water.
Yet another bag holds the food, burgers, bacon, sausages, cheese, chorizo, tonatoes, pepperoni, rolls, paninis – and lots more besides!
Bottles of cold drink, juice etc complete that side of things.
I have a good stock of Shimano luggage and I have to say it really is superb, high quality and it will see me out.
THE TACKLE
So what about the tackle itself, lets start with the rods.
I'm a Free Spirit in terms of character and in respect of my rods!
I've been lucky enough to have been involved with Free Spirit since they first started and they are without doubt just about the best in the business. I have a good selection of rods but tackling the weir requires something a bit different from the norm, your standard barbel rod will be undergunned once you have decided to throw out 6oz leads or heavy feeders!
Fortunately for me the Free Spirit range has rods more than capable of dealing with the situation.
For the heavy stuff, six ounces or more, I go to the Free Spirit Barbel Tamer 12ft.2.75lb Heavy Water Rod. This is a superb rod for dealing with this type of situation and I have been more than pleased with it, its strength in no way diminishes the pleasure you get from playing a fish, its great value as well coming in at less than £140.
Free Spirit Heavy Water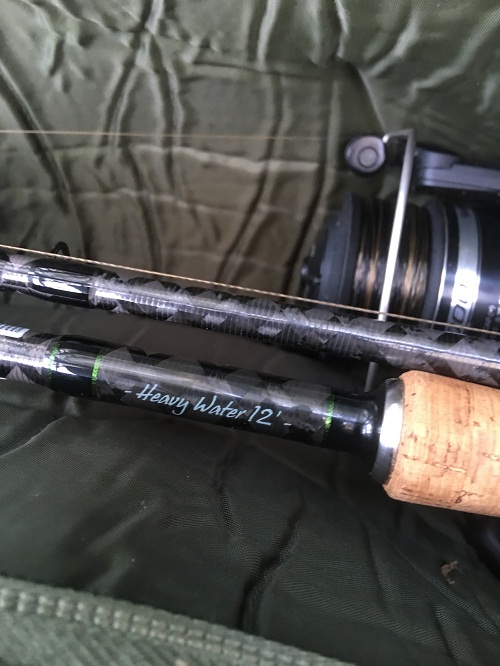 For leads up to 3oz which can hold if the level is low or you are casting well up towards the weir sill then I go to the Free Spirit Big River Rods.These come in at 2.25lb which is exactly right but they are at the higher end cost wise, around the £280 mark and that's the main reason I don't fancy punching out the really big leads and feeders with them! I value them too much.
Free Spirit Big River
It's worth mentioning rod rests and tripods because the very nature of the large gravel area we fish from presents its own problems and if you couple that with the vicious takes that are quite frequent you need to be sure your rod support system is up to the job!
On my first visit last year I called into the local tackle shop and purchased a Korum River Tripod which does the job but with the benefit of hindsight for this venue I might have been better spending more money and getting something more substantial. It is not easy getting a firm fixing and it is why you will always see strategically placed rocks on the beach, they are there so that anglers can keep their tripods securely in place! Then of course there is the tide to contend with and that means you have to move back at least once during a 24 hour session and that can be a pain if you have chosen banksticks instead of the tripod! Before leaving this item of tackle I must stress how extremely important it is to make absolutely sure you have your tripod securely fixed, over this past summer I've seen them go over at least twice and that's with the rocks in place, the takes can be awesome even with a baitrunner!
Because the water is shallow where you land the fish I found the usual spoon net with a not too deep mesh perfect for the job but I will go back to chesties or welly boots so that I can get out a bit further and then the big Free Spirit landing net comes into ts own.
Fish on the bank need not just an unhooking mat but a proper cradle set up, you don't want the big fish rolling off the mat!
Now while I have the rod situation well covered I wish I could saythe same about my reels. My barbel fishing has tended to be ninety five percent centre pin based and I have more than enough of those to see me out but when it comes to fixed spools I'm not so well organised!
I'm not a fan of big reels and you really need something a bit bigger than the 4000 Shimanos that are my preferred choice if I'm forced to use a fixed spool.
Saying that, once I came to terms with the casting these reels coped with the distance but I felt undergunned whilst playing fish or on the retrieve so I will be looking to buy something else for next season. I have used the 6000 model but can't say I'm happy with it and following advice from Fisky I'll be purchasing the XT Medium Long Cast models.
Line wise I have ventured between Shimano Technium in 12lb which is my go to on the Wye and then the Fox Soft Steel in 18lb which my German friend Horst gave to me. I think for next season I will go with 15lb in either of those brands. I did have one or two experiences when the line just went for no apparent reason but then the Trent, especially in a weirpool, is a pretty hostile environment and whilst being very unhappy at line breakage there is an element of inevitability when fishing certain places. We can only work to get the balance right and to ensure confidence in our set ups so that the rods are working at their utmost efficiency.
Moving down now towards the rigs which as always I tended to keep as simple as possible.
Leads and feeders came from my old mate Fisky, he really does produce fantastic feeders and leads as well. I had a decent selection of weights from three to eight ounces and plenty of heavy open ended feeders. If you haven't used Fisky then where have you been? Seriously he is the best.
Hook wise I have a good selection of Nash hooks in sizes 10 to 6 and Drennans when I need to go smaller.
Using the straight lead I would incorporate the PVA swivel for the mesh bags and hooklength would vary from 18 inches up to 36 inches. I like to incorporate a kicker on the hook to keep the hair in the right position and for better hooking and I stuck with a straight hair and superglue, I may change this for a looped adjustable hair for next season.
I did chop and change hooklength material and to be honest I haven't settled on a real favourite. If I stick with 'softer' material then I will incorporate the PVA straw system to give 100% tangle free confidence. Casting is a big chuck, its not a gentle under arm swing and I'm not a carp angler so being sure that the rig is tangle free is essential!
I will invest in a tripod system for weighing the special fish, just far more efficient and the big space bank area lends itself to using one. I have to come clean here and admit that after seeing so many good sized fish we did reach the point where we were only weighing barbel that looked particularly heavy, I have no problem with that.
That just about covers the set ups so I'll move on to what we gave the fish to eat.
THE BAIT
Let me say right from the off, I'm a Dynamite man through and through, have been for many years. They are quite simply the best!
Simply The Best!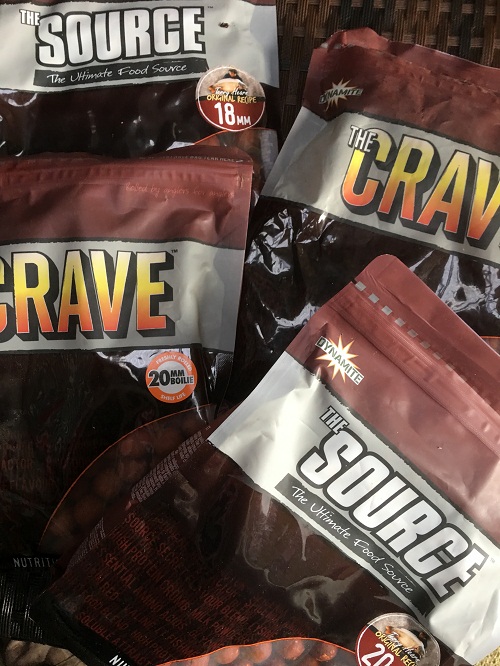 So I have the superb choice of boilies, pellets, dumbells and busters with groundbait and hemp for added attraction.
Some of my pals who came along had their own preferences which all worked but my hookbaits and feed bait all had the iconic Dynamite flash on the bag!
Crave had worked very well for me previously and so I decided to stay with that and I also added The Source for the boilies and dumbells, the pellets tended to be a mixture and the Big Fish Busters were Shrimp and Krill.
Loaded PVA bags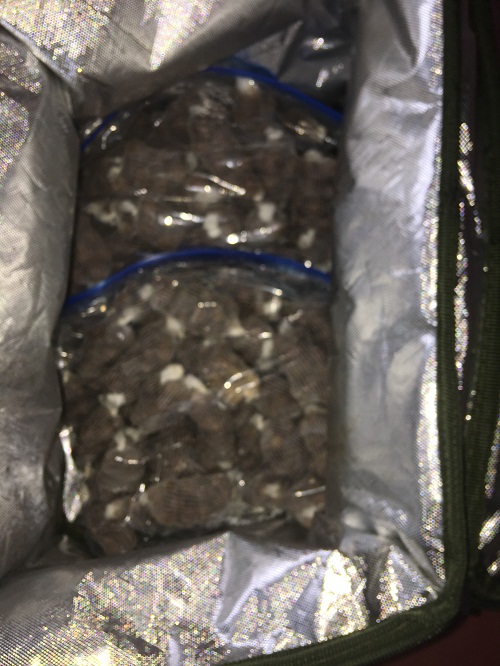 The larger baits worked best before the temperature started to drop and pellet certainly had the edge during daylight.
Back in August two hair rigged 20mm boilies would be taken with gusto after dark but in October it became very apparent a double 12mm was more likely to be picked up.
I'm in two minds when it comes to feeding, I've no doubt that if you put in a lot of bait and stayed for at least three days you would have a major result but I'm not greedy and was always looking for everyone to catch what I would say was a reasonable amount. I didn't want to experience an individual mega hit and we didn't!
So baiting up for me in conjunction with either a pva bag or feeder approach meant spreading a trail of boilies across the pool swims in order to get the barbel foraging about and hopefully staying in each swim long enough, by and large it worked.
I also used the adapted spod which works like a baitdropper but I was always worried about snagging it up because I only have the one!!
I did play around with a maggot approach without giving it a proper go and I'm sure that next season I will go  for it with a well thought out tactic.
Nothing overly complicated with any of the tactics employed and overall I was pleased with the results.
THE PEOPLE AND THE FISHING
For my sessions I was usually joined by three people who I know very well. Bearing in mind there are ten swims this meant that we had plenty of room although I did tend to stay within the confines of the pool up to about swim 4, this wasn't always the  best idea as I'll explain a bit later on!
Fishing for me these days is all about making memories and when you share time on the bank with good friends then those memories are enhanced as you share in each others exploits.
I didn't record a completely accurate list of all the fish caught, you do tend to lose count on the weir and to be honest the days of religously recording every single fish are long gone for me.
However I'm on safe ground when I say that at least ten personal bests were captured and the total number of barbel caught was in excess of 150 and at least 60 of those were doubles, probably more!
But I've already said that this is a unique venue and we all know you can only catch what's in front of you and on the weir the number of double figure barbel is quite remarkable.
I would think the quantity is measured in thousands, the pool is huge something like 100 metres square so even if you said 2000 barbel thats only one fish per 5m2 and I reckon that's being conservative. And if that is a reasonable guess then the fish are hardly pressured, they can keep out of the way and it would take ten weeks or so for every one to be caught and I would suggest that sits favourably with any other popular venue. Yes I'm only guessing but I don't think I'm wide of the mark, if I am then let me know!
No one goes home thinking they are the greatest barbel angler on the planet but I tell you what, almost everyone goes home with a big smile on their face and surely thats what its all about.
So lets elaborate on some of the memories that will stay with me for a long time.
The first one involves the first barbel and it was caught by Terry, who is a very experienced barbel angler, and it goes to show that Cromwell barbel don't care who is on the other end of the line!
Terry had literally just cast, turned around to sort the rocks out and his rod was literally pulled off the tripod ! Baitrunners have to be tight enough in the flow and a savage take can see your rod heading out into the pool and I would bet money that it has happened a few times.
Fortunately Terry has quick reactions and was on it immediately and the culprit can be seen in the photo below!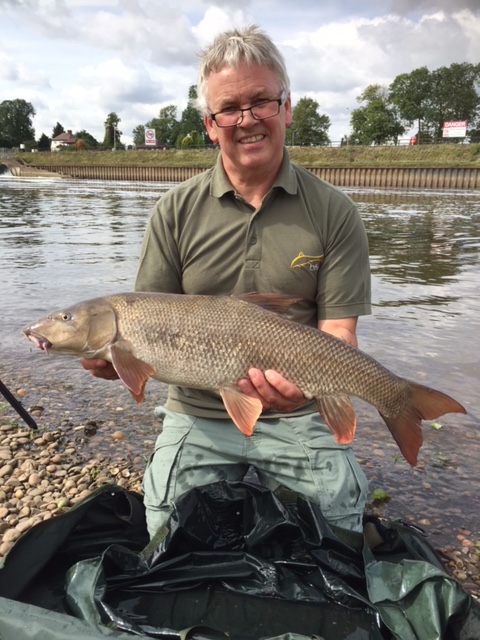 My good friend Horst from Germany has been out with me many times and our quest for his time on the weir was to get him a personal best. He had driven here from Frankfurt via Hay on Wye where he was looked after by my pal Geoff on his Llanthomas fishery. Horst is a great character and is a fine angler and the fishing gods smiled down as Horst did indeed catch a fish of 11-08 which is now his personal best. Horst had the good sense to leave early because on night two I experienced just about the worst weather I've ever encountered while fishing at night, the wind that blew across the pool felt like it was hurricane force! It was impossible to fish, the rods came in, I hid in the shelter and held on to it fully expecting it to take off at any second. The gale force wind lasted all night, it was ridiculous and I must admit I had resigned myself to the worst.
Fortunately for me and Paul, who was the only other person with me, the storm abated as daylight finally broke through, and so ended the worst night I've ever spent out by the river!
A PB for Horst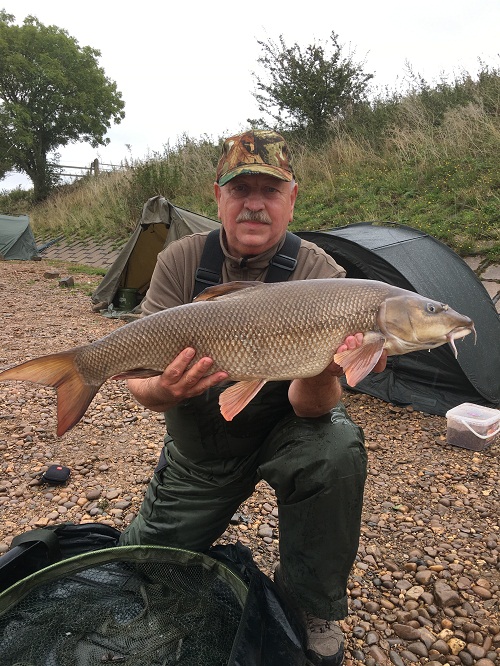 Paul got his reward for not just sticking it out in the hoolie but for lending a massive hand when we had to help Frank, another buddy, get all his gear back to the car when he became unwell while fishing with us. We helped Frank back as well and fortunately he was okay to drive and we were both relieved after we checked that he had returned home safely. Paul managed two lovely thirteen pound fish and I was over the moon for him.
Paul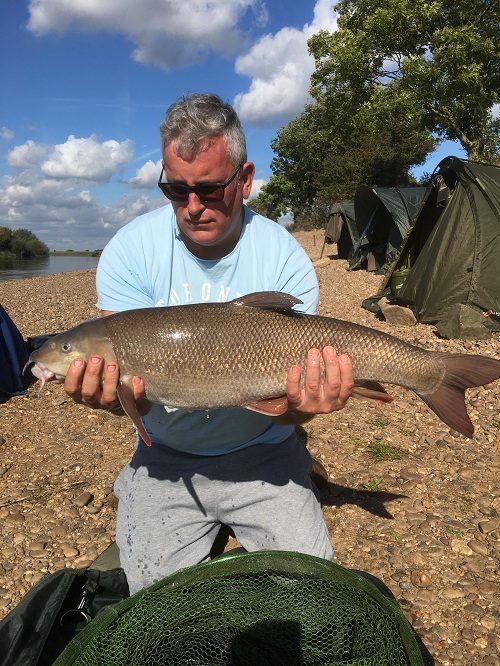 Before moving on I must mention the fact that Paul is the man who provided just about the best food I've ever enjoyed whilst fishing, he used to be a chef and I suppose the skills never desert you and his Beef Bourguignon was something else – Gregg and John eat your hearts out!
That was my food highlight but I have to say there is something special about eating burgers and hotdogs in the middle of the night while catching big barbel as well!
You have to be mindful of the tides and I have an app on the phone that gives me the forecast at Hull so you need to add four hours to get an idea of when it has an effect at Cromwell. There seems to be a direct link between high tides (7metres +) and more productive fishing but I have to admit that I'm no expert in this field and confess to learning all the time. One thing I can say is don't get caught out because the water level can rise quickly and you have to be ready to move back at least once on each high tide and there are two in a 24 hour session.
I think I've already mentioned that I have tended to only use the weir swims and so that has left the last pegs empty and on my first visit I met up with a guy who I had first come across last year, his name is Mark and he knows his stuff. He asked me if he could fish the end swim and I said thats okay. He fished all through the night and when I saw him the following morning he told me he had caught twelve doubles, yes twelve! A lesson learnt, the barbel definitely go on the move during the night and the message to myself was make a serious note about the end swims!
After that heads up from Mark there were a couple of occasions when these swims really did do us proud.
Firstly when Simon came back after struggling on his twenty four hour session, he and his pal fished the last couple of pegs and they caught their doubles.
And then I invited my good friend and the Barbel Society Secretary Chris Childs to join me, he fished in number nine and proceeded to catch a fourteen plus that was his personal best, happy days all round!
My brother in law Howard is relatively new to fishing but over the past few years he has become well and truly hooked. Living in Essex he has been drawn to the carp fishing that the county offers but I did take Howard barbel fishing on the Wye and he quickly understood what it is that fuels our obsession on the rivers so he bit my hand off when I invited him to join me on the weir. I knew he had all the right gear and hopefully the barbel would play ball and he would move another step towards being a barbel angler. As expected Howard landed a few. His first double was eleven plus and that was immediately followed by another of similar weight. Later during the night he landed a thirteen plusser and that really was the icing on the cake!
Howard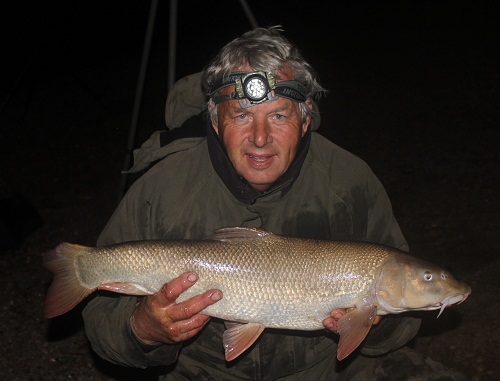 Paul has fished with me on the Wye, Kennet and Severn and he was really looking forward to his Trent session especially as his dad was going to pop down for a few hours. To cut a long story short both ended up with personal bests and that sums up the magic of Cromwell, it is a place where dreams really do come true.  To be there witnessing guys who just enjoy going fishing and perhaps don't get out that often playing and landing big barbel is fantastic, and to see them literally revert back to childhood is a joy to behold, it really is.
Paul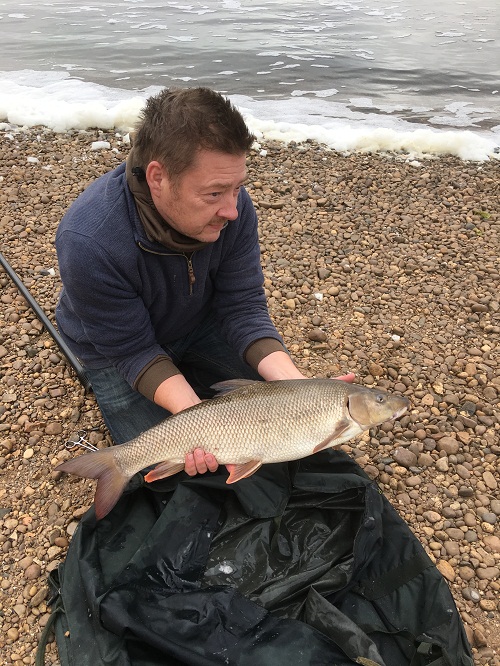 My last session saw me bumping into Dean Macey at the 8am changeover. We had a good chat and he did explain to me the thinking behind the TV shows that I wasn't particularly fond of! We shook hands and found our common ground, after all we are both passionate anglers and he's twice the size of me!
As time passed by it was apparent that the fishing had become more difficult which shouldn't really be a surprise. The hot peg 1A was still producing but the gravel bars and snags make this swim far more tricky than you might imagine. Swims 1, 2, 3 and 4 were tough in daylight but it was a different story in the middle of the night and therein lies a problem I have to solve. Forty eight hours is a long time to stay awake, I did it once and paid the price and won't do it again not least because its a long drive home. I will definitely try to get more sleep during the day so that full advantage can be taken for the after dark fishing. I may have embraced the carbelling side of barbel fishing but I won't fish and sleep at the same time. If I sleep the rods come in.
I spent a great day with Mark Parker of Dynamite and we managed to get enough material for another YouTube film, I'll let you know the minute that goes live. I thoroughly enjoy my days with Mark but thgere's always the pressure. I have no problem in front of the camera but we are always in the lap of the gods as to what fish will pick up the bait in the time available. Mark is a genius behind the camera and I'm looking forward to seeing what he comes up with.
Billy has fished with me on a number of occasions and boy can he cast. I actually learnt a lot just by watching the effortless way he could reach the hotspot, at one point he was getting a take every single cast, quite amazing.
Richard joined me on the last session and he had taken it literally about me supplying the grub! He basically ate me out of house and home and he loved his cuppa as well! Smashing guy, he will return I'm sure.
Hugh is a man on a mission, he had heard about my Trent sessions when he was fishing at the Old Harp on the Wye. He contacted me and was hugely excited about fishing the weir, he managed to stay awake for the duration and once again he too was rewarded with a personal best.
David caught his barbel but at 3lb it was not what we were looking for but he does get to appear in the YouTube film which is now live and he'll be back for another crack at it next year.
Tony was on the last session and he arrived straight from a golfing holiday in Turkey, and he went through the no sleep barrier as well and he caught his share of eleven pounders during the night!
Tony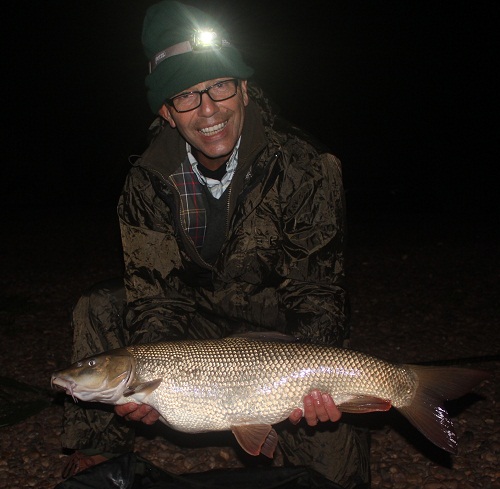 THE FUTURE
Well my Trent barbel fishing is probably over now for this season but I'm already looking forward to next year and I'm sure many of my friends who joined me this year will want to have another crack at it next summer.
I have to say that every single person I have met down at Collingham has been very friendly and I've felt very much at home there. I haven't experienced anything other than positive vibes and the only thing that has affected me in a negative fashion was the unbelievable wind when I really did think the bivvys were going to be uprooted but thats the force of mother nature and its all part of the game.
Indeed I bumped into a number of familiar faces, guys who I've fished with on the Kennet and Severn. The Trent is without doubt a magnet that pulls anglers in from all over the country.
The Collingham club have a fantastic fishery and not only is it well looked after but I'm sure all the anglers who are fortunate enough to visit have total respect for not just the fish but the surroundings as well.
I'm turning my thoughts to next year and these are the top ten points that I need to put into action;
Buy a couple of fixed spool reels
Buy a Rhino light, Terry proved to me what a great piece of kit they are.
Buy a Ridge Monkey bivvy light and get a better head torch!
Be sure to fish the end swims!
Develop a more inventive menu.
Buy a better bivvy!
Buy another tripod.
Stock up on heavy leads.
Catch a big fifteen!
Make more memories!
So I'll sign off by saying that the Cromwell Sessions wil live long in my mind and I can't wait to share more adventures in 2019.
And a massive thank you to everyone who has made my time on this iconic venue so enjoyable.
The Pool of Dreams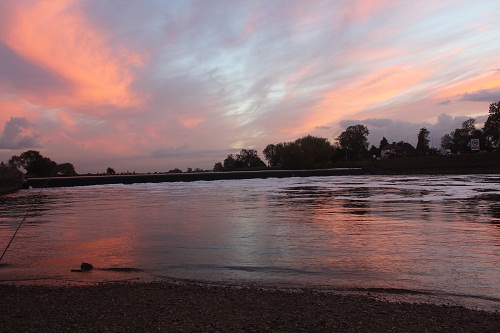 Steve