Quite a bit to get through this time and as I said in my last Update it's mostly fishing from here on in.
For sure I'll be going off on all the usual tangents but until the frosts come there will be lots of barbel content that hopefully will keep you interested and entertained.
So I'll start with the Barbel Society Barbel School and the first event which was held  on the 9th and 10th July at Dave Mason's beautiful stretch of the River Teme.
I went along on the Saturday with my good pal Rich Frampton and I have to say it was a smashing day with superb organisation from Dave and his team.
All those lucky enough to book their place had a great time and I'm sure that not only have they increased their fishing knowledge but made a few new friends as well.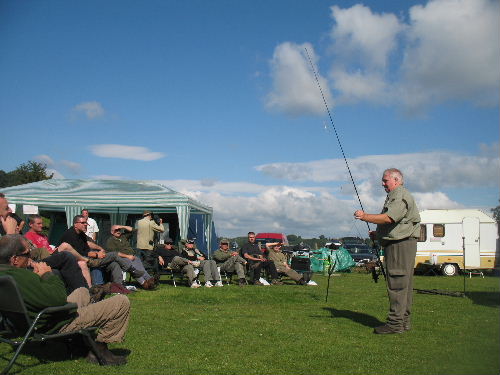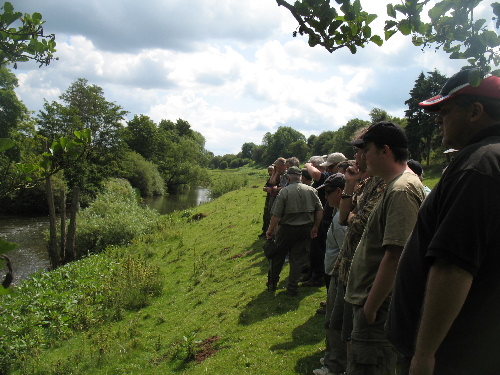 I always say that the finest achievement of the Barbel Society since its formation is the amount of lasting friendships that have come about by being a member. From one end of the country to the other this most certainly is the case and it is something I am intensely proud of.
I mentioned that I am writing for the Fishing Magic website every month, The Pope's River Diaries is the heading, and in my first entry I've written at length about The Barbel School, you can read it HERE.
 ****
Fishing Magic is the premier Angling site on the web and I'm pleased to be contributing on a regular basis.
I would wholeheartedly recommend it to you.
Ian Welch is now the Editor and he is very well known and respected and those who read the Anglers Mail will be well aware of the brilliant weekly features he produced for the paper.
Ian is very well connected and is bringing more and more to the Fishing Magic site making it a must for your favourites.
**** 
I'm now fully kitted out with Pegone gear and I have to say it is excellent.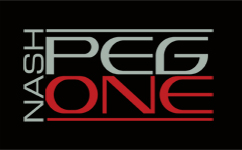 Although aimed at the wider market it will surely appeal to barbel anglers as well and with more exciting innovations in the pipeline it's a name to keep an eye on.
The Multimat is brilliant and ideal for us who primarily fish for barbel and the Transformer chair is simply the most comfortable I've ever sat on!
The add ons are brilliant for me when guiding and also when fishing the platform type swims that are very common on the Severn, Wye and Wark's Avon.
So yes it is a plug and yes I am on the Team but I wouldn't be if the tackle was not up to it.
****
I've also taken delivery of two Free Spirit Barbel Seekers, an 11 and a 12 footer.
These rods are in my humble opinion simply the best there is.
I've been attached to Free Spirit for a very long time, in fact from the start with regard to their barbel-orientated tackle.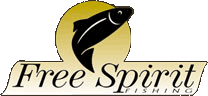 Don't forget Free Spirit is a massive name on the carp scene and that expertise and reputation gained over many years is there in the barbel rods as well.
If you're looking for a new barbel rod and you want the very best then check out the Free Spirit website HERE.
 ****
And while I'm on this tact, I'll mention Dynamite Baits, the number one name on the bait scene.
I'm on their Team as well, have been for many years and this year I'm looking forward to catching well on the Robin Red drilled pellets and the Savoury Spice boilies.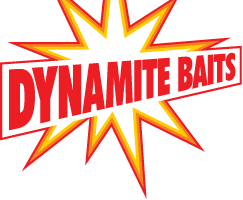 The feed pellets and groundbaits are justifiably the most popular around and you can't go wrong with any of the many different varieties.
You can check out the full Dynamite range HERE.
 ****
So now on to a detailed account of a memorable couple of days on the river and an opportunity that presented itself to say hello to some friends I had not seen for a while and also a short struggle on the Severn to show that it's still hard at times!
I set off on Saturday morning at about 10am in order to catch up with Steve Richardson and Mike Osborne, both past BS Secretaries, who were in Bromyard for a meeting.
Now I have to drive past Bromyard whenever I'm heading back to Worcester, which I do regularly, and having had a number of recent telephone conversations with both it would have been discourteous of me not to stop and say hello.
I have heard that not everyone was pleased that I called in; someone even called it a cheek and suggested I was being nosey!
Oh well, you can't please everyone but I would point out that my conscience is perfectly clear, some individuals just have very nasty minds.
Moving on quickly, which is what I did after sharing a couple of cups of coffee with Steve and Mike, I arrived at my favourite tackle shop, Alan's Tackle in Worcester.
I'm going to write an article about all the tackle shops that have figured in my fishing life and I have to say that Alan's is up there with the very best.
I collected my supply of maggots and casters and also the "Stink Bags", terrible name I know, but they are brilliant for holding camera tripods and the bits and pieces that fit on to my new Pegone Transformer chair.
I like to keep all my tackle in an orderly fashion, to the point where each of my rods is in its own sleeve with its own reel ready for each specific circumstance!
 I then spent a few totally unproductive hours on the banks of the Lower Severn, no sign of a bite whatsoever!
However my old mate Welsh Ron was there, he of fourteen pound barbel fame.
He showed me the photo and explained how the fish was weighed and I have to say the fish looked the part but the weighing procedure was certainly not the best, so to conclude, not sure if the fish actually is a fourteen but it was certainly thirteen plus!
Unlike the claimed twenty-four that I commented on in Angling Times!
I tried again early on Sunday morning, I've often found that it's possible to catch one or two barbel before lunchtime, in this case though just like the previous evening the fish were simply not there.
The dark clouds in the distance were all I needed to convince myself that perhaps watching the final round of the Open Golf was the better prospect.
I'm not a golf player, have tried it in the past, even had a full set of clubs and all the kit but I lent them to a brother in law who no longer is and I haven't seen them since!
But I do like watching the majors and thirty years ago I actually attended the last day of the Open at Sandwich as I knew someone who had a house on the course.
The course is incredible and TV does not tell the complete story, the place is a mini mountain range and the slopes are much steeper than the screen can convey.
Anyway the final round was very watchable, indeed every day has been brilliant and Darren Clark was a worthy winner.
By the time he was collecting the Claret Jug I had been joined by my good friend Rich Frampton as he was joining me on the river for the following two days.
We decided to have a decent nosh and called into the local carvery only to find it had run out of meat!
Unbelievable but it's happened to me before so it was off in the car to the March Hare where they realise that if you are running a carvery it's a good idea to make sure you have enough beef and turkey especially on a Sunday!
Down by the river bright and early on Monday morning I proceeded to bait up a swim with hemp and casters in preparation for a days guiding with Danny and his dad, Fred.
Time passed by and by nine o'clock I was becoming a little concerned that they were not going to arrive.
Thankfully they did, the motorway traffic had been far worse than expected.
The bottom line is that a baited hook did not go into the swim until ten, three hours after I had started preparing it.
Within half an hour the tip on Fred's rod went round and the first barbel of the day was on.
Now Fred had previous experience from the barbel on the Upper Lea, indeed on one memorable day he landed fifty of them but by and large they don't run that big, the fish he was attached to most definitely was!
When I'm guiding I keep a careful eye on how the person I'm with plays the fish, many is the time they allow the fish to boss them and I have to help out, not so with Fred, he fully understood the procedure and it did not take long before a good sized barbel was ready to come to my waiting net.
The fish tipped the scales at 11–4, a fantastic start!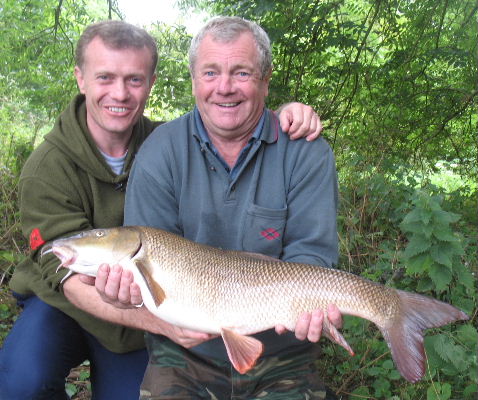 A new personal best for Fred and we had only been fishing for thirty minutes.
The two days with me were a seventieth birthday present for Fred from his son Danny, I looked up at the sky and said thank you!
The day rolled on and Fred landed a couple more barbel.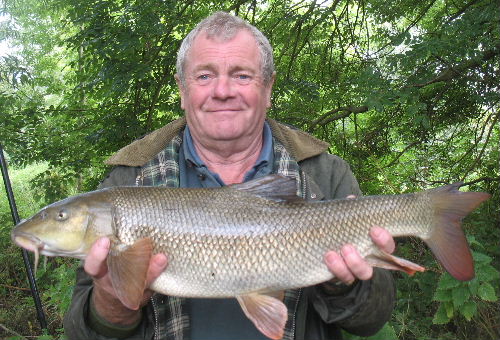 We chatted, Fred is a good golfer himself and we discussed the Open as well as a hundred other things. Have to say I hope I am as fit and well at seventy as Fred, must be something in this fishing and golf lark.
The afternoon passed by and once again Fred's reaction was spot on as the tip flew round once again and as the rod took on an alarming curve we passed each other that knowing glance, nothing needed to be said…………………………..this was a really good fish.
No fuss, no histrionics, just sensible pressure and total control as once again a double figure barbel rolled into the net.
I held the net while the fish rested, with my free hand I shook Fred's, we both knew.
I thought the fish would go over thirteen but the scales told us it would be three ounces shy of that weight, but who cares it was a bloomin' great fish!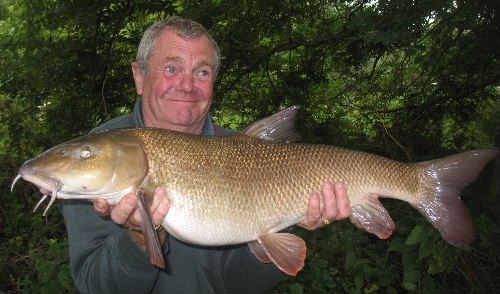 The day was just getting better and better.
More fish followed including a big nine and the final tally for Fred was eight barbel, the best birthday present any barbel fisher could ask for.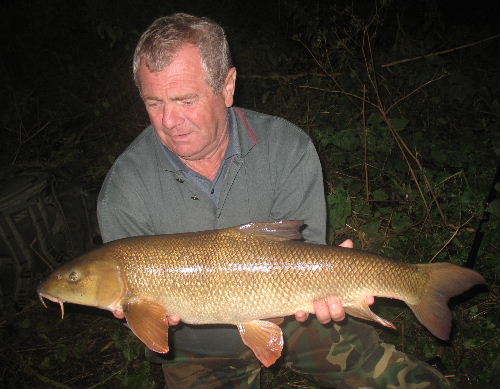 As we all sat in the pub that evening I think we realised that the fishing gods had smiled down on us, it had been one of those special days.
Tuesday was an altogether different day, a different swim that required a change of tactics resulted in just the one barbel for Fred but the added bonus was that another Fred was on the river and the opportunity was there for Fred to meet Fred!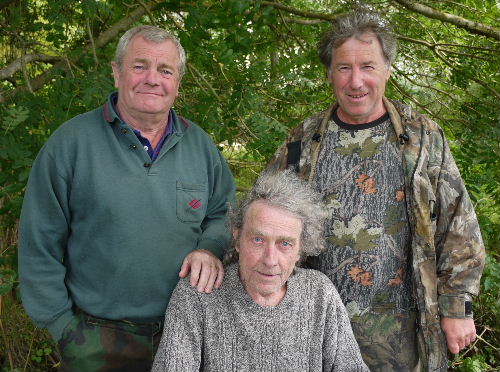 Danny and Fred decided to make tracks around seven pm so as to miss the motorway madness and as we said our goodbye's I have to say I was really pleased how things had worked out, everyone was happy and my personal satisfaction was complete.
I carried on having a fish myself and quickly had three barbel on the bank, the biggest on the last cast I thought was going to make a double but it fell a few ounces short.
The drive back to Worcester and then home was a breeze and I hoped the river would be just as kind when I return this coming week for three more days.
I have a handful of dates free in August and September and I'm now taking bookings for October so if you would like to have one or two days guiding with me then please get in touch.
I can't guarantee a day like Fred's but I can promise you a great time.
****
Before I sign off until next week I must mention The Apprentice, my favourite TV programme these past three months.
I always had a feeling that Tom, the personable inventor, would win; he seemed to fit the mould that Lord Sugar finds so appealing.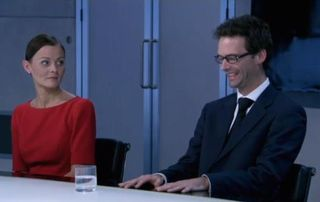 It made me smile watching the screen as I remembered the best man at my daughters wedding producing a framed picture of Tom to give to my son in law James, I have to say the resemblance is clear, a definite case of separated at birth!
More importantly it showed that the good guy really does win and that's a point the Internet idiots and pseudo muckrakers might wish to ponder.
 All the very best and enjoy your fishing,
STEVE