Well Steve what time is it…………………………?
It's Barbel time!
Well only just, and time is running out so we have to make the most of it. I'm going to use this Boss line at every opportunity in the future, any excuse to get a clip up on here and it's always one of my favourite points in a show, here's the full bifta! If you've never been to a Bruce concert you really have missed out!
RIVER OVER ITS BANKS ONCE AGAIN!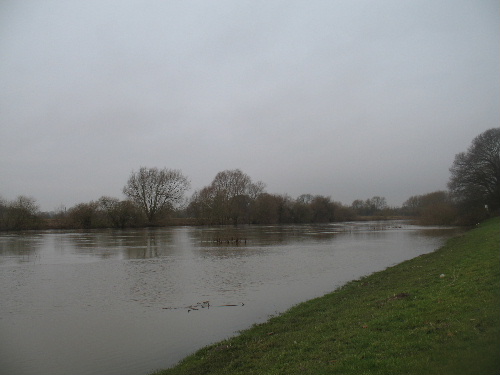 This was the river a few days ago, have to say the level really took me by surprise.
I live in an area where the rain, when it falls,  fills the Severn and if there is enough of it over a couple of days then down at Worcester it's bank high. Now the rain had been very light but just along the road in Shrewsbury it had tipped down and cars were under water in the riverside carparks, I should have checked!
Anyway I was not going to be put off, I was mentally prepared for a day and a half on the river and that is where I would stay come what may.
You can see in the photo above the top of the tree which is actually at the edge of the bank in normal conditions, using a pin was out and it was also too risky dropping any hemp, I would have lost every dropper in my possession!
So, Big River rod and a fixed spool reel which I just don't enjoy using, and a piece of meat and pretty much hope for the best.
Within an hour I had a decent pull, hardly a full blown take but enough to say I should hit it and the result was a barbel around the five and a half pound mark. I was pleased because the first here, if it arrives quickly, is always a confidence booster and as I said I was in the right frame of mind, the only question was, as always on the Lower, is it a four or a fourteen that's rooting around near my bait?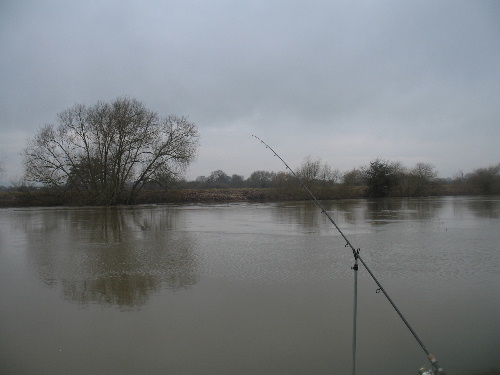 Another of my pet hates is having the rod pointing up at the sky, unfortunately I had little choice because there was plenty of surface rubbish coming down on the inside line and as for the middle of the river well it was pure canage! Trees, branches, sheds, dustbins, heaven knows what else but it kept rolling along in a never ending flotilla of flotsam!
Because of the distance I was fishing I was loathe to put on a really big piece of meat, I needed to be sure my bait was intact because I didn't want to be casting out every fifteen minutes. Every retrieval was a matter of good luck and fortune as to whether all would be intact, but luck was with me as I only lost one hook and nothing else over the whole session.
The pictures below show the set up, putting the little piece of twig under the hook really helps to keep the bait on the hook.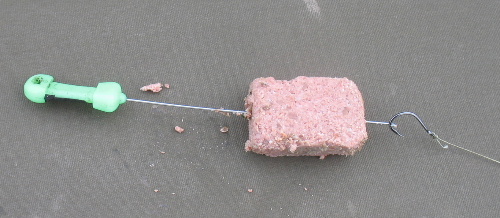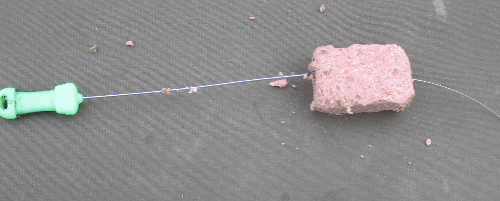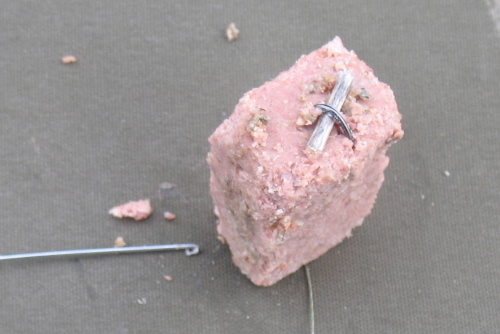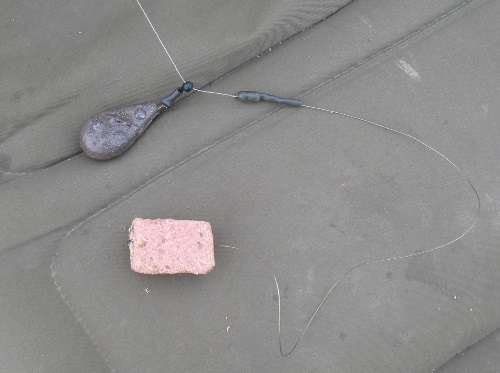 The first barbel turned out to be the only one although I stuck it out till nine pm. I went back to the caravan, put a sausage and mash ready meal into the microwave, had a cup of tea and hit the sack to ensure I pushed out enough zeds to be ready for the next day.
I started around ten am. and fished through till about seven when the incessant fine rain finally wore me down.
I managed a couple more barbel pretty much identical in size to the one caught the previous day.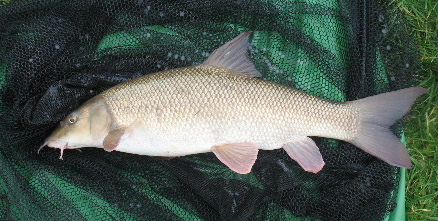 Three barbel in not the easiest of conditions was a fair result I thought and as I always say, the fun about fishing on this part of the river is you just never know what size they are going to be.
All the bites were similar, no screaming takes with the rod taking off, all very subdued.
As long as the weather holds I'll be repeating this for the next few weeks in my ongoing quest for a Lower Severn monster!
GOOD SITES
I'm always giving Bob Roberts a plug on here, not that he needs it, but if you haven't visited his site lately he has given it a complete makeover and very nice it is too.
Here's a quick LINK.
I tend to keep off open forums these days only popping in on Fishing Magic and Anglersnet on the odd occassion. But there are a couple of really pleasant barbel forums out there that you may have missed so I thought it would be nice to give them a plug on here.
Nigel runs an excellent site AVON BARBEL  for barbel fishers , especially those who fish the Bristol Avon; check it out HERE
Glenn runs an excellent forum on his BARBEL HUNTERS site and I would thoroughly reommend it to you. A very friendly bunch of people on there and the site appears to be gaining in popularity, check it out HERE.
FREE SPIRIT RODS
I'm looking forward to receiving a couple of new SEEKER rods in the next week or so. I'll make no bones about it these rods are the best I've ever used and an 11′ and 12′ will cover ninety percent of my barbel fishing requirements.
I've had an association with Simeon and Free Spirit since they came on the barbel scene many years ago and there are plenty of barbel anglers out there who will totally agree with my views.
Check them out HERE.
BARBEL SOCIETY
I'll shortly be uploading an article that was recently published in Coarse Angling Today. It should be of interest to those who may not be aware of the history of the Society.
The new membership year runs from June 16th but you can join up before then, lots of new initiatives in the pipeline, here's a taster;
BARBEL SCHOOL
I'm pleased and excited to tell you that Dave Mason and Rob Swindells are heading this up for the Society.
I was chatting to Dave this morning and the ideas that he has for a structured weekend will certainly mean we will be flooded with enquiries.
Over the weekend just about everything will be covered and there will be ample opportunity to socialise as well, enjoying breakfasts and a Barbeque.
Keep an eye out for details on how to apply, information will be on the Barbel Society Blog and website as well as other media outlets and information will be on here as well.
If you are new to barbel fishing or just want to brush up on your skills make sure you don't miss out on this.
OXFORD REGIONAL MEETING
We are pleased to advise that the Regional Organiser for Oxfordshire, Berkshire and Buckinghamshire,Roger Rance, has arranged a meeting and talk for
Friday 18th March at:
 
 
Sutton Courtenay Football Club,
Sutton Courtenay Recreation Ground,
Old Wallingford Way,
(Opposite: 46 High Street)
Sutton Courtenay,
Oxfordshire OX14 4AR
 
Guest speaker Steve Pope will be joined by a mystery speaker.
Doors open 7pm for a 7:30 pm start.
 
Members free on production of the current membership card, guests can gain access for £3 which will be refunded if they join the Society on the night.
There is a licenced bar and a  raffle will be held.
 
For more information Roger can be contacted on 07850394094 or 01235847241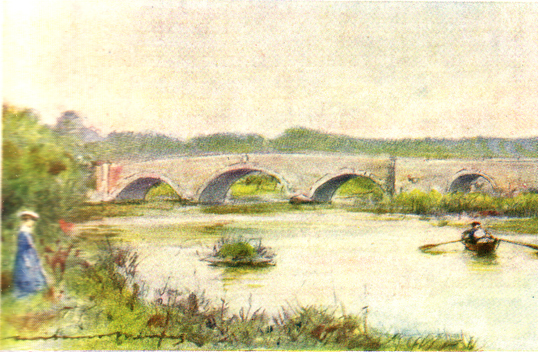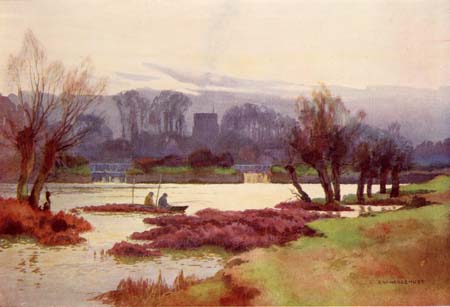 You can probably guess who the mystery guest is, just depends how well he is on the day, fingers crossed.
I'm planning a gentle come down to unwind at the end of the season, no slides or powerpoint.
Just a look back over the past fifty years or so with lots of anecdotes which I hope will strike a chord with fellow barbel anglers.
Look forward to seeing some of you there, looks a fabulous setting really close to Old Father Thames.
FISH 'N TIPS
Not long now before the first issue of this new magazine hits the shelves in Tesco's, Smiths and all the other major outlets.
I've submitted articles for the first two issues and will be working on the third next week.
It's strange writing an article that you know will be published two months down the line, I'm trying to ensure my subjects are relevant to the month they come out.
There is a lot of eager anticipation about all of this and I'm certain the magazine will quickly establish itself.
A bit different for sure, but nothing wrong with that, not easy redesigning the wheel but with the Big Man Mark Barrett at the helm I'm sure we're in for a treat!
DAVE STEUART AUTOBIOGRAPHY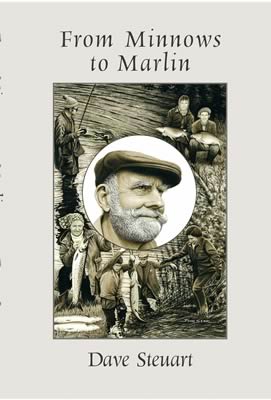 A true Angling Legend, be sure to check out this book when it arrives, the launch is mid April and I'm looking forward to getting along to catch up with Dave and lots of old chums.
Dave was instrumental in firing my enthusiasm back in the sixties when he was the Matt Hayes of his day.
Each week he wrote in Anglers Mail when it was printed on awful green news sheet!
His exploits on rivers we could only dream about stirred my imagination and when I eventually met up with him for the first time on the banks of the Fraser River in British Columbi he didn't disappoint.
Dave will be at the Barbel Society Show in June, don't miss it.
MORE BOOKS…………..
Very nearly finished reading another autobiography, Keith Richards.
An excellent read and considering the amount of abuse his body has taken it really is a wonder of medical science that he is able to recall his LIFE in so much detail!
There are many quotes worth repeating but this one conveying his thoughts on friends and friendship really stuck in my mind.
Friendship is a diminishing of distance between people, its one of the most important things in the world. I'll trust you until you prove you are not trustworthy.
Not a lot more needs to be added to that.
AMERICAN IDOL
Now look, I know I'm sad but I really like this show, even more this time around without having to watch Simon Cowell.
Much prefer the American style to X Factor, and getting Steve Tyler to be one of the judges is an act of genius.
I take all these programmes for what they are, basically light entertainment, but up here on a cold night with the log fire burning me and the missus happily wile away the time when this is on.
And in case you don't know and as a little taster for the new magazine check this out;
YOU REAP WHAT YOU SOW
Now I said when I set out at the beginning of this blogging lark, I'm not courting controversy and I won't be commenting on others unless I have something nice to say.
Thats the deal and I'm sticking to it, but that's not to say I'm not allowing myself one vice and that is to be self indulgent!
I'm a husband and dad first and foremost and my daughters although all grown up now are always at the centre of my very existence.
I had no idea of what it would be like being surrounded by and receiving so much female influence, I came from a predomiantly male household.
But I have to say these past thirty or so years have certainly seen me lean far more towards the female perspective on all manner of issues. Don't misunderstand me on that comment!
Although I took my kids to football matches and took them fishing, their prefences were always for the more girly things like acting, ballet, dancing and the like.
However none of that stopped me from instilling in them a determination to succeed and make their mark in what lets be honest is still very much a mans world.
And succeed they all have with the benefit of good education and the ethic that they are the equal to any man!
My eldest who is based in Sydney has just opened her office a stones throw from the Harbour Bridge and she employs guys not much younger than me.
You may recall when I wrote about my dad how we came very close to making it, well my daughter really has and I'm as proud as can be.
Couple this to the fact that in little over twelve weeks time she will present me with my first grandchild and you can tell that this year should be quite special for the Pope family.
Grandpa Steve, it's gonna take some getting used to!
The wedding of my youngest is drawing ever closer and I'm really looking forward to that, it promises to be quite something……..the full works in a stunning location.
I'm hoping that Fred  is well enough to attend, I know how much he and Pat enjoyed the last one, fingers well and truly crossed.
I'm off this weekend to London to visit her and my middle daughter and it's something I always look forward to, lots to discuss and we usually end up doing that in a lovely restaurant down by the river.
FOOTBALL
Not going to dwell too much on this other than to hope that Spurs can get something in Milan this week and prolong their Champions League adventure.
Pleased to see that sanity prevailed with regard to the Olympic stadium.
I'm sure the Spurs bigwigs were only playing a game, I hope so because the thought of Tottenham playing in East London was frankly ridiculous. Don't see the Hammers enjoying it much either.
It's in the name, Tottenham, last time I looked it was where I was brought up and it is in NORTH London!
Sometimes I wonder what planet the football world actually exists on.
Thats It………..
A bit longer than I expected but there you go.
Only a few weeks left in the season so make sure you get out there, I know I will!
All the best,
STEVE