We have been off on our travels again, this time to Mexico, and we had a great time. The weather was a little indifferent but mostly fine and warm. We visited the Myan ruins at Chitzan Etza and went to local markets as you do when on holiday. But without a shadow of doubt, the highlight of the trip happened on Valentine's Day when we went fishing for barracuda.
Mal said it was the best Valentine's present ever!
We hired a boat and skipper for six hours fishing and it was fabulous, they provided all the bait and tackle. The tackle was not the best in the world and the rod Mal had her eyes fixed on was not too straight, but the skipper said it was the lucky heirloom rod, and the reels were also a little worst for wear. We were not so far from the shore when we dropped the baits over the back of the boat and started to troll, we waited in anticipation, sailing in the warm sun on the glorious Caribbean Sea.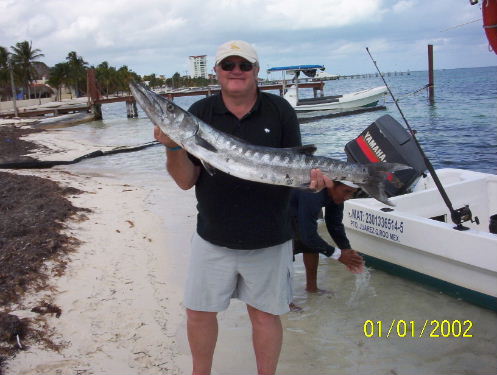 After only ten minutes I felt a pull on the line and struck into my first barracuda, the sport was fantastic, I have never experienced line being taken from the reel when sea fishing before. While I played my fish Mal hooked up as well, both fish where about five kilos, a good start. We were both ecstatic, in the hope of more, and happy experiencing our first barracuda.
I dropped a bait over the back of the boat and within minutes was playing what felt like a better fish, Mal hooked up as well but lost it, she was not happy. My fish weighed in at eight kilos, brilliant! Mal then hooked and lost another fish and she was getting madder by the minute! I managed another smaller one then it went quiet, even for Mal as well and that's rare, she was desperate for another chance.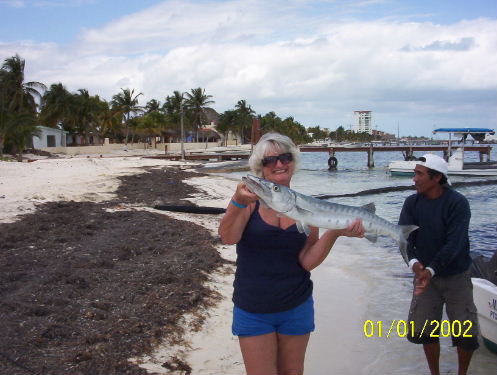 We sailed around about one and a half hours before we experienced more action, then I was in again with another eight-kilo fish. Then another one about five kilo. Mal was not getting anything but she was determined to catch, the time was running out fast and in the last ten minutes she latched into two five kilo fish which made her a happy lady, altogether we hooked seventeen fish and landed ten. We'll enjoy the summer fishing the rivers for our beloved barbel while making plans for another adventure abroad. We are thinking of trying our luck for tarpon and sailfish in Barbados, we'll let you know how we get one if that one comes to fruition but for now it's back to barbel dreaming and long summer days.
PS. You'll notice my date on the camera was wrong, somehow I managed to set it eight years out of date!
Dave and Mal Brown.