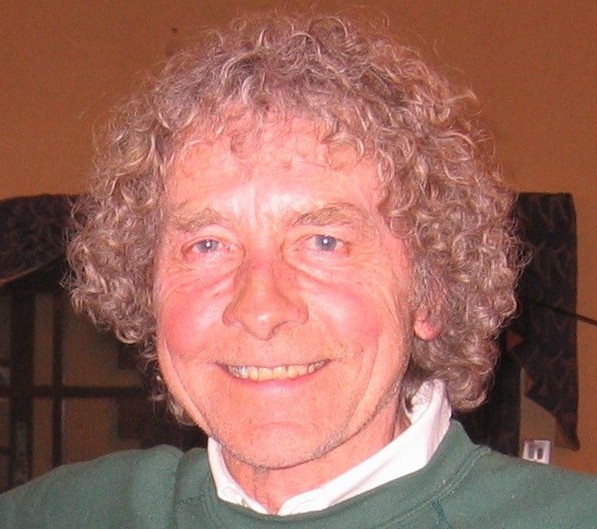 I have always known that the time would come when I would find myself writing this, the past few years had taken their toll to such an extent that days on the river in each others company had ceased and had become days with me giving Fred a constant running commentary by phone on what was happening while I was out on the Wye, The Severn, The Kennet…wherever I found myself casting a line.
And even though Fred was not there he was able to read the swims perfectly and delight in telling me where I was going wrong and what to do next and this will come as no surprise to those who knew him, he got it right every time.
I would ring him back after returning another barbel and thank him for the advice, he would laugh and give me some stick, and I know he really enjoyed being involved in this way.
Also Fred had this uncanny knack of ringing  me just minutes before the reel started spinning, I'm not making this up, he seemed to have his own direct line to the underwater world of barbel, the species that gave him a lifetime of pleasure.
Back in 2007 Fred published his autobiography, Skies of Fire –  Rivers of Gold, and he gave me the enormous honour and privilege by asking me to write the Foreword .
To give you an insight into the life of this truly unique man I will revisit some of the words that came to me then.
As we travel along life's highway it isn't often that we meet people who not only make a major impact but also become a lasting influence on your own way of thinking. Those who have come into my own life can be counted on the fingers of one hand, one such man was Fred Crouch.
If my life depended on the capture of a barbel there would be just one man I would have put forward for the task and that man would be Fred.
A lifetime devoted to just the one species provided Fred with a great wealth of understanding and knowledge.
Childhood for Fred was spent in wartime Britain and Fred had a way of portraying those dark days which undoubtedly shaped his outlook on life.
From the age of twelve he was brought up by his dad and with very little money or food Fred had to learn rather quickly how to live by his wits in order to survive.
In his world it was all about make do and mend and it's plain to see why he was never the best friend of the tackle trade.
Early fishing days as a boy with bent pin, cane and thread, fast forward a lifetime and nothing really changed.
Despite the hard times Fred was no academic slouch at school but he struggled to find fishing mates and that just led to a much heightened sense of awareness with nature and wildlife. This deep understanding allowed Fred to apply similar assessment to his fishing and it is obvious to see how he became the epitome of the thinking angler.
From a barbel fishing perspective his formative years were spent at Kings Weir on the River Lea, the glory years came on the Royalty, then there was the Yugoslavia adventure that almost turned into disaster, and then came the Teme, Severn and Kennet. Many stories from those days can be found in Fred's autobiography.
Fred was a wonderful writer and his book Understanding Barbel is without doubt one of the best ever written on the subject, the apparent simplicity of Fred's techniques cleverly hiding the deepest thought that set him apart from others and explained why he would always catch while others struggled.
You would be absolutely amazed at how many different roles Fred took on during his colourful lifetime. The original Del Boy, as a Market Auctioneer, with spiel that would have put Arthur Daley to shame.
Then there is Fred as a Rocker in the Ace Café, I'm pleased that there were a dozen years between us otherwise we might well have found ourselves on opposing sides down on Brighton Beach!
I tried hard to get Fred into music from the likes of The Boss but with his suspicious mind he would just say I'll think it over, you see Fred loved his Elvis and Buddy Holly which fitted his style but we did share mutual support for Spurs and would spend many hours wondering where that all went wrong!
As unlikely as it may seem and I promise you I'm not kidding, Fred trained as a pilot. In the grand manner he thought it might make traveling to fishing venues that much easier!
Fred's ragamuffin appearance concealed a mind that at times was akin to a mad professor, so it should come as no shock to learn that he was a bit of an inventor.
He claimed to have made the first boilie and the spade end hook as well, he definitely made his very own baitdropper, Fred was certainly unique.
And there are plenty of anglers all over the world who are the proud owners of a centrepin reel that Fred would have put together and I give him full credit for raising the popularity of this reel for barbel fishing.
He was also there at the start of barbel fishing organisations because Fred loved to put something back and help fellow anglers.
Along with Pete Henwood he formed the Association of Barbel Enthusiasts, he was a member of The Barbel Catchers Club and he was by my side when The Barbel Society came into being where he became our much loved and respected President.
Fred spent a number of years offering anglers tuition and there are a great number who have benefited from his knowledge and wisdom.
What I can also say without fear of contradiction is that if you are a person with a pessimistic outlook on life, time spent with Fred would have immediately transformed you into one of life's optimists. He had that affect on people.
If you have followed Fred's writing over the years you will know that there were always a number of subjects that he felt passionate about and where he would often take issue with perceived convention at any given opportunity.
Fred's arguments were always compelling, he liked to challenge popular beliefs and he had a way of making you look more deeply and question your own. His logical mind and depth of knowledge would mean that you would be in trouble if you took him to task without putting the same effort into your own research.
I am a very fortunate man, I knew Fred for many years and next to my dad he became the most important man in my life, our friendship was about much more than the fishing.
Out on the riverbank, giving talks and slideshows, attending meetings, the thousands of miles we traveled on the road and apart from the one time I forgot the tea making gear, there was never a cross word between us. In fact I lost count of the times I had to stop the car because tears of laughter were streaming down my cheeks as I listened to Fred telling a joke even though I had heard it a dozen times before. I am certain we spent more time laughing than catching barbel but then again, that is the key, Fred's true legacy. Fishing for him was always about having fun, he could catch – let there be no doubt about that, but always with a smile and a sense of fun, the true essence of fishing – that was what Fred was all about.
As I've mentioned car journeys, traveling with Fred really was an experience in itself. I've lost count of the times we broke down or ran out of petrol even though he had assured me the tank was full when the petrol gauge wasn't working!
Then there was the time we were stuck for hours on one of the busiest roundabouts over the M4 as Fred's truck gave up the ghost during the evening rush hour.
"Have you bought a mobile yet and are you in the AA?" says I………………you can guess the reply. He would have been lost without me at times!
But that was Fred, the most loyal friend who never ever let you down, that was just his vehicles.
Fred's sense of fun was legendary, all his pals have their own stories and I have no doubt there would be enough to fill a book, he always had a joke for every occasion, how he remembered them I really don't know. I'm sure he could have been a stand-up comic, someone in the mould of his favourite Jethro, and that brings to mind the evening we spent giving a talk in Wales. I say talk, we hardly touched on the barbel fishing because Fred hit top form on the joke front and the packed house lapped it up !
He used to love The Two Ronnies and Last of the Summer Wine, this was his type of humour and it would be very easy to imagine him in Compo's gang, he certainly looked the part.
Now Fred's flask, something that needs no introduction to those who know!
The most disgusting vessel you would ever wish to see and one that went on all his fishing trips while brand new stainless steel versions stayed indoors collecting dust hidden at the back of the kitchen cupboard.
You have to ask yourself, would you want a cup of tea from Fred? Not on your life and therein lies the logic!
Many years ago one of his barbel fishing pals from Yorkshire was about to emigrate to Australia, Fred thought nothing of getting in his car and setting off on a five hundred mile round trip in the space of a few hours just so he could wish him well.
We did something similar for another pal celebrating his birthday.
And Fred did the same for me on my fiftieth and sixtieth when he made another round trip driving hundreds of miles.
Fred was also a devoted family man. You only have to read the words at the beginning of his book to appreciate how important that part of his life was to him;
Patience, understanding and unwilting devotion, these are just some of the qualities freely displayed by my best friend and darling wife as I pursue my other love. To you Pat, I dedicate this book. Long may you breathe the misty rivers' dawn and stand in reverence of the barbel, my lowly friend.
Fred enriched the lives of everyone he met, a one off, the like of which we will not see again.
I could write so much more about this wonderful man and no doubt over the coming weeks I will.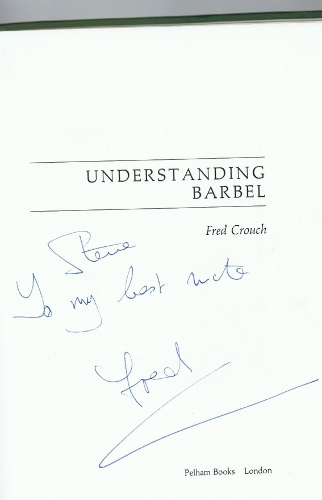 He has earned his place alongside the fishing greats and his memory will live on as long as the wild rivers flow.
A great friend and a true legend.
Fred Crouch – Born 20-4-1937
Died 19-1-2014
He leaves his devoted wife Pat and two daughters, Debbie and Ann.