It's that time of the year again……………I seem to be spending every day I'm not fishing out in the garden sweeping up the leaves. It's one of those jobs that drives you ever so slightly mad! The more you clear up, the more that seem to appear!
Oh well, good compost for next spring and it provides exercise of a sort.
As it has been a fortnight since the last update this is  another long one with plenty of different subjects but t he first topic I want to talk about is this……………………….
THE STRONGEST LINK!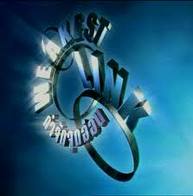 I told you it was worth watching! My great friend Fred Crouch must be over the moon, his lovely daughter Ann played an absolute blinder and walked away at the end of the show as the winner and with a nice sized cheque as well!
It wasn't easy though, after a fantastic start where she was the strongest for the first few rounds there was a slight wobble (!) in the last couple. It wasn't until round seven that she actually received her first vote off from a fellow contestant.
Then to play against a chap named Fred in the final, who was the next best player, well it only added to the sense of occasion.
It all came down to the very last question and I'm sure Bob Roberts was sending some kind of subliminal message across the airwaves to Ann. The question was about a silver coin from pre decimal days and the answer was two bob, well Florin to be precise. Nice one Bob!
Ann walked off with head held high as the worthy winner  and she definitely made quite an impression on everyone watching!
Very well done.
***
FACEBOOK

Well after moaning at my daughters for getting too involved on this thing I've gone and taken the plunge and signed up myself!
Not entirely sure if it's the right thing for someone of my age but when I saw people I know on there I recognised from my generation, I had a bit of a shock I don't mind telling you!
It remains to be seen if there's any great advantage to be had but if it brings more traffic to my website, which is the sole purpose, then it will be a good move.
We will see.
***
So what's been happening since the last update?
CHUB ON THE SEVERN
 As the heading says, ten days ago I found myself connecting with Mr. Chevin on the Severn. The chub have been conspicuous by their absence of late so it was a surprise to latch into a couple that must have been pushing five pounds.
I was on my usual stopover on route for a day on the Kennet and the clear sky meant there was a distinct nip in the air.
I tend not to weigh chub I catch while fishing for barbel, it isn't their fault but the barbel gear really doesn't give them a chance and so their fighting qualities disappear in an instant.
Even had a bite off using the Striptease hook length, and that was the signal to turn it in.
THE BARBEL ALWAYS CALL THE TUNE
 The air temperature had not fallen too much overnight so I was full of expectation as I walked along the path on my way to prepare the swim on the Kennet before Gary arrived.
A couple of pals had fished the river the previous day but a heavy frost had put paid to their chances. Today was a new day and as I'm always saying I'm full of optimism whenever I'm on the river, it really is the only way!
Gary has caught plenty of barbel from the middle reaches of the Severn but was hoping that there might be a chance of a bigger fish on the venue we were fishing today.
Well the hours passed, and no matter what we tried it was just one of those days when the river switches right off. We weren't the only one's. My old mate Dave and one of his pals was on the other bank and they too were suffering like us, the barbel just refused to come out and play.
Oh well, the recent good run of catches had to come to an end at some point and this was the day.
No matter, I had a good time in Gary's company and we'll be getting it together again on a day when hopefully the barbel have read the script!
STOP PRESS
There's a post script to this story. I've just this minute received an email from Gary telling me he tried one of the techniques I had explained to him and it has just resulted in a fish of thirteen pounds plus…………………….brilliant!
Well done Gary.
If I get the picture I'll put it up on here.
FRIENDS REUNITED
 After a long and tiring drive back home I managed to get some sleep before setting off once again for Worcester and a weekend get together with some people we had not seen for a long long time.
Twenty five years and more have past since my wife and her three school friends had all been in the same place at the same time. The picture below was taken in my garden way back, the little lad in the red tshirt is now out in Singapore making his fortune along with my eldest to his left doing just the same in Oz.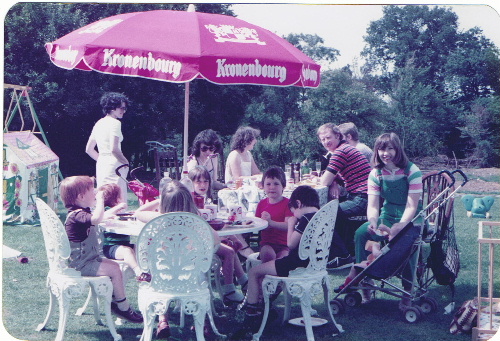 The ladies have hardly changed at all, can't say the same for the menfolk unfortunately!
We had a lovely time at Geraldine ( Green dungaree's) and Ray's ( Stripey shirt) fantastic house near Kempsey and on the Sunday, which was a glorious sunny day, we went for a stroll around The National Trust's Croome Park which is just a stone's throw from their home.
All four still friends, still married to the same partners, all four couples very successful in their lives, all thirteen children making their own impact on the world and all of us from North London, supporting Spurs!
London rules!
Paul ( Behind Ray and talking to my missus) even wore his Spurs hat on our walkabout!
I really hope we don't wait another twenty five years, that may be pushing it a bit!
***
This past week has seen me down on the Kennet for three days fishing that certainly brought mixed results.
As always I stopped over for a few hours on the Severn but despite what appeared to be good conditions I didn't get a bite.
I'm always going on about getting all the pieces of the fishing puzzle in place to ensure you are always fishing with complete confidence, when time doesn't allow for that you are always on a wing and a prayer and hoping that Lady Luck decides to smile. This time she didn't.
A DOUBLE FOR JOSH!
So after a two hour early morning drive down to Berkshire through the rain I was pleased to step out of the car to feel relatively warm air on my face which is always a bonus at this time of the year.
As I was preparing the base camp I could hear a carefully muted call through the undergrowth, " Steve, are you there?"
It was Josh and his dad, bright and early, eager to get started on our barbel quest take two!
You've already read about the last time we met up for Josh's birthday, after that day I promised him another go during his half term holiday and he has been counting down the days ever since.
Armed with his new centrepin and rod all set up as we had fished before I was just praying that the barbel Gods were going to be generous and reward this really nice young barbeller with something special.
Well, just like the last time out with Gary the hours flew by and no matter how many tricks we tried and hard we worked we just coudn't get the barbel to bite.
The time was fast running out, the fine mild day was now getting that bit chillier, my fleece had gone on and I noticed Josh was now sporting warm gloves, it was now or never.
Six o'clock, the rod top gave the merest hint of fish interest, then it went round again and no it wasn't weed , this time it really was a barbel!
Josh immediately took charge and put his new reel to good use playing what appeared to be a good fish like a seasoned barbel fisher.
As the fish came to the surface and my waiting net I knew this was the double we had been hoping for, indeed I was sure it was going to be a good bit more than that!
On the scales she weighed 12-12, what a fantastic result!
The three of us were in barbel heaven!
I'm sure we'll all meet up again next summer, I've really enjoyed the two days in the company of Josh and his dad and I'm pleased to have been there at the start of what I'm sure will be a long and successful barbel fishing life for Josh.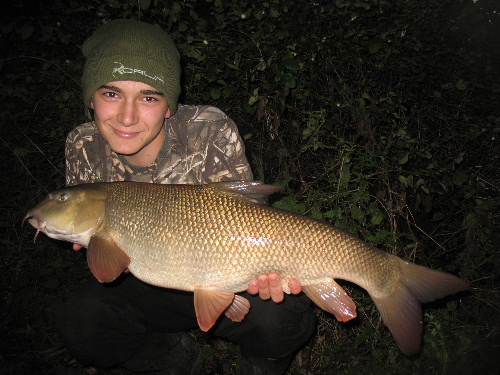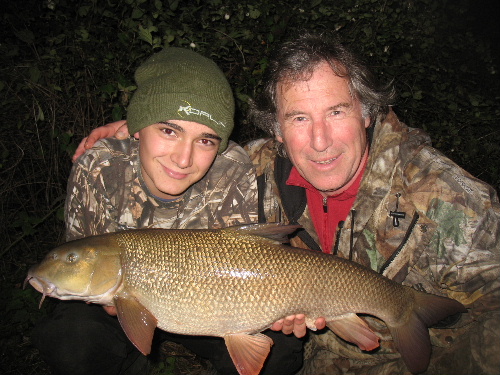 Thanks for the text mate, the day will stay in my memory for ever, that is what makes fishing so special.
I'll do my best to put this adventure into an article.
***
After a good nights sleep in the car again I might add, I really am getting too old for this, it was up again at six to look forward to our annual get together of syndicate members. We call it our Gentlemen's Day, but this time I'm changing the name to……………………………………….
THE LEAGUE OF GENTLEMEN………………..AND A  LOVELY LADY
 Kevin ( The Boss), Pete, Dave, Rich, Paul, John, Nigel, John, Chris and myself had all assembled on the river looking forward to a good days fishing followed by a good night in the pub. Oh and this year we were joined by Mal, the lovely young lady on the left, the wife of Dave who make a wonderful fishing couple and are great Barbel Society supporters who are looking after the memberships for us all.
The weather was kind once again but the fishing wasn't. Well that's not entirely true because Paul captured a thirteen pound plus barbel in the early afternoon which we all said would cost him dear comes the evening!
That was the only sign of a fish any of us had, once again the barbel stayed tight in their h
omes and had no intention of paying more of us a visit on the bank.
When the likes of Pete Reading fishing with casters can't get a bite you know it's a difficult day!
Chris Tarrant was trying all sorts of things on what was one of his rare days after barbel this year. I know I've said it on here before but I truly am in awe at the way Chris can just be one of the lads when he is fishing. I talk to him just the same as I would chat to anyone and he is brilliant company. I doubt if there are too many in his world who can just flip the switch and become one of a group who just enjoy their fishing…………….a top bloke! I hope I can take him up on his kind offer to stay over when I'm down, would sure beat sleeping in the car again next year!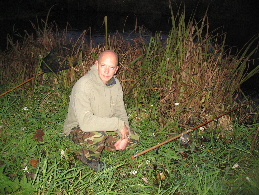 The handsome chap in the picture on the left is Kev, another great Barbel Society stalwart. In our group he's the boss, the man, and he does a fantastic job. We spent a good half hour discussing the woes of being a Chairman, Kev having spent the past five years in that position for his local club that owns some good carp fishing waters. Seems it's the same for us both, good times and some not so good times but while we both enjoy it and do the job we'll stick with it. Kev has the same mentor as me, Fred Crouch, one look at the picture above and you will see Fred's influence……………………..No, not the hair!
We had all been hoping that Fred would be down to share the day with us all but he had already rung me to say he wasn't up to it, there's always next year and all of us agreed that Fred's health is more important than anything else.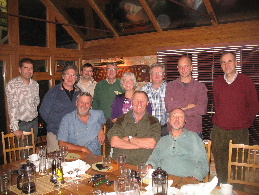 So it was off to the pub for a slap up meal and a pint around the log fire. Chris was on great form and kept us all laughing as he rolled out a non stop stream of anecdotes.
Then as we had agreed Kev put a call through to Fred and with loudspeaker on it was as if he was with us in the room. The banter flowed and it was the perfect way to finish off a perfect day.
All of us agreed that we should meet up more often so next year a summer barbeque is on the cards and I for one can't wait.
Back to the other pub, the one where Rich and myself had booked in to get a decent night's sleep ready for the next day and round three for me.
A FIRST FOR STEVE
Back in the summer I received an email from Anne wanting to book a day for her boyfriend Steve, it was a birthday present. Friday was the day we arranged and the mission was to make sure Steve landed his first ever barbel.
Steve like many anglers of his age had spent most of his time on the lakes catching carp, he wanted a change and I hoped to show him why barbel and river fishing can become so addictive.
Anne and Steve turned up right on time and we all set off along the river towards the swim I hoped would produce the goods.
After an hour or so Anne left us to it but said she would come back to see us later in the afternoon. It struck me that Steve had found himself the perfect partner!
Our day proceeded much the same as the last couple, very slow with the barbel once again playing hard to get.
Eventually the bite came and Steve made no mistake landing a nice barbel of eight and a half pounds. His first barbel and on the pin as well.
We had enjoyed a good day, the fishing was hard but we covered just about everything and I'm sure this fish will be the first of many.
Anne came back as she said she would and we all sat there getting wet as the rain came just as the day came to an end.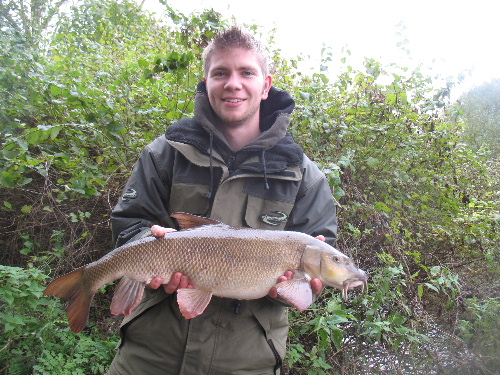 And that's also the end of the guiding days for this year.
November will see me trying hard to get a big fish from the Severn and I may find myself back on the Kennet in February because I would love to catch a fourteen from the stretch and it should be a viable proposition.
 THANK YOU
Before signing off I just want to say a massive thank you to everyone who has been out with me these past four months, it has been an absolute joy.
I've enjoyed every minute in the company of lovely people who have enhanced my own fishing experience.
I'm sure I'm going to have a very busy year next season so if you want to book up some time then get in touch now so that the date is set in the diary.
Looking forward to making many more friends in 2011.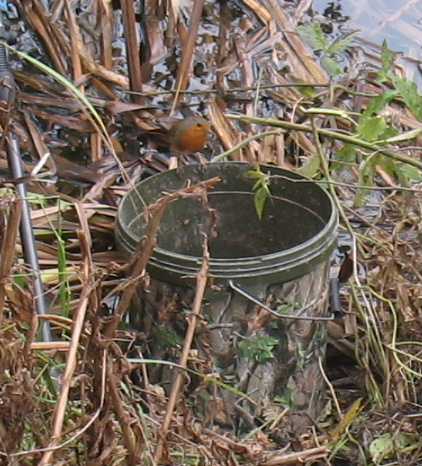 This little fella has been my friend all season!
All the best,
STEVE