A MEMORABLE FEW DAYS
During this past week I've been fortunate enough to enjoy some of the best days of my life.
The wedding of my youngest daughter has been a long time in the planning by Katie and James and on July 1st  after months of meticulous organising the day finally arrived, and it was without doubt the best wedding event I have ever attended.
The sun shone over the most delightful Essex village and with well over a hundred friends and family all there to wish the couple well the scene was set for a memorable occasion.
My wife and I set off on the long journey to Finchingfield on Wednesday. Took the best part of five hours although we did stop off at the lovely old town of Saffron Walden. Back in the late seventies I very nearly moved to this part of Essex but thought the journey to Chigwell and then on to North and East London would be too onerous, I couldn't afford to live there now!
We were booked in for three nights at the Red Lion in Finchingfield, directly opposite the church and only five minutes from Spains Hall where the reception was held.
Unfortunately the pub had no television and we had to visit the Three Tun's just across the road to catch the Murray/ Nadal match. The landlord there was a character, hailing from the East end via Blackmore to end up here, we enjoyed some fine banter over a few pints!
Back at the Red Lion we were entertained by the campest couple you ever did see before retiring for the busy day to come.
I say busy, most of it was spent drinking, either Pimms by the village green or champers at the Lodge where my two daughters and the the other two bridesmaids had arrived.
We had to attend a rehearsal at the church, the vicar did his best to explain but my memory is not what it was and very little sunk in save for the part where I had to hand over my daughter!
We then spent a lovely evening contemplating the big day which was now only hours away.
Friday, up bright and early, had breakfast then over to the Lodge to get togged up in full morning suit  while all the females had their hair and nails done, no expense spared!
The vintage Rolls Royce arrived and took the bridesmaids and my wife to the church while I spent some precious time on my own with my daughter who was just minutes away from tying the knot.
This was the second time I had been in the wedding car with one of my daughters and it is a hugely emotional experience but walking down the aisle was a first – apart from my own wedding – and it was amazing!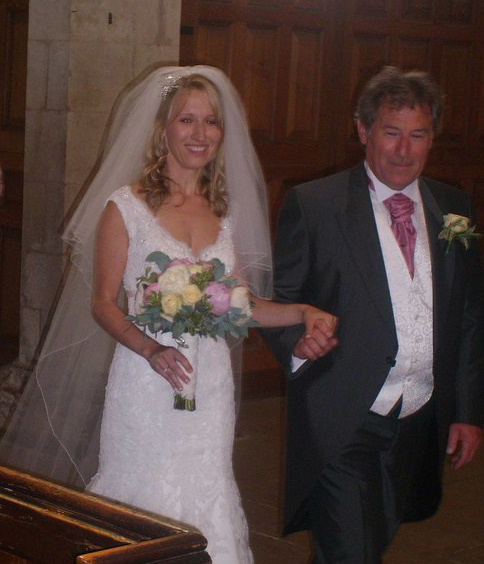 The service flew by in the blink of an eye.
The vicar was on good form and when he asked the congregation the question , "What is the basis for a long marriage?" One wag piped up, " Tolerance!"
Who said it? None other than my old mate John Found and he should know after admitting to forty three years of wedded bliss!
 Outside the sky was blue and the sun shone brightly.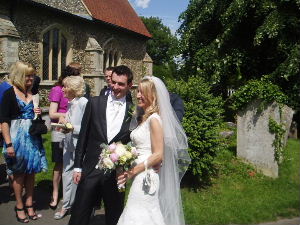 Back in the car, a cab this time, as Father of The Bride you only get a one way trip in the Roller!
Everyone gathered back at Spains Hall for Pimms and canapes in the fantastic grounds and there was time to play garden games as I noticed someone fishing on the carp lake in the distance!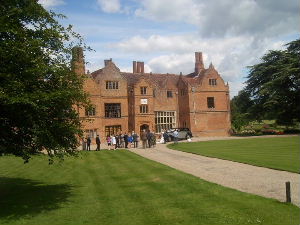 Then it was time for the reception, the food, the dancing and the speeches.
Now I quite enjoy public speaking, after many years on the barbel slide show circuit I don't worry too much when I have to stand up with a mike in my hand.
This time was slightly different though, my overriding thought was that I must ensure my daughter is pleased and also that all her friends and work colleagues and those of James as well were reasonably impressed.
It must have gone down well because after fifteen minutes they all rose to give me an ovation, I was overwhelmed.
Then it was the turn of James as the groom and he was excellent, settling into a relaxed rhythm as though he was just talking to my daughter, they stood for him as well and then the Bestman brought the house down with a brilliant speech which culminated in a full sing song with all the Ushers.
It was good.
And then the band arrived and it was time to party.
When it was my time to dance with my daughter there was only ever going to be one tune;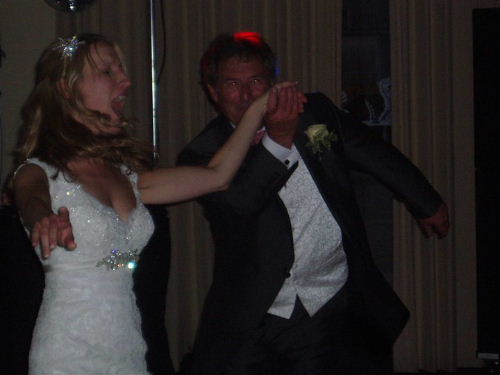 The band played on and the drink flowed and everyone had a great time.
My daughter can sing a bit and she wasted no time in joining the band for a couple of songs, don't know where she gets it from!
She very nearly tempted me to join her in a duet but I thought better of it!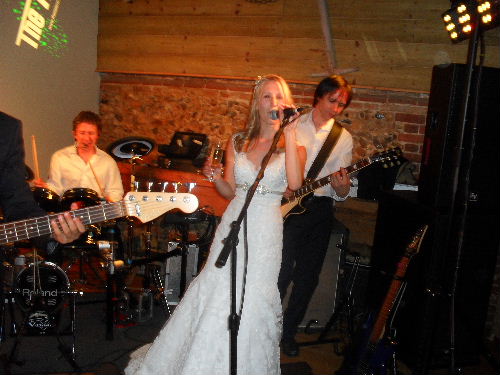 Courtesy of my other daughter who is out in Australia and has just presented us with our first grandchild, one of the great evening attractions was the photobooth from Sayfromage.
Have to say that before the day I had no idea how popular this would be but it was, obviously a new must have at a wedding reception!
There were plenty of amusing photos taken but this is a more subdued one;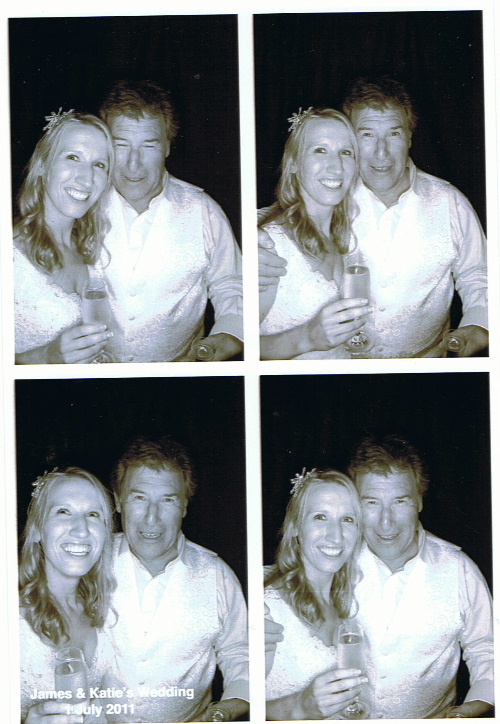 And then at midnight it was all over, one of the best days of my life and certainly the best day in the life of Katie and James .
Back to the Red Lion but it wasn't quite all over.
The following day at lunchtime we all met up again at the pub on the green and we somehow managed to stay there until late afternoon before we said our goodbye's and I set off for the long  journey home.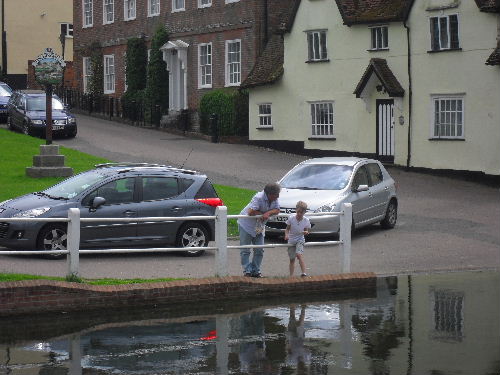 So a massive thank you to my daughter Katie and her husband James for a truly memorable few days that will live long in the memories of all who were there.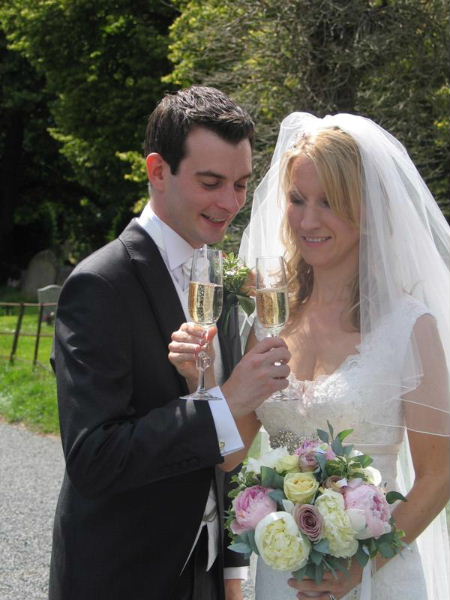 *****
COARSE ANGLING TODAY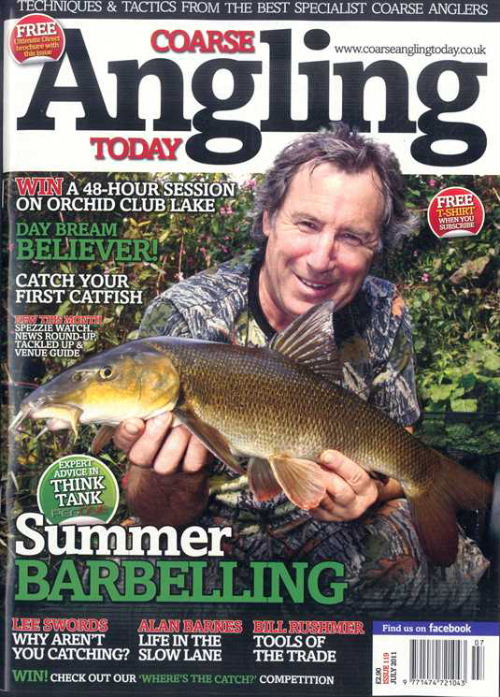 I didn't realise I had made the front cover of this months Coarse Angling Today until my old mate Fred Bonney sent me an email.
Have to say the Doc, Paul Garner is a top man behind the camera, thats three times he's managed a cover shot for me.
I'm out with him next week for more features, now if we can get in IYCF that will be the full set!
*****
ALL OVER THE WORLD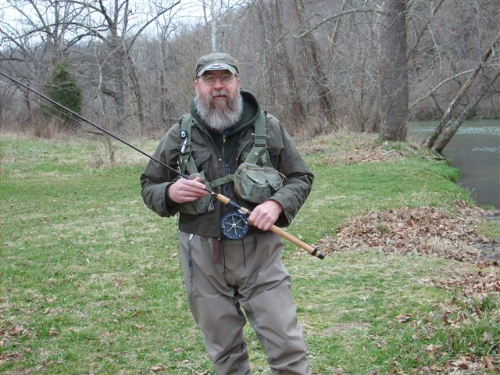 The photo above is of LLoyd, the happy Canadian recipient of one of Fred's excellent reels.
He sent me a lovely email which I'll share with you all.
Mr. Pope
Sorry for the delay in sending you a photo of me with My Fred Crouch Reel but, better late
than never…I had to have help from a friend getting this off my camera and onto the
computer, as you can see from the photo, I'm not a young pup and find the tech & modern stuff
just a bit beyond my comfort zone. If I can't point and click, I usually get lost.
My first trip to the stream was at the end of Jan during a really nice spell of weather
and I took 43 trout that day on a "Puke Fly" nasty name but, a fly usually reserved for
Smallmouth Bass in these parts. After struggling along in the early part of the morning
I tied the above fly on and the trout responded greedily.
It was a day I will always remember especially because of Fred's reel being used. I could
not have written a script any better and remember your words of "it's been blessed by Fred
and from on High".
Thanks for everything.
Lloyd Woolverton

***** 
SCHOOL'S IN…………………..FOR SUMMER !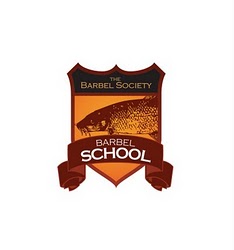 I'm off to school this weekend, can't promise you this…………..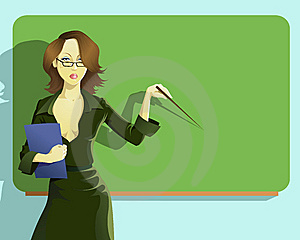 But I can promise you this………………………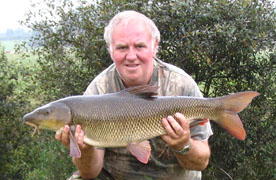 I'll tell you all about it next week and it's pretty much fishing all the way from here on.
Trips to the Wye, Kennet, Teme, Severn and Avon are all coming up in the next few weeks so keep looking in.
Good Fishing to you all.
STEVE