You have to be ever so slightly mad to set off for a concert on the day before it actually takes place, but I now know that there are some who are prepared to queue for a prime position even longer than that……………totally insane!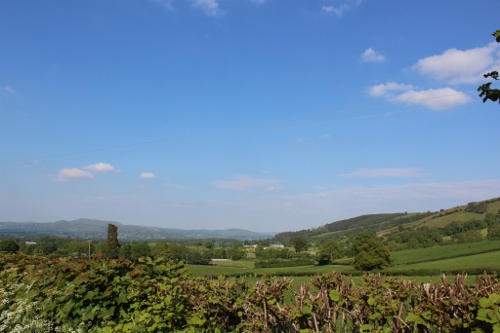 And so I left my home up in the hills on a sunny morning bright and early in the morning armed with my pricelss ticket for the show and headed off to Worcester. I had to stop off at my caraavan first to make sure all was well as it had been a fair few months since I last looked in. The river looked very low and I'll be in no hurry to fish it, at least not until there has been a fair bit of rain. I bumped into a Barbel Society pal as I was chatting to a fisherman, we are everywhere!
Back in the car I headed for Coventry via Alcester which meant a nice journey through the Warwickshire countryside.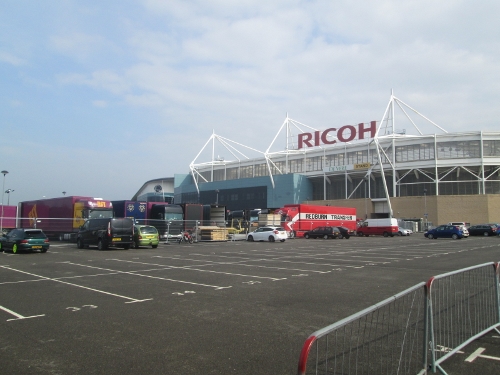 Arriving at the Ricoh I decided to park in the big Tesco's carpark that is right next door to the stadium and then get my all important line number.
If you've never been in the pit at a Springsteen show I'll explain.
Someone, in this case Derek, is in charge of allocating a number to the first 1000 or so who turn up early in the hope of securing a great position in the front standing area – the pit.
Derek is already there sitting in his chair with his notepad and black felt tip marker, you give him your name, he writes it down on his pad and the number you have is written on the back of your hand. From that moment, all things being equal, your place in the queue is secure, you are free to come and go as you please as long as you return for the roll call which takes place every three hours. Its a brilliant system that works very well and means that if you take the trouble to arrive early you should be rewarded with a front row view. I should add that Derek has a great team of helpers who work to make sure the system works and it does.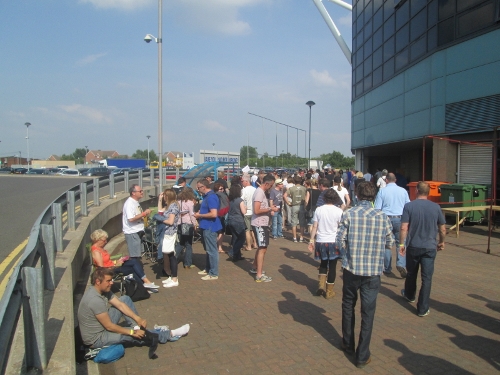 I thought I had lost the plot by setting off a day early, it was reassuring although ever so slightly disappointing to see that there were 108 people more mad than me, although there were nearly thirty hours to go before Bruce hit the stage, I was number 109!
As the afternoon passed by the number in the line was fast approaching three hundred, Boss fans are extremely keen!
I decided to move my car from the Tesco carpark to the official one not too far away, I was the first car in there and I was pleased the attendants took my money as I hadn't pre-booked.
The last roll call was at 10pm, the lucky ones returned to their hotels, me, I went back to kip in the car!
Up bright and early, a quick tidy up and it was back to the stadium for the nine o'clock roll call.
As I walked back to nowhere in particular I heard someone call out my name, I looked around and there was fellow Boss and barbel nut Graham ( 385), for the next couple of hours we sat and talked barbel fishing and Springsteen, I'm not sure his partner Frances was too keen on the fishing talk!
It's what I love about going to Bruce shows, you always meet up with good people, apart from Barbel Society members you always see the same regular faces and the time always flies by.
By mid afternoon the place was heaving, there were thousands of fans milling around, its about this time I start to get a bit twitchy wondering if the number system will actually hold up!
I needn't have worried, the stadium security did their bit and the first 1000 were led in an orderly line into the building where we all lined up in number order in a large hall, waiting to be led into the empty stadium.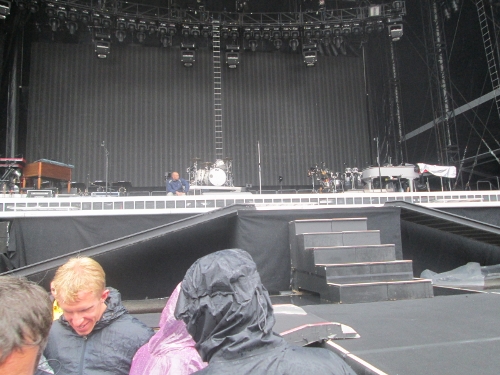 When I finally stepped on to the pitch I couldn't believe my luck. I made my way to the far side of the central platform where I knew Bruce would be getting up close and personal and there I found a handful of people who were shorter than me! What a result.
Basically there were just two in front and one to my side so I had a clear front view and to the side for when the man gets up close to the fans, I was pretty happy.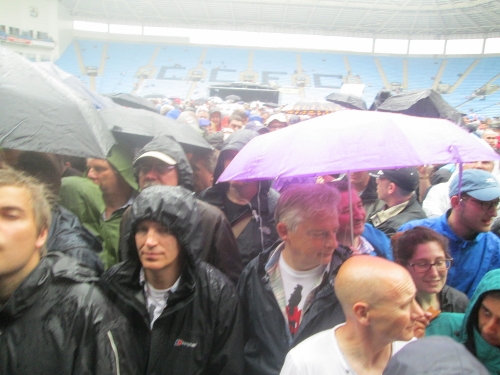 The rain was not going to dampen my spirits or of those behind me.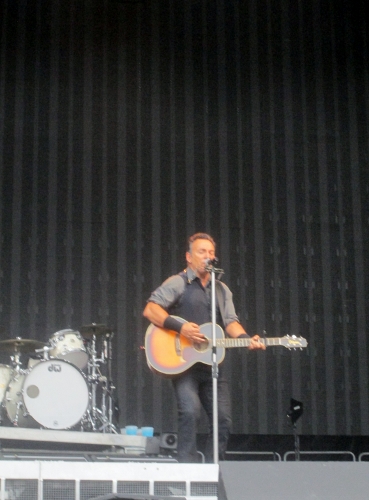 And then, at twenty past seven, nearly thirty hours after I arrived at the venue the man himself hit the stage – alone with just guitar and harmonica, we were treated to a solo acoustic version of one of my favourites, The Ghost of Tom Joad!
I loved the version he played out in Oz with Tom Morello but this was something much different, and every bit as powerful. I knew I was in for a great evening!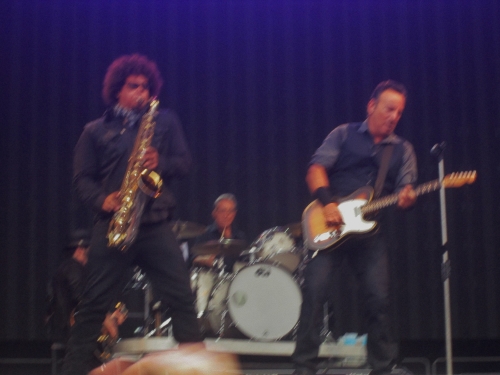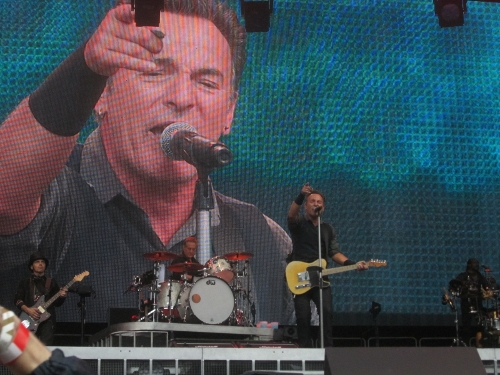 The show just got better and better, a brilliant start and then the full Born To Run album, dedicated to James Gandolfini, a really nice touch.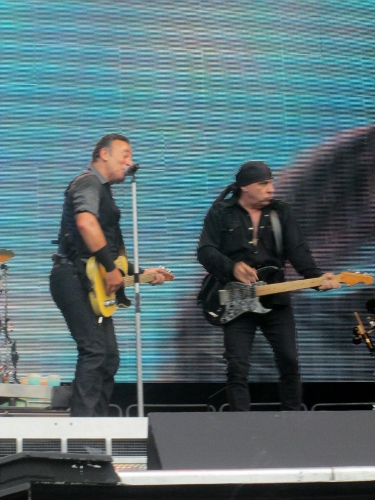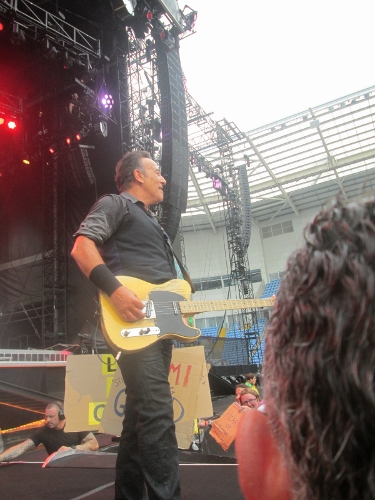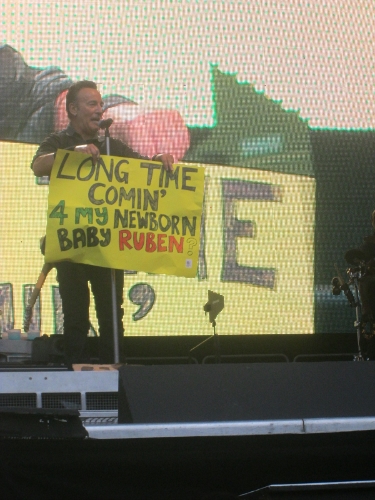 When he held this sign up I immediately thought of my daughter Katie, I hope I'm not singing this song in a few weeks time…………………and so is Katie!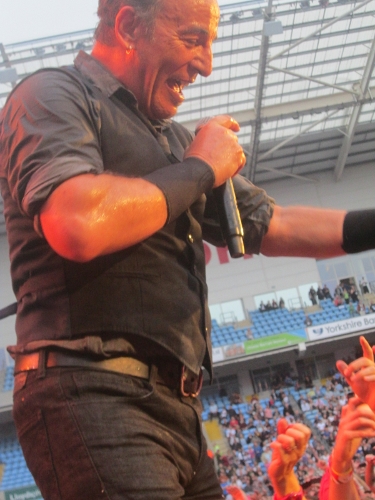 I like to get real close at a Bruce show!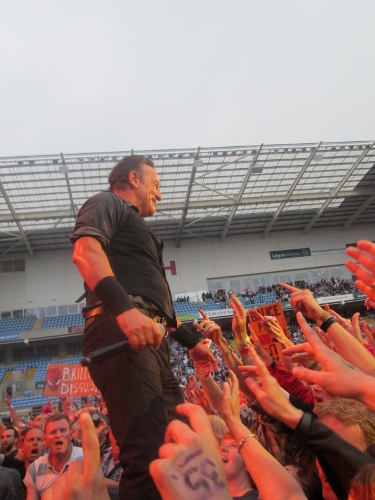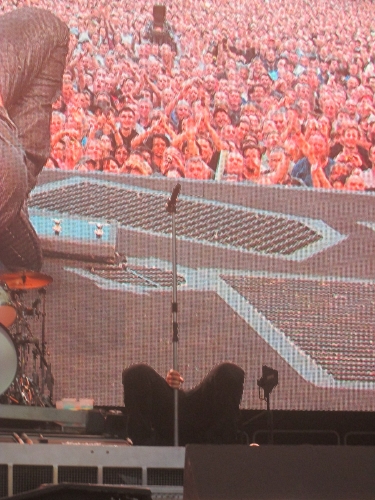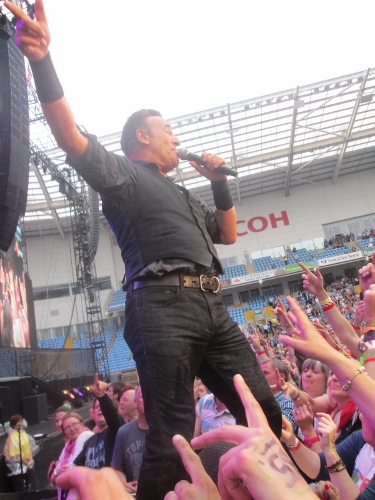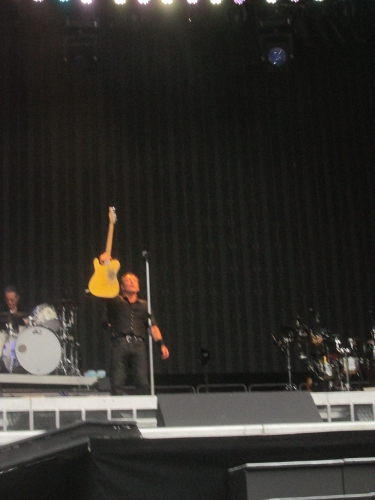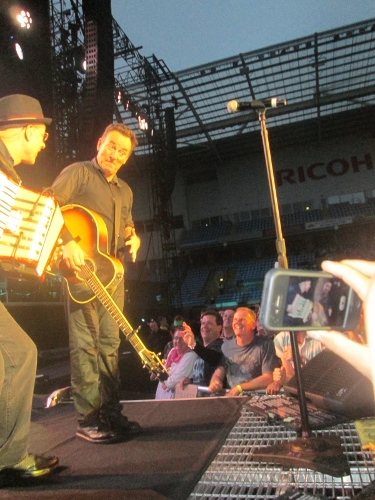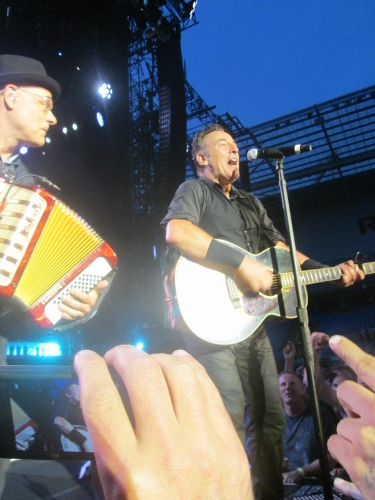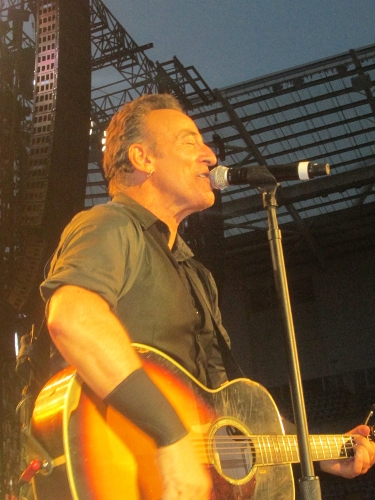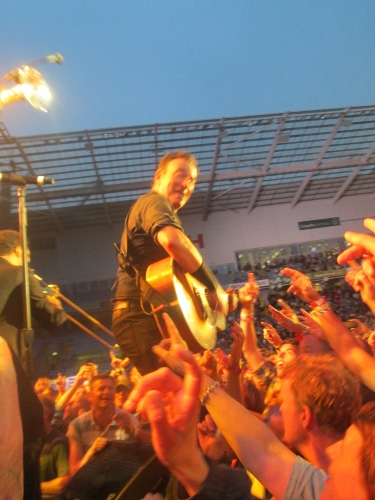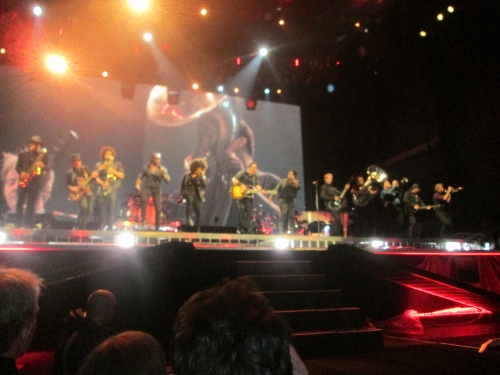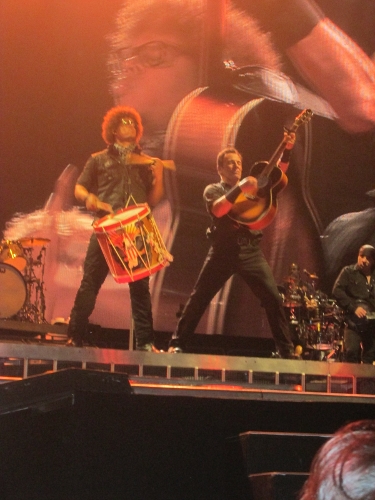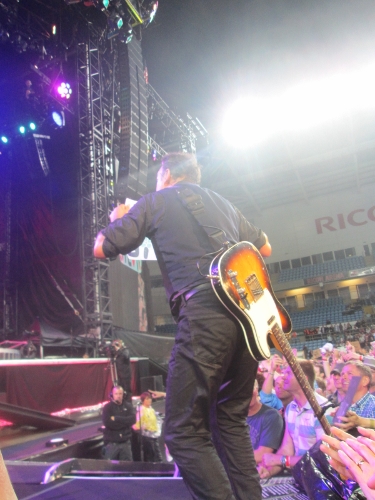 He played for three and a quarter hours and I loved every single minute, The Boss just gets better and better!
The walk back to the car was my long walk home, after nearly putting my back out at Hyde Park I take things a bit steady, a little bit of what Bruce takes would not go amiss at my age………………………the same age as the man himself!
Always a good idea to let the traffic disperse from the Ricoh, so I waited a couple of hours, devoured a couple of hot dogs – bang goes the weight watching – and it was off on the motorway to get my head down at the caravan.
Another fantastic memory from the best entertainer in the business, Broooooooooooooce!!
The Ghost of Tom Joad
Long Walk Home
My Love Will Not Let You Down
Two
Hearts
Seeds
Trapped
Long Time Comin'
Wrecking Ball
Death to My Hometown
Hungry Heart
The River
Thunder Road
Tenth Avenue Freeze-out
Night
Backstreets
Born to Run
She's the One
Meeting Across the River
Jungleland
Pay Me My Money Down
Shackled and Drawn
Waitin' on a Sunny Day
Lonesome Day
Badlands
* * *
We Are Alive
Born in the U.S.A.
Bobby Jean
Dancing in the Dark
Raise Your Hand
American Land