2009
Committee
President; Fred Crouch
Vice President; Peter Wheat
Chairman; Steve Pope
Secretary; Mike Osborne
Treasurer; Will Golightly
Membership; Mike Berridge
R and C; Pete Reading
Regional Co-ordinator; Dave and Marilyn Brown
Fisheries; Mike Osborne (Ron Lander)
Communications; Fred Bonney
BF Editor; Fred Bonney
Newsletter Editor; Rob Hilton
Juniors; Will Golightly
Commercial/Advertising; John Smith
Marketing;
Merchandise and Shows;
Website; Simon Asbury (Mike Berridge)
Conference Organiser;
Executive Officer: Don Caliendo
Regions
Berks – Graham Elliott – Speakers included Phil Smith, Pete Reading, Graham Elliott, Keith Speer, Ian Grant, Ade Kiddell,
Cambs – Mike Bachini and Harry Green – Regular meetings.
Cheshire – Gav Johnson – Speakers included Gary Knowles.
Hants – Mel Evans – Speakers included Graham Elliott
Lancs – Dave Brown – Speakers included Trefor West, Dave Mason and Rob Swindells
Midshires – Rich Frampton – Speakers included Trefor West, Lol Breakspear, Steve Pope, Steve Williams
Notts – David Lake – Speakers included Steve Pope
Wark's – Steve Barlow – Speakers included Phil Smith
Wilts – Des Richardson – Speakers included Martin Bowler
Yorkshire –  Warren Haywood – Speakers included Dave Mason, Graham Elliott
Fisheries
Bransford, River Teme
Bransford Court, River Teme
Beauchamp Court, River Severn.
Topcliffe, River Swale
Sutton, River Trent
Downton, Hants Avon.
Haversham, Gt Ouse.
Wick, Wark's Avon
Shows
Fourteenth Conference at Hinckley May 3rd;   Hugh Miles, Bob Roberts, Gary Newman, Martin James, Len Arbery, Pete Reading.
Membership
700
Subscription
£22
Magazine
Barbel Fisher 27 was issued in the spring.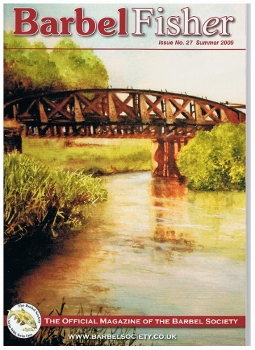 Barbel Fisher 28 was issued in the autumn.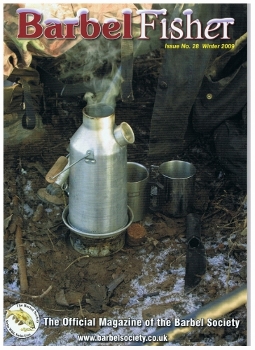 Newsletter
Number 47 was issued in the winter. Thirty two A5 pages in colour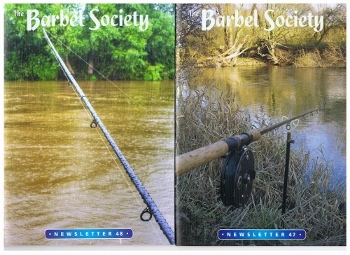 Number 48 was issued in the autumn. Thirty two A5 pages in colour
Auction
R and C auction number four raised in excess of £5k.
R and C
Advised club with rights on Cherwell and Evenlode.
EA approached us regarding Ouse barbel project.
The Society issued statement detailing concern on barbel stocks and otter predation.
Juniors
Fishing days on Trent and Wark's Avon.
Seniors
Fish in on Trent.
First Avon fundraiser.
Awards
Gordon Scott Award to Gav Johnson
Presentations to Dave Steuart and Fred Crouch.
******