As I sit and type this update the sun is shining, there's not a cloud in sight and it's Anzac Day – the Australian day of remembrance.
The dawn services have taken place and for me its another day looking after the little fella while my daughter enjoys a well deserved day off down at Harbord Diggers where the place will be crammed as everyone gets involved in the traditional ANZAC Day gambling event, two – up.
Reminds me of the game we used to play at school but its a bit more organised here! Here's the info. Two – Up
I am pleased to see the weather has improved back in the UK but although we are well into autumn here the temperature has only dropped below 25 on a couple of days, the strange thing is that all the locals are in jeans and sweatshirts whereas we would all be in our shorts heading for the beach in England. I suppose the climate here is so good you just tend to take it for granted. Apart from the incredibly high temperatures a few months back the weather here is just perfect for me.
But this Update is primarily a fishing one and there are quite a few subjects I'd like to cover so lets get started.
BARBEL TALES – The first book put together by The Barbel Society.
The book is now in our hands all ready for the launch at the Barbel Show on June 9th.
It's taken some time but knowing that we have come up with a very high quality book full of interesting chapters gives me a huge sense of satisfaction.
All organisations like ours aspire to producing a book and as I said its taken us quite a long time but I'm sure that now we have started the next will not take quite so long!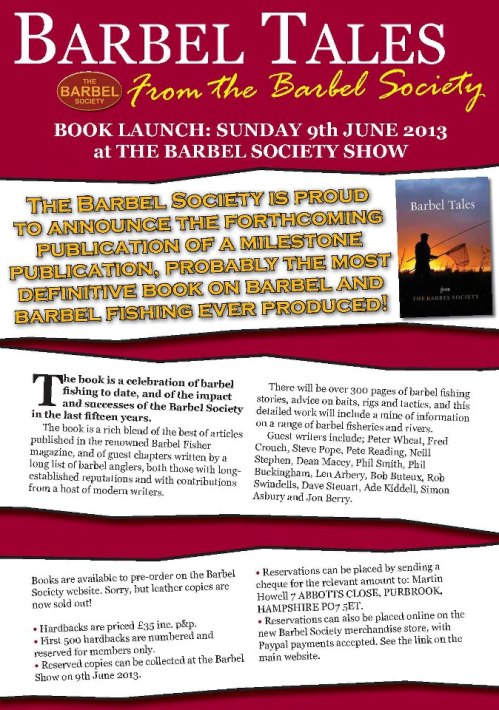 If you enjoy fishing for barbel you will enjoy reading this book, it really is as simple as that!
Plus, many like to obtain the signatures of the authors and there are many to get with this book.
So my advice is to get hold of a copy by putting your order in now, we have produced a decent number but at some point they will be sold out so don't miss out.
And this goes out to the better halves of all the barbel anglers out there, this book will make an excellent Christmas present in a few months time but get an order in now just in case!
And if you want to get a head start on obtaining signatures there's just one place you need to be on June 9th……………..
THE BARBEL SOCIETY SHOW 2013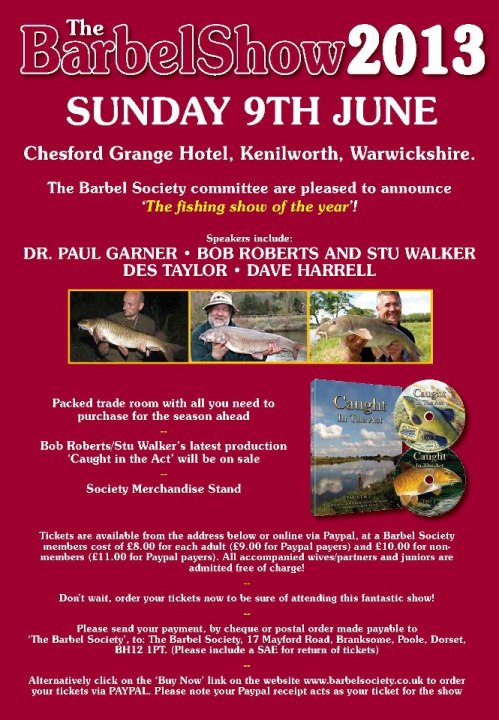 Vintage Tackle…. Steve Middleton
Pallatrax
River Reads
Des Taylor
Angling Trust
Pegone
Bob Roberts and Stu Walker
The Lone Angler
The Hook Bait Company
Jon Berry
Dave Harrell
Mill Tackle …. Garry Mills
Stapeley Angling Centre
Free Spirit
Medlar Press
David Miller Art
Black Country Baits
Andy Sliwa Rods
Wraysbury Baits
Bob Buteaux
Bevan Tackle
Gold Label Tackle
Printbiz
Global Angling Products
Tenchfishers
Dave Mason and the Barbel river records.
The Barbel Society Merchandise including Fisky's Feeders.
The Barbel Society Book Launch Stand.
And don't forget there is always the raffle. At the end of the Show the room is always packed as the tickets are drawn and it takes some time to get through as there are always lots of fantastic prizes to be won. This year the top prize is something special;
The first prize in the raffle will be a pair of  Torrix rods hand built by Vic Gibson.
They are being produced in association with Bevan Tackle and are numbered and inscribed to commemorate the Society's first book launch.
Now if that doesn't whet your appetite then I don't know what will!!
But you have to be in it to win it and to do that you have to be there!
Get your tickets online, its very easy, all the details are
HERE.
I look forward to seeing you all there.
THE BARBEL SOCIETY
The latest magazine will be dropping through the letter boxes of all the current members very soon, a timely reminder that the membership year starts on June 16th.
These are exciting times for the Barbel Society, as I've already mentioned our very first book is out this year, the Show is shaping up to being something special, the Barbel School will be held once again, the fisheries should perform really well this season, there will be plenty of regional meetings to look forward to, fish-ins will be held, the R and C auction will arrive before we know it and all in all we'll be as busy as ever!
I wrote a few years ago that the Society was going through a transition period and it has, it will continue to do so but as more and more "younger" guys join and become involved the future looks brighter with each season.
For sure times change, people come and go but the Society stays strong and always will, that's because it was built on solid principles and foundations.
I am more than happy when I see the next generation take up the reins and make their own mark, I am far happier these days taking a back seat and lending a helping hand.
So now is the time to join, you won't regret it. You will make new friends and generally enhance your barbel fishing experience. At the end of the day The Barbel Society is a nationwide organisation – even have a few from other countries and anyway I'm 50 percent Aussie these days! – it's a group, quite a large group in fact of men, women and youngsters who just enjoy barbel fishing and enjoy being part of something that is fundamentally good.
If I've convinced you and I hope I have then you can easily join up online HERE.
FISHING MAGIC
My latest Fishing Magic Diary has gone live and you can read it HERE.
I've practically finished my April Diary which is very much in the same vein as the one above.
I'm hoping I may have some decent fishing exploits to recount in my May Diary but if that doesn't happen then I'll be going through my plans for the coming season and detailing the tackle I'll be using, methods I'll be employing and the baits that will be my number one choice, so the options are covered.
I've at last managed to tie something down with Ian, so keep a look out for a write up on the day I spend with Welchy on the Wye, we'll have a good time.
And I've also managed to sort out a day on the Wye with Martin Salter, very much looking forward to that one as well.
Make sure you check out the articles and features on the Fishing Magic website, Ian has pulled together some excellent writers with the likes of Paul Garner, Tony Gibson and Lewis Baldwin all contributing each month.
WYE VALLEY EXPERIENCE 2013 UPDATE
There are just a very small number of places left now, don't leave it any longer if you've been thinking about joining us on these fabulous breaks.
I'm in constant contact with Peter at Caer Beris and we have been finalising the venues and it's all coming together very nicely.
I'm really looking forward to the three breaks we have planned, I know I'm going to be extremely busy but I'll love every minute of it, and why wouldn't I? The Wye Valley is a simply stunning place to be barbel fishing in great company.
Get in touch with Peter right away before the last place has been snapped up and I have to post ALL SOLD OUT!

GUIDING DAYS UPDATE
July, August and September are almost fully booked, if you are thinking of having a day then I really would recommend getting in touch sooner rather than later.
October is still ok and this is often the best time on the Kennet and Severn so please get in touch if you are interested in booking a guided day.

COARSE ANGLING TODAY FACEBOOK PAGE
If you visit the CAT Facebook page you will know that every now and then they run a Q and A session with someone who is happy to take questions from the guys who log on, my good friend Lewis Baldwin did one a couple of months ago that went very well.
It will soon be my turn to sit in the hot seat!
I'm just waiting to hear when it will happen and as soon as I know the time and date I'll let you know on here.
Well that's about it for now, make sure you get along to the Show and whatever you decide to buy make sure you have enough spare cash to buy the Barbel Society book!
All the best,
STEVE