Now don't get carried away by the title, I'm a respectable sort of fellow I'll have you know and I'm talking fishing adventures. Behave yourselves!
 You can get excited though because the fishing was simply awesome, let me take you to the other side of the world and I'll explain.
It's the last week in January, here in England it's cold and I mean freezing. The snow seems to have been around forever and thoughts of casting a line for barbel are all but a distant memory. But hey, I'm at the airport with Linda and our thoughts are firmly set on warmer climes in far away lands. We turned up nice and early and have enjoyed a decent breakfast, well for airport standards anyway, you can picture the scene, standard tucker……..double the price!
As I look around I can see the usual mixture of strange looking people awaiting their flights, I console myself in the mistaken belief that at least we look normal in our sunhats and shorts, Bangkok here we come!
I'm an observant sort of guy and I've noticed that a bag on the floor quite close by to where we are sitting has been left unattended for some time, fifteen minutes at least. I decided to report it to security, seemed the sensible thing to do. Being me, I expected a prompt response, after all airport security is top of the list these days and I was already steeling myself for the new X- ray camera that would reduce my dignity even further!
Twenty minutes must have passed before two men with the word SECURITY emblazoned on their tops appeared and approached the bag, gave it a good shake, unzipped it and had a good look inside and then took it away. Just as well it wasn't a bomb I thought to myself.
The owner eventually turned up and was surprised that it wasn't there and had to go and collect it from wherever they store misplaced luggage, you couldn't make it up.
Anyway after a long flight we eventually made it to our destination, Gillhams Fishing Resort at Krabi in Thailand.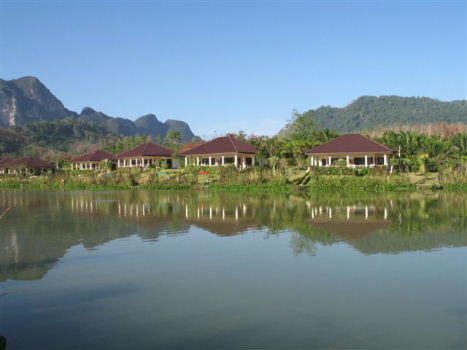 I was blown away. We had seen pictures on the website and in Coarse Angling Today but they could never do it justice, the place was simply stunning.
The accommodation was extremely comfortable, I'd say bordering on luxurious. We had our mini-bar, aircon and TV to keep us happy while we lazed in the sumptuous surroundings. The restaurant and bar was very well laid out and the food cooked by Steve and Benz was as good as you would get anywhere and I love my food, make no mistake!
I had booked ten days fishing for myself and the plan was for Linda to fish if she felt like it. As it turned out, she spent most of her time socialising with the other fishermen's wives and partners and going off on the occasional sight seeing trip.
The first days fishing was a total non-event! I blanked, not the most auspicious of starts I have to say!
It would appear that the lack of rain, twelve weeks since the last, had seriously impacted on the fishing, just my luck.
Day two was a lot better; I caught fish but not on the bottom baits which I expected to be the most productive. I landed a black pacu around 15lbs and two Siamese carp on the float. The carp in particular gave a very good account of themselves and they were estimated at about 35 and 44lbs, I was well pleased.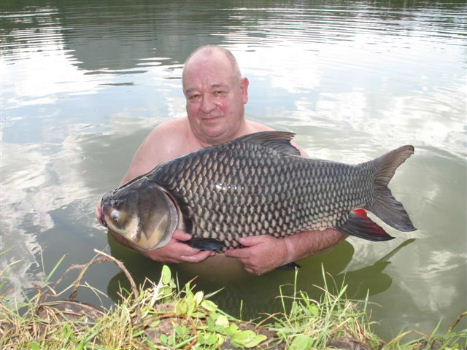 The third day produced four more carp, 35, two at 45 and the biggest coming in at 60lbs, excellent fishing. All fell to float fishing tactics and I'm talking very large floats indeed!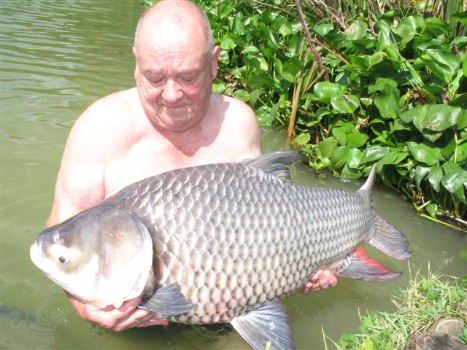 Day four and my first cast produced an arapaima, a huge fish weighing 140lbs. After that I needed to rebuild my strength and breakfast seemed a good option. Suitably fortified I returned with my float tactics and landed another pacu and Siamese carp.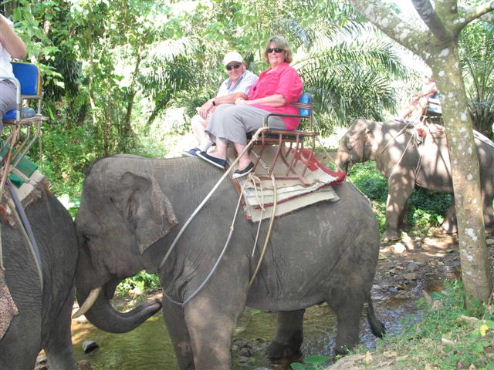 Time for a swim and a spot of elephant trekking, great fun and a nice interlude from the arm aching fishing I was now beginning to enjoy!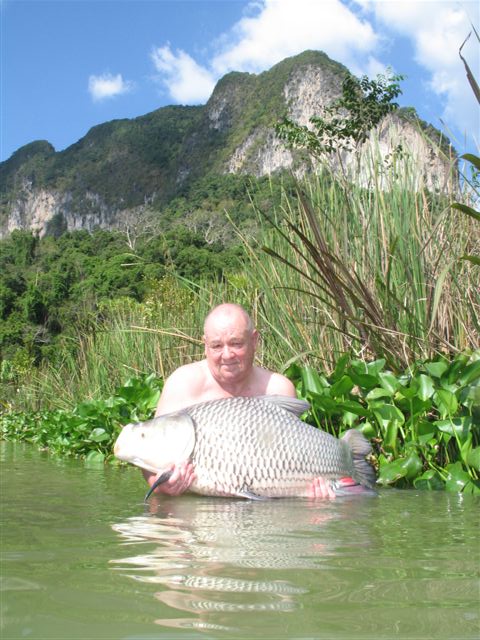 I had another dabble in the evening and landed a smaller arapaima and then at 8pm it was off to the restaurant for a well-deserved Sunday roast, I did say I love my food!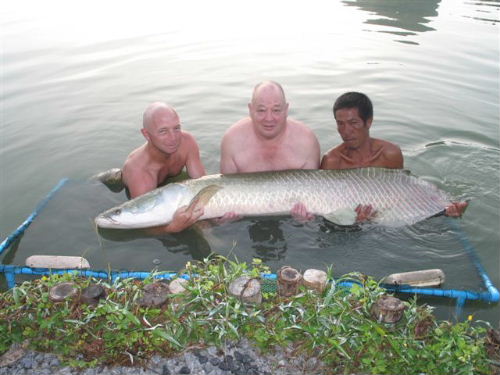 Monday morning and day five of this fantastic experience, full of expectation I fished all day and caught precisely nothing! That's fishing, even in a place like this the fish can always come back and bite yer bum, no room for complacency here and that's a good thing, keeps you on your toes.
Day six and I was brim full of confidence, the swim had received extra bait and I was sure the additional maize and boilies would do the trick. I made a later start to allow the swim to settle and the first cast in the afternoon produced a black pacu. Boy was it hot today, I decided that I needed a dip in the water myself so it was on with the cossie and off for a swim. The evening session gave me another Siamese carp and a welcome surprise in the shape of a big headed carp, the first that had been landed from the resort for some time. It wasn't a monster weighing in at 12lbs but it certainly was a welcome addition.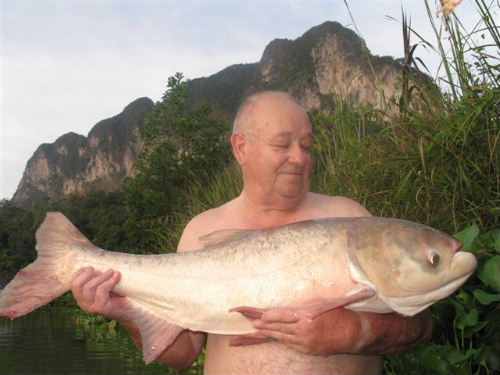 Wednesday arrived and so too did three more Siamese carp up to 40lbs.
It was now Thursday and I'm into the eighth day and decided on an early start and to set up on the other side of the lake. It wasn't long before I caught a very pretty Amazon redtail catfish about 15lbs, not long after yet another species found my bait and a 15lb sorubim was in the net.
The third fish came before I had been fishing an hour and was a very welcome arapaima, a bit heavier than the first two fish, 90lbs, I was having a great morning! And it didn't stop there; under a blazing sun I landed another sorubim, three more arapaima up to 130lbs and a 50lb chaophraha catfish!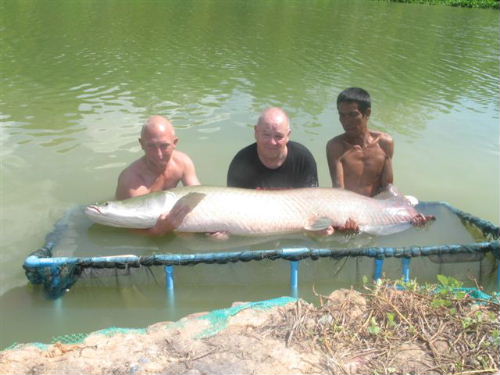 The icing on the cake arrived in mid afternoon when I caught my biggest fish of the trip so far, a massive 280lb arapaima, boy was I knackered!
After that hectic arm aching action I had a bit of a rest on the Friday but I did see Linda's cousin David land a 100lb mekong, I forgot to mention that we had relatives out here at the same time, the world is a small place at times and you just never know who you will meet no matter how far you travel!
The weekend arrived and on day nine I landed another 200lb arapaima, a couple of redtail catfish and a funny looking thing with an even weirder name, a wallago leeri!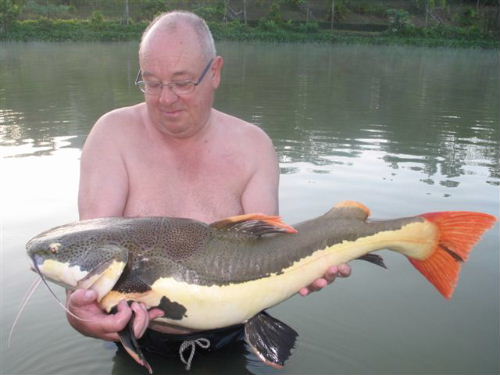 I fished very hard all day on the Sunday for a couple more redtails and a 100lb arapaima.
The end of the trip was getting ever nearer and I took an early breakfast on the Monday and then went off on a boat trip to Bamboo Island, a very exotic sounding place but slightly disappointing in reality. I returned in time to snatch a last couple of hours and was rewarded with an 80lb arapaima.
And so it was Tuesday, the last day of the holiday had arrived rather too soon. I only fished in the afternoon but still managed five more Siamese carp topped by one weighing 65lb, which is a very big fish. The very last fish of the trip was another arapaima weighing in at 180lbs.
Sadly this fish died of a heart attack while in the landing cage, the fish we catch are all unhooked and kept in the water, they never leave their home. A devastating experience for any angler but something that happens never the less no matter how much care we take. In this case the fish was not wasted and would make for many good meals in the restaurant, the money raised then being used to buy a replacement.
And that was it; I had managed to catch forty fish, eight different species ranging in weight from 15lbs up to 280lbs.
The resort is superbly managed and I cannot praise the owner Stuart, his son Sean and the guides, Kevin, Scott and Gollock enough. If you go out there and take their advice you will do well, ignore it at your peril!
We managed to combine the fishing with elephant treks, island hopping and the usual shopping trips.
The temperature at this time of year can be overpowering, we will go back in a different season when there is sun and rain!
Check out the website HERE, I can guarantee you won't be disappointed, I would whole heartedly recommend Gillhams Fishing Resort to all adventure seeking anglers.
John Found
Copyright John Found 2010.