It's that time of the year once again – well perhaps just a tad late I readily admit and it seems to come around quicker than ever these days, when we look back at what has gone by and look forward to whatever lies ahead in the coming twelve months.
As the title implies 2018 was on the whole a really pleasant year where I was able to enjoy all the things that make me happy but it was punctuated  with moments of sadness as I had to say goodbye to people who had at certain times in my life been important influences .
The year started off particularly well because it was the first time in a long time that my close family were all together, with one daughter living in Australia, another in Dubai and my youngest here in England it isn't easy to get everyone together at the same time under the same roof.
So it was indeed a time to cherish and more wonderful memories have been made and I hope we don't leave it too long before we are all together once again.
The highlight of the month and a memory that will stay with me for the rest of my days was taking my grandson to watch Spurs play against Everton. I had been looking forward to this from the moment the tickets arrived weeks earler and the fantastic expressions I saw on Henry's face throughout the day will be eternally etched into the photo library that resides in this old head and heart of mine!
We were back in St. Albans after spending a few days together at our old Welsh cottage so it wasn't too far to drive to Wembley and with a 5-30 kick off we had plenty of time to take everything in.
Unfortunately for me many months have passed since I was last at the stadium, indeed this was the first time I had visited the new building and my old parking spots were now completely off limits!
After driving past the stadium a couple of times I bit the bullet and pulled into a carpark directly off the roundabout and within reasonable walking distance to the ground, albeit I was twenty five quid the poorer but that was just the start!
Safely and securely parked up we made our way to the Wembley concourse and the Aladdins cave otherwise known as the Spurs Shop.
I was surprised to find an extremely long queue and when we eventually passed through the entrance door we found the place to be absolutely heaving, made me realise if I hadn't known already just how big the football merchandise business is these days.
Scarf, hat, shirt and programmes in the bag, yep I was taking a hit but it was worth every single penny, Henry loved it.
Back outside the fans were arriving, this is always a well attended game and today was no exception. We were soon in the line at our gate entrance when I heard someone say hello mate, I looked around and there was a Facebook face I recognised, a fellow barbel fisher and Spurs fanatic Patrick – it's a very small world!
Inside now and time for hot dogs and the search for our seats.
For my part I had been in this particular 'place' many times, waiting for the Spurs to run out on the pitch – well they actually walk out these days, this was the very first time for Henry. My mind immediately flashed back to that day in 1960 when my dad took me along to White Hart Lane for my first Spurs game, this was indeed a very special moment.
Henry was enjoying every minute, I could see the wonderment in his eyes as he surveyed the vast arena and with very few empty seats the noise was deafening when the players came out!
The attendance was 76000 plus, a massive crowd wherever you are and seriously huge for your very first soccer match and our team did not disappoint.
Son opened the scoring, Henry went completely bonkers, he certainly picked up on all the positive Spurs energy that surrounded us.
He even started singing the songs and it was a good job his mum wasn't there because although he is quick to say 'bad word' if anyone has a momentary slip up he was unaware of some of the rhyming slang, he is Australian and only six and a half after all – I quickly diverted his attention!!
Half time arrived all too soon and we went searching for the shortest cold drinks queue.
The second half saw Spurs take total charge and when Harry Kane, Henry's hero, scored two goals well we were both in dreamland!
Eriksen scored another to cap not just a great result but an unforgettable afternoon that will stay with both of us for ever.
Football has always interested me and at different times in my life it has taken on a more or less degree of significance.
Henry as you can see  loves it and he is a very good player, already he is signed up with the best academies in Sydney and I dream that the day will come when I see him play at a high level. This isn't just a grandad writing with a rose tint to his glasses, Henry has real talent, I spotted it early on and it is now confirmed by those far more knowledgeable than I.
This has obviously reignited my passion and it fortunately coincides with a time that Tottenham ( the place where I grew up) are on the up!
I look forward to the day when I can take Henry once again but this time to the wonderful new stadium built over the old place where I once spent far too many hours of my life. This incredible modern structure is looking truly fantastic.
So once again I take great interest in the football results and all that is happening at Spurs and long may that continue.
Henry and his mum returned to Sydney and we headed down to Hertfordshire to spend time with our youngest daughter and her family, something we do regularly and enjoy immensely.
Helping out with our two young grandchildren, the picking up from school, going to the park and play area, soft play in the sports centre, Zizzi's and any one of a myriad of fine eateries that make St. Albans a gastronomic delight! Yep we love our time in this part of the world.
Simple pleasures that are always looked forward to and I have to say I thoroughly enjoy the journey that takes me through the Teme Valley and the pretty Cotswold towns, past Blenheim before I hit the one place I really do not miss, the M25!
The snow arrived, I wish it had fallen earlier so that Henry could experience something that we take for granted, mind you a couple of days a year is enough for me!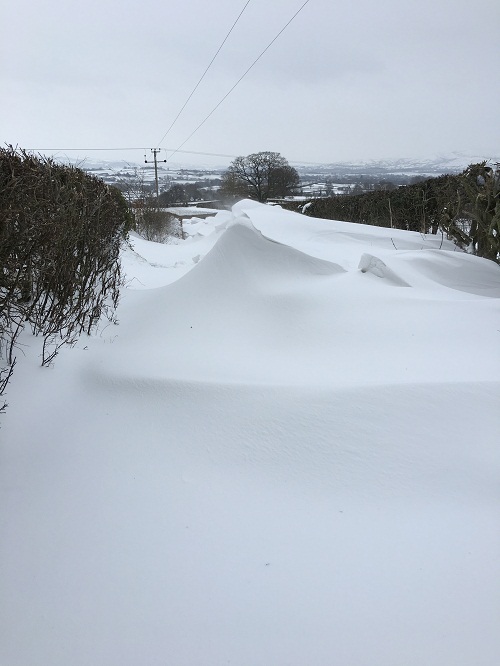 Living here in the Welsh hills when the white overcoat comes out of the sky the scenery is suitably stunning but we do actually become snowed in when the white stuff drifts along the narrow lanes.
So while enjoying the moment I was pleased to see it eventually disappear.
I was also pleased not to have suffered a major catastrophe when late one evening to my absolute horror I saw sparks flying out from the chimney! This happened while the snow was six inches deep on the ground. I actually called the fire brigade because I wasnt sure I could contain the fire in the flue. The guys turned up and then told me it wasn't uncommon and they get called out regularly to attend woodburner flue fires! A wake up call to replace the liner and possibly the stove as well, another expensive repair that gets added to the evergrowing list!
As March drew to a close I found myself driving through the country lanes of Oxfordshire on my way to Orchid Lakes, the home of Marsh Pratley. Now I have known Marsh for a long time and his influence in the fishing world is second to none. It was because of Marsh that Peter Stone became involved with the Barbel Society and I have always considered that connection to be the key to our success, Peter was and is a true legend and simply the nicest gentleman you could ever wish to meet. Marsh is not in great health but he is an absolute fighter and if you follow his world on Facebook you will have seen just what an inspiration this man is. He wanted the Barbel Society to have a rather special rod that had been in his possession for many years, I was honoured to accept it on behalf of the Society and in gratitude to Marsh's gesture we made a substantial donation to his charity.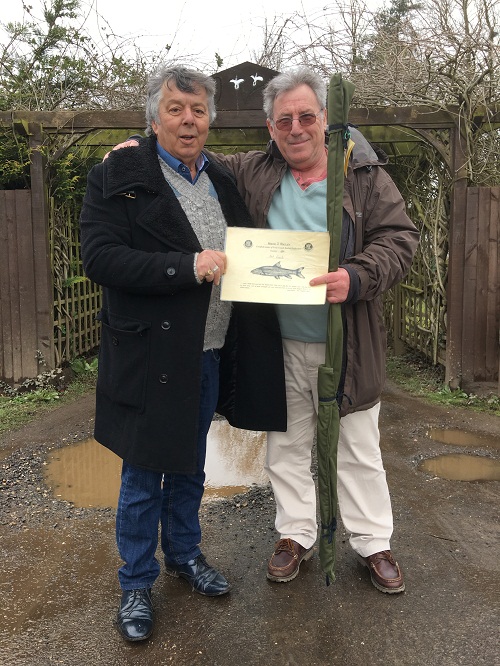 After meeting up with my own colleagues it was unanimously agreed that we would invite Marsh to become an Honorary Vice President of the Society and I am pleased to say he was very pleased to accept.
The Barbel Society is honored to have a man like Marsh onboard, he epitomises everything that is good about the human spirit.
When I met Marsh he was hoping he would be around for his birthday bash that was coming up in a few months time , well I'm so pleased to report that he made that and is still with us and I am looking forward to popping in to say hello on my next trip down south.
April come she will and my sights were set on a land afar, Australia was calling once again.
Two whole months in the land of plenty.
If you have been following me on here for the past ten years you will know just how much I cherish my time spent down under. Since my daughter made her decision to live in Australia eighteen years ago we have experienced the whole gamut of emotion, it hasn't always been easy but since our grandson Henry arrived on the scene the time away has been very much help based albeit in very much a holiday setting. I love being there.
We cram an awful lot into the weeks we spend near Bondi. Be it doing the school run, getting the food from Coles, taking Henry to football, parties, the beach, the park and wherever else a six year old has to go – we love every second!
For sure the fabulous restaurants, glorious beaches and the fishing are acceptable distractions we have to endure but hey who's complaining!!!
And then there are all the friends we have made, our daughter's friends become our friends which is brilliant and something I truly appreciate.
I know my way around Sydney better than I know towns and cities here, I have become very attached.
I could write a chapter about our fabulous two months but a picture is supposed to paint a thousand words so I'm posting a few on here that really explains it all and gives a real insight into the life we are so fortunate to share in Australia.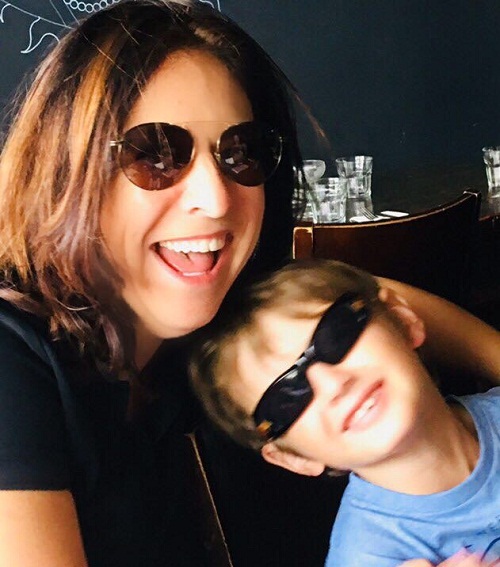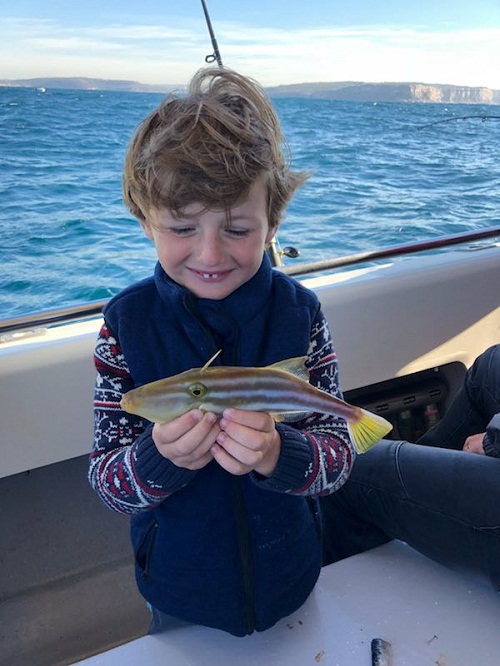 I could post another fifty photos because every day in Oz is an adventure but I'm sure you can get the picture from these few pics!
Our one disappointment was missing Henrys birthday party especially as we had helped out in the organising, but we were there for his actual birthday and the postponement of the actual party was due to an arm injury sustained while playing football!
When it eventually took place it was a great success, it was football themed – what else? –  and all his buddies loved it!
I had to be back for the Barbel Society Show and I pushed it to the limit, arriving back in London with just a day to spare!
A new venue and the usual trepidation, would the people turn up?
Well yes they did and in good numbers, and it's been that way for more than twenty years.
It was a really good show, a terrific line up of speakers with something for everyone and enough trade stands to keep everyone happy with a new season literally just around the corner.
I got to meet up with lots of old and new friends and I had the great pleasure and indeed honour to present the Barbel Society Fred Crouch Award to my dear friend Lawrence Breakspear. Deserved recognition for someone who was instrumental in the very beginning and has returned to the fold at a crucial time to help us navigate choppy waters and he has been a brilliant influence to us all with wise council and years of solid experience.
The new season arrived and with it my sixty eighth birthday, I'm trying hard not to count them anymore!
But before I could get back down to the river I had another appointment to keep, actually right on the river in the heart of Chester. Our annual meet up with friends who we have known since senior school days, a long time ago. Interesting to note that we are still great friends, still all with our partners, all of us with very close families, all of us having enjoyed full and interesting lives and now we catch up once a year in a different town to turn the clock back .
We enjoy good food, the essential open top bus ride, nice hotels, sightseeing and in Chester a boat trip down the river to set me up for what I thought would be the weeks ahead.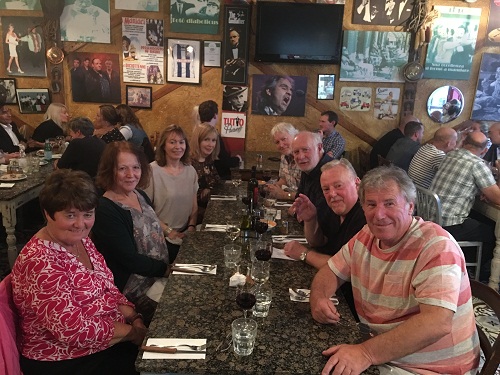 It has to be said that the summer of 2018 from a barbel fishing perspective was a strange one  indeed. The bottom line was we experienced a proper summer, long hot days, continual blue skies, no rain and so it was no surprise that some rivers experienced very low levels with dangerously high water temperatures and reduced dissolved oxygen levels. The perfect recipe for a barbel fishing disaster!
Now anyone who has been barbel fishing will know that barbel can take a long time to recover on those hot infrequent balmy days that make up the normal summer and so you don't need to be Einstein to realise that a very long sustained spell of hot weather does the barbel in particular no favours at all.
The upshot being that many barbel anglers stopped fishing for them and many fisheries shut down.
During this prolonged spell of unusual weather we, that's the Barbel Society, took guidance from the Environment Agency who I must say were extremely helpful. The EA are often the subject of much criticism from river anglers but there are great numbers of hugely experienced and qualified guys who are passionate about exactly the same things as we are.
We have now established a strong relationship with these EA guys and their help and assistance has proved invaluable and many of us are far wiser than we were.
It was mid August before conditions were such that we could open up our fisheries once more and consequently my own fishing was able to resume.
I had managed a couple of trips to the Wye before it became apparent that the weather was not going to change and plenty of barbel were landed but it's fair to say that for the first two months of the season my regime was pretty much the same, sit out in the garden, lots of Pimms and watch the World Cup football up in my man cave!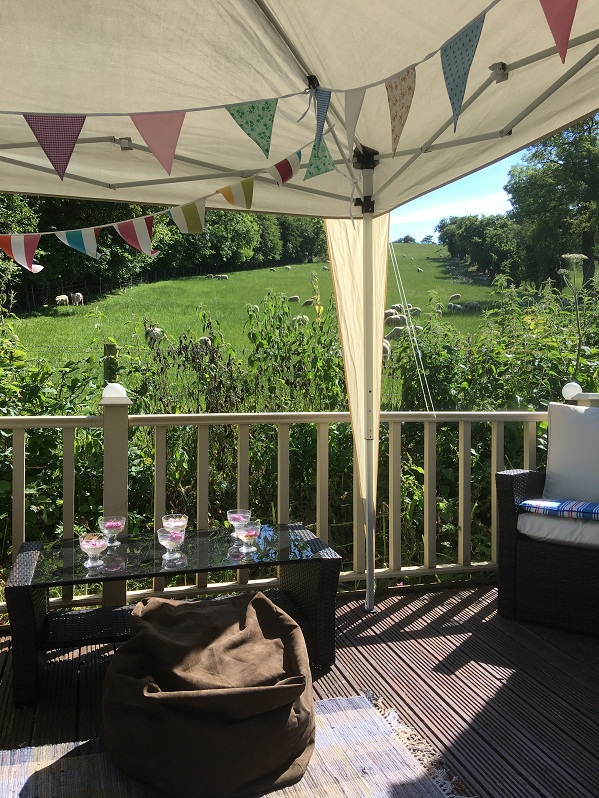 I did make a couple of visits to the River Severn, once for a meet up with Lol Breakspear who gave me a guided tour on a section of the river I was interested in as it is closer to home and second to put in an appearance at the Junior Day organised by The Rowley club where we, The Barbel Society, lent a hand.
Although not actually fishing I still spent a good deal of time on fishing related matters, one of which was putting together another issue of the Barbel Fisher magazine. I've done a few of these now and while enjoying the work involved I am now more than pleased that we have a new editor in place and I am immensely pleased that Chris Jones has taken it on and he will make a superb job of it.
I also enjoyed lunch at the Talbot in Knightwick with an old friend. Lawrence had called and asked if I wanted to meet up with him and Andy Orme.
Now Andy was the very first chairman of the Barbel Society and we had enjoyed a very interesting time at the birth of the BS. Since those early days Andy has made a life for himself on distant shores and so I jumped at the opportunity to spend a few hours going over old times and reflecting on where we all are today.
Before I started to concentrate on my Trent sessions I enjoyed a few days at home in the company of my youngest daughter Katie and her two children Eva and Leo. It had been quite some time since they had been up to Wales and so this was another of those special times to hold dear.
Ludlow isn't too far away and so we took a visit to the castle where Eva surprised us with her archery skills!
Dinner at Mellington Hall and just pleasant relaxing days spent in the border hills which is the perfect antidote to the busy life my daughter leads.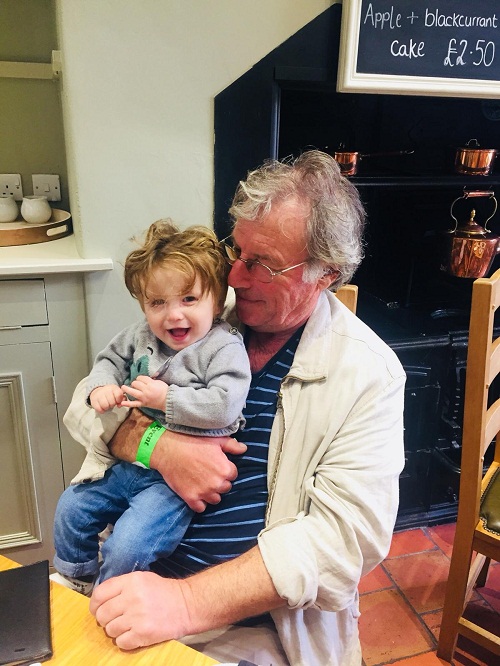 We made the reverse trip back to Hertfordshire for the birthday parties which I always look forward to. Apart from the fact that its a lovely day these parties always rekindle memories of when we had to organise three different parties each year for quite a few years!!
As I keep on saying these are the memories that count, the ones that stay with you and fill your heart with gladness. I'm so pleased that we can share these times.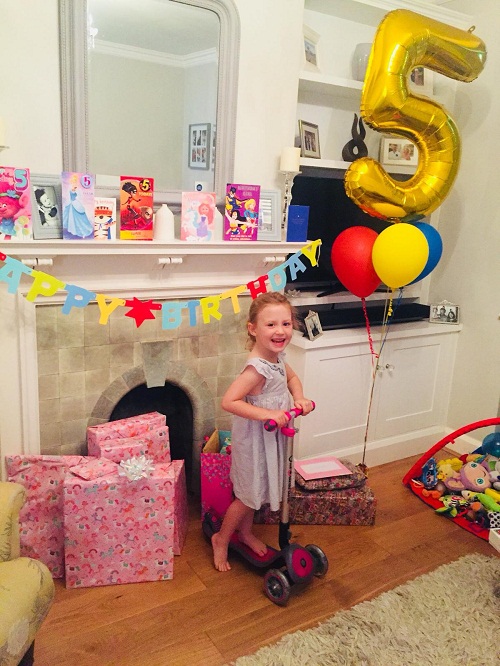 And while i'm mentioning birthdays it would be totally remiss of me not to mention my daughter Amy who celebrated a special one out in Dubai!
And then the fishing really kicked in as I enjoyed some fantastic days and nights on the River Trent.
I've written at length about this and you can find the write ups in the  Articles section on this website.
So many magic moments.
I also managed with the help and superb direction of my pal Mark Parker to get a YouTube film out. You can find this on the Dynamite TV Channel.
We didn't manage to capture a monster for the camera, just one of those things, but the film captures the magic of what is indeed a unique place.
With a bit of luck we might be able to put that right this year!
Back to Hertfordshire for little Leo's very first birthday, yet another magical memory !
But as I mentioned at the start of this piece this year has been one that also brought sadness.
Roger was an ex brother in law who I had known for many years although in recent times we had not seen much of each other but thats how life pans out.
His passing was a shock because Roger was younger than me, a man who enjoyed the outdoor life, a man who kept himself active and fit, a man whose life has ended far too soon.
It isn't always possible to keep in touch with everyone who has played a part in your life but that doesn't mean you forget, unfortunately in our culture its the times of sadness where we recall the good times.
Back in the eighties I spent many hours with Roger fishing for barbel and carp, we enjoyed some great times together.
Roger was the man who actually got me back into fishing when I was at a real low point in my life so it's fair to say I owe him a great deal.
We also spent a lot of time together as family and Roger's passing will leave a huge void in the lives of many, my life has been enriched by knowing a good man.
I also lost an aunt, someone who played an important part in my life when I was of similar age to my grandchildren.
She lived a long life and my memories are those of a child but that doesn't make them any the less.
A life is a lifetime from birth to death and we all have our personal memories based on how our lives have interacted.
Leo's life is just beginning and his baptism was yet another wonderful moment during the year and I was especially pleased that my daughter had invited my great pal Steve.
I've known Steve since 1961, thats a long time, we've shared a lifetime. We don't see each other as much as we would like but does that lessen our bond, not at all.
A good friend is a friend for life.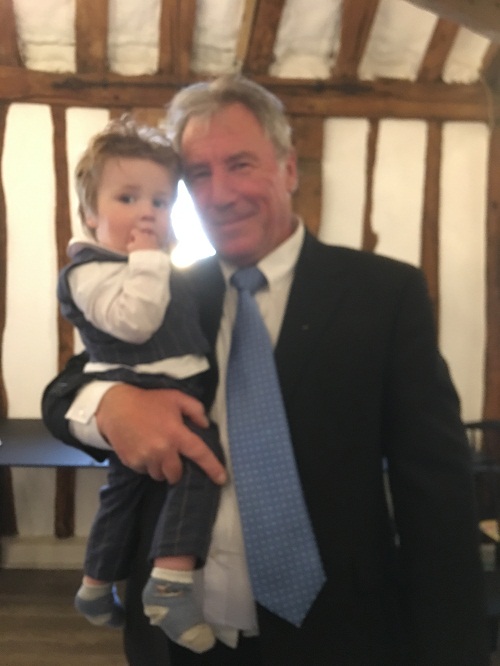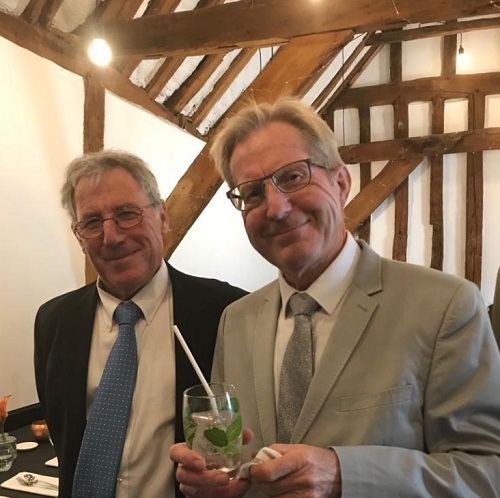 And that brings us to the end of the year and Christmas time which we shared with Katie and her family and I'll say it again, more wonderful memories to cherish and I thank my daughters from the bottom of my heart for letting us share their lives as much as they do.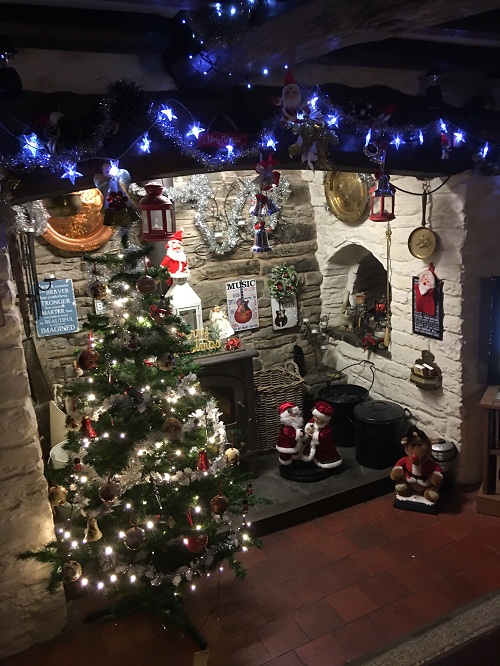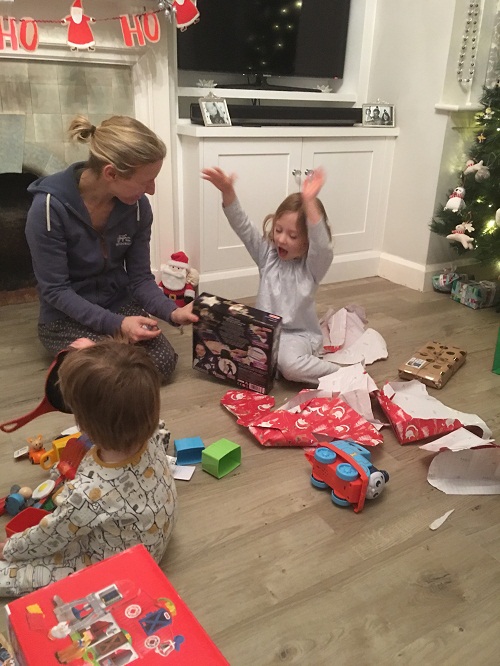 It's well into January as I put this piece to bed and thoughts turn to what lies ahead.
First and foremost I wish for good health for all my family and friends , without that we have nothing and the older I get the more relevant this becomes.
I still organise my life as though I am thirty years younger and I'm pretty sure I'll keep on doing that until my body gives up!
I'm hoping that 2019 is much the same as 2018 but without the sadness, that would do for me.
Australia is calling and I want to spend time in Dubai as well.
I have lots of fishing arranged for the summer and autumn.
Hopefully I'll be out on the Wye a lot more than I managed last summer and while I do like the sunny days I really do hope the rivers are not affected to the degree they were in 2018.
There is lots more I could have included in this piece but I'll bring things to a close now so that I can actually get it published!
I'm very active on Facebook where I'm happy to talk about all manner of things almost on a daily basis so you can find me there until I have more to put together for this blog.
All the very best,
Steve